Newly appointed Belgian foreign minister Hadja Lahbib has drawn the ire of Ukrainian commentators following a journalistic visit to Crimea in 2021. The region has been under illegal Russian occupation since 2014 when it was annexed by invading Russian forces.
The new foreign minister, a former long-time journalist with French-language broadcaster RTBF, was reported to have visited the peninsula as part of a documentary on the arts. Already under intense scrutiny from the Belgian public, many of whom believe that the Mouvement Réformateur politician is inexperienced for the role, Lahbib's visit to Crimea has outraged many Ukrainians.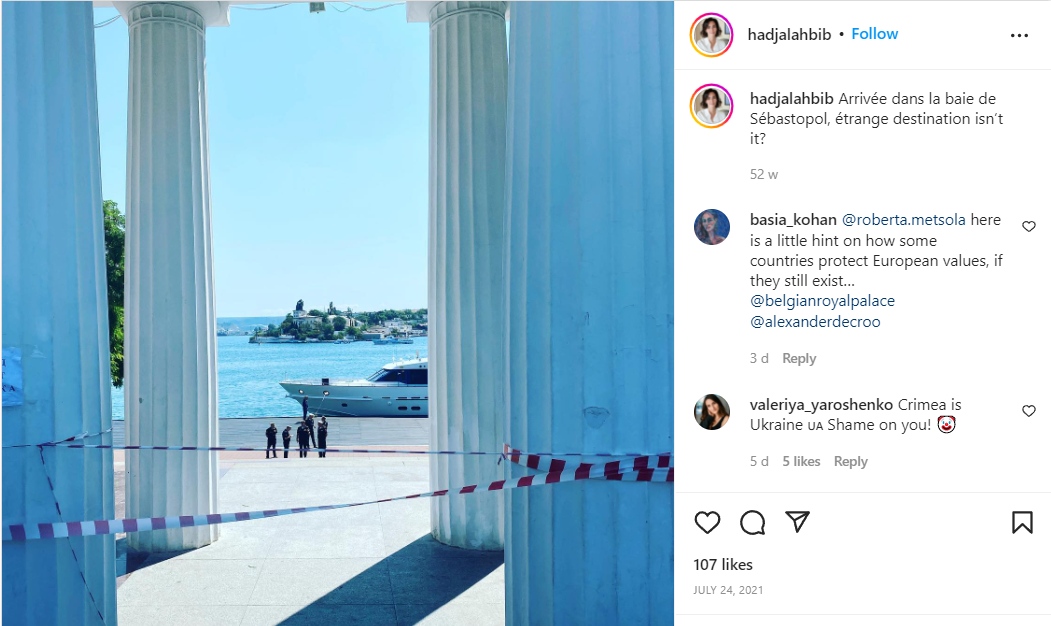 The facts of Lahbib's visit to the region are already known.
In July 2021, the former journalist travelled to Crimea to visit the Global Values festival organised by the Sevastopol Academic Russian Drama Theatre "Lunacharsky". Making posts to her Instagram and Facebook pages, Lahbib shared photos from the three days of the festival, as well as pictures of Sevastopol Bay and the famous Chekhov's dacha in Yalta.
The minister's comments about the trip have certainly raised eyebrows, both in Ukraine and in Belgium.
In comments to both the media and on posts to social media during the trip, the minister refused to call Crimea part of Ukraine. During a televised interview on RTBF and during the documentary, the minister casually referred to Crimea as "Russia."
The minister also dodged a question on who Crimea belonged to, instead quoting locals who state that "in Crimea, there has always been Russian culture and no connection to Ukrainian culture." The minister did admit that the answer would be different if the question was asked to a Ukrainian or Tatar.
A Belgian radio interview with Lahbib following her trip to Crimea.
Even more uncertain is the legality of her visit, at least in the eyes of Ukrainian authorities. Crimea is still legally part of Ukraine's sovereign territory. It is against Ukrainian law to enter Crimea through the territory of Russia.
The minister has still refused to specify how she entered the peninsula. The minister previously mentioned that, in order to land at Simferopol airport, it was necessary to possess a Russian visa, suggesting an illegal route of entry into territories not currently controlled by Ukraine.
Translation: De Roover- ...your resume on Wikipedia has been thoroughly cleaned up. On July 15th, '2021: Journey to Lebanon, and Russia: …' was deleted. Until 15/7, your trip to Crimea was a trip to 'Russia', not to 'Ukraine'. At least let's call it "highly unfortunate."
Other Belgian politicians have begun to challenge Lahbib on her visit to Crimea. Despite defending the trip as part of her "journalistic work", New Flemish Alliance politician Peter De Roover highlighted that, just a day before her appointment as foreign minister, the Wikipedia page of the minister listed her journey as a trip to Russia, until it was scrubbed from the page.
A scandal in the making
This affair risks souring the otherwise positive relationship between Ukraine and Belgium that existed under the former Minister of Foreign Affairs, Sophie Wilmès. While the media coverage about the incident was scarce in Belgium, in Ukraine, the affair caused a scandal. Major Ukrainian outlets have reacted extremely negatively to the minister's visit and comments made about Ukraine.
In Ukrainian society, visits by officials to Crimea is viewed as tantamount to treason or collaborationism. While Lahbib has previously expressed her full support for Ukraine in its defence against Russia's invasion, the affair may undermine Belgian-Ukrainian relations, especially if the minister is proven to have entered Crimea illegally.
Related News
In a comment to RL/RFE, Ukrainian journalist Oleksiy Kaftan said that this incident is unprecedented in the history of relations between Ukraine and European states.
"We have never experienced such a situation, when an official representative of an EU Member State visits Crimea illegally from the point of view of Ukrainian legislation," Kaftan said. The journalist said that he "highly doubts" that Lahbib crossed legally into Crimea through controlled Ukrainian border crossings and fears the incident could escalate.
"I'm afraid that we will have difficult relations with Belgium or she won't stay long in the position," Kaftan told Ukrainian media.
Both the Ukrainian Ministry of Foreign Affairs and the Belgian Ministry of Foreign Affairs have yet to officially comment on Lahbib's trip to Crimea last year. Ukrainian authorities are expected to soon confirm if Lahbib's trip was carried out in accordance with Ukrainian law.
For now, Ukrainian authorities have not formally criticised the Belgian foreign minister, as any divisions are likely to be exploited by the Russian media. At Heysel's mini-Europe, the minister recently opened a new Ukrainian attraction at the park alongside the Ukrainian chargé d'affaires and diplomatic staff, writing about the importance of the respect for "internationally recognised borders."