Flip-flops are worn daily by half of the world's population. Three billion pairs are produced each year. It is the best-selling type of shoe in China, India and Africa.
Tourists love them too. Globally, the market for these sandals, which are available at very low costs and pleasant to wear in hot weather, exceeds that of sneakers. However, the major problem with flip-flops is that they are a major source of global plastic pollution.
Nuoceans, a Belgian start-up founded by six young entrepreneurs, has decided to tackle this problem head-on.
"When we realized that no one was working to stop this type of pollution, we immediately set to work to find a way to recover and recycle these used flip-flops," says Nuocean's Hadrien Lejeune.
Related News
Used or even simply old-fashioned flip-flops are simply thrown away without any thought for recycling. Thus, on some beaches, which have become open dumps, there are literally mountains of flip-flops. This waste eventually finds its way into the oceans.
"During a trip to Bali," says Nuoceans co-founder Flavio Affinito, "we were shocked to see the number of flip-flops abandoned on the beaches. The first reaction is disgust. Children and families live next to mountains of rubbish, 20% of which are flip-flops. Plastic that gradually pours into the oceans and then becomes irrecoverable."
After several months of research, the co-founders of Nuoceans found a way to reuse old flip-flops collected on beaches to make new sandals.
"Traditional methods of recycling are complicated, energy-intensive and melting flip-flops would also be a huge source of pollution," says Affinito. "So, we had to develop a new process. Most of the recycled flip-flop is made up of old flip-flops collected on the beaches, crushed and pressed into multi-coloured sheets. For each of our pairs, about 200 grams of flip-flops are recycled."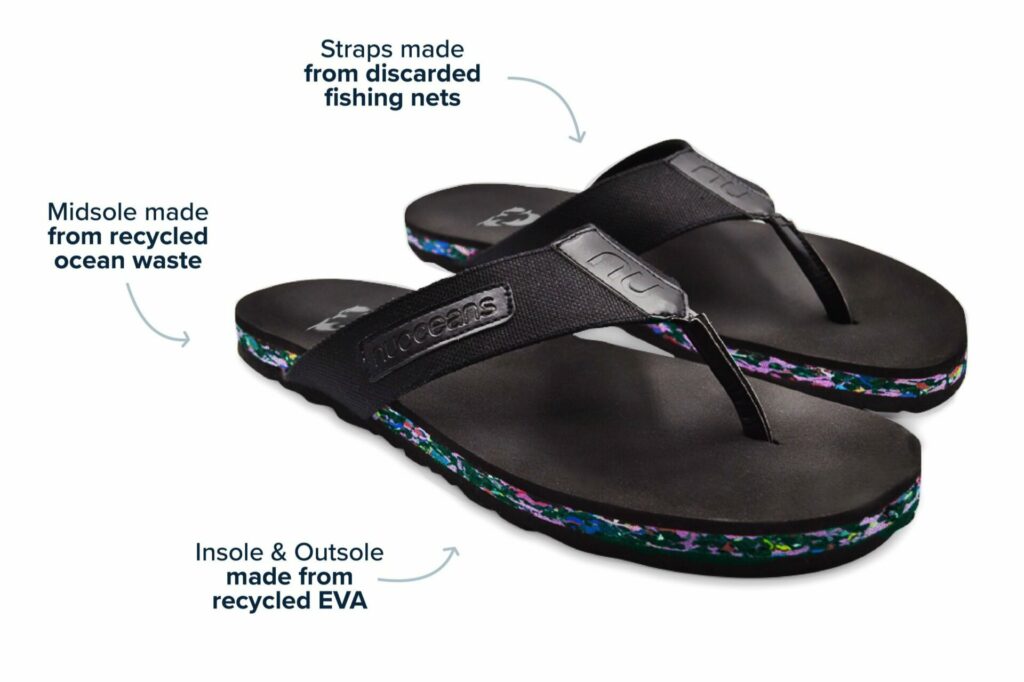 The rest consists of plastic bottles and used fishing nets collected in the Mediterranean. These materials make up the straps on the recycled flip-flops. Finally, some parts of the sole are made of EVA, a material produced from recycled post-industrial waste. Recycled flip-flops are themselves fully recyclable.
Nuoceans' project has already received several awards and funds as a promising start-up. But funding is still needed and they must convince investors that a sustainability-conscious public is willing to buy their recycled flip-flops. In the meantime, the young start-up continues to collect flip-flops from the beaches with the ultimate goal still being to have a real impact on plastic pollution in the oceans.