The Brussels Christmas Market (official name: "Winter Fun"/"Plaisirs d'Hiver") returns to the capital on 25 November and will remain in place until 1 January 2023. The market will see central Brussels transformed into a cosy Christmas village with events and activities for all ages.
Classic components such as the ice rink and Christmas tree, along with nearly 250 chalets, will return along with many new attractions spread across the site for all to discover.
Classic crowd-pleasers
The lights
Christmas in Brussels wouldn't be complete without the Christmas Lights that illuminate the city and make the dark winter months seem magical.
This year's edition will be spread over 160 streets (including 8 new ones) with lights illuminated from 17:00 to 01:00 every day from 23 November to 1 January.
Christmas tree and light show
The magnificent Christmas tree and life-sized Nativity scene will once again be the centre of attention while the sound and light show on the Grand Place will as ever captivate audiences every day from 17:00 to 22:00 (except 24 and 31 December).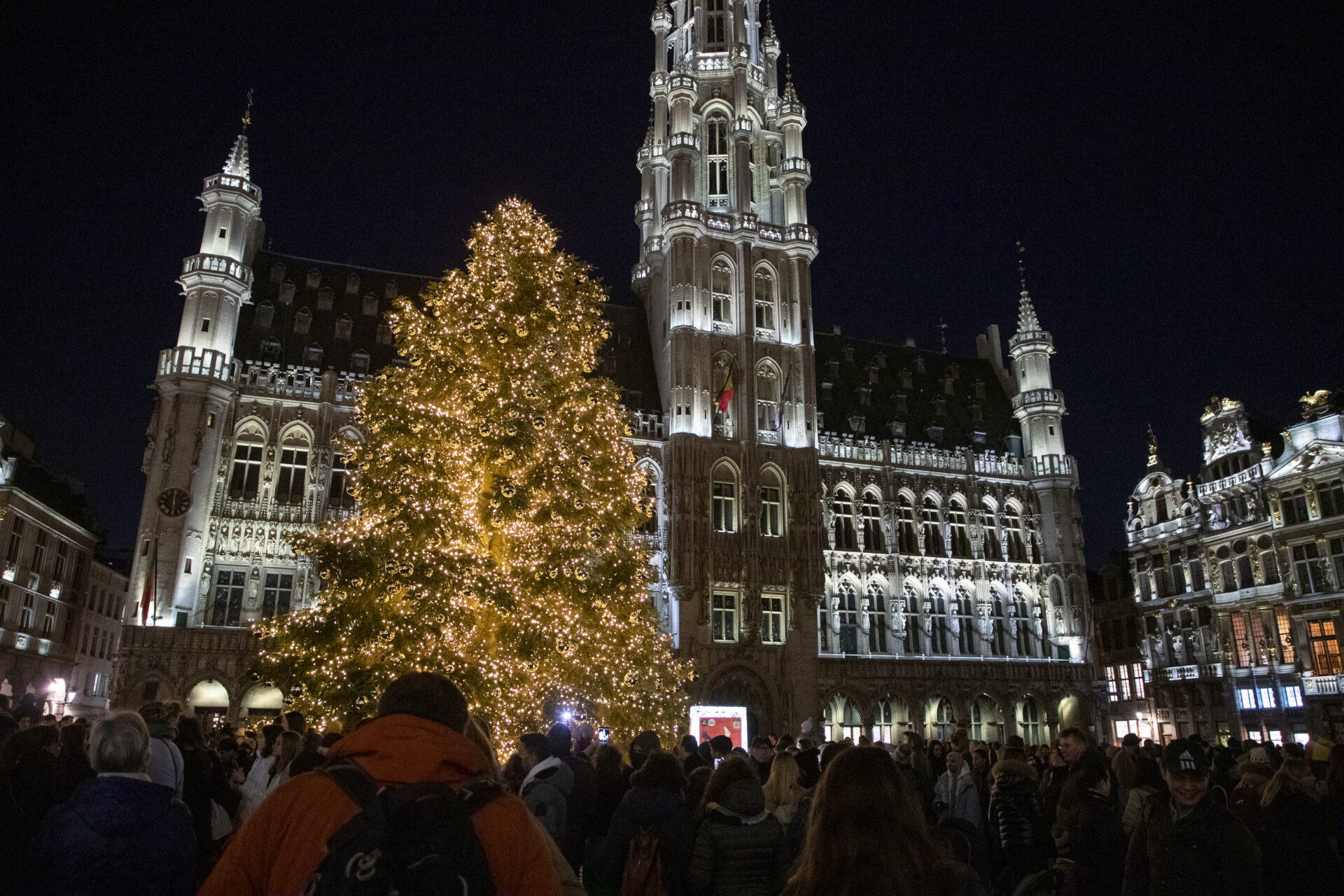 The 18-metre-high, 40-year-old Nordmann fir was felled in the village of Raeren, Liège Province, and arrived at the Grand Place last month. It has been decorated with 600 champagne-coloured baubles and two kilometres of LED lights — halving the energy consumption — which were donated by Moët & Chandon as par of its "Toast for a Cause" initiative.
Chalets and the Christmas Market
Nearly 250 chalets will serve sweet and savoury delicacies, mulled wine and Christmas gifts. The huts will be erected on a route of nearly 3 kilometres in the heart of the city.
Ice skating rink
A true Christmas classic, the ice rink will be open this year despite being subject to criticism for its energy consumption. Although the Winter Fun officially ends on 1 January, the ice rink will be open an additional week until 8 January.
Keen skaters and first-timers can enjoy the slippery fun every day on Place De Brouckère from 12:00 to 22:00 (except 24 December and 31 December from 12:00-18:00). Organisers suggest avoiding peak hours and advise going on Mondays, Tuesdays and Thursdays from 12:00 to 17:00 for a less crowded experience.
Prices:
Adults (over 16): €10
Under 16: €5
Schools: €3/student
Family (2 adults + 2 children): €25
Giant wheel
To see the Winter Fun spectacle (and all of Brussels) from above, the giant wheel will be located on Vismet (end of Place St. Catherine) from 12:00 to 22:00. Tickets are €9 for adults and €6 for under-12s.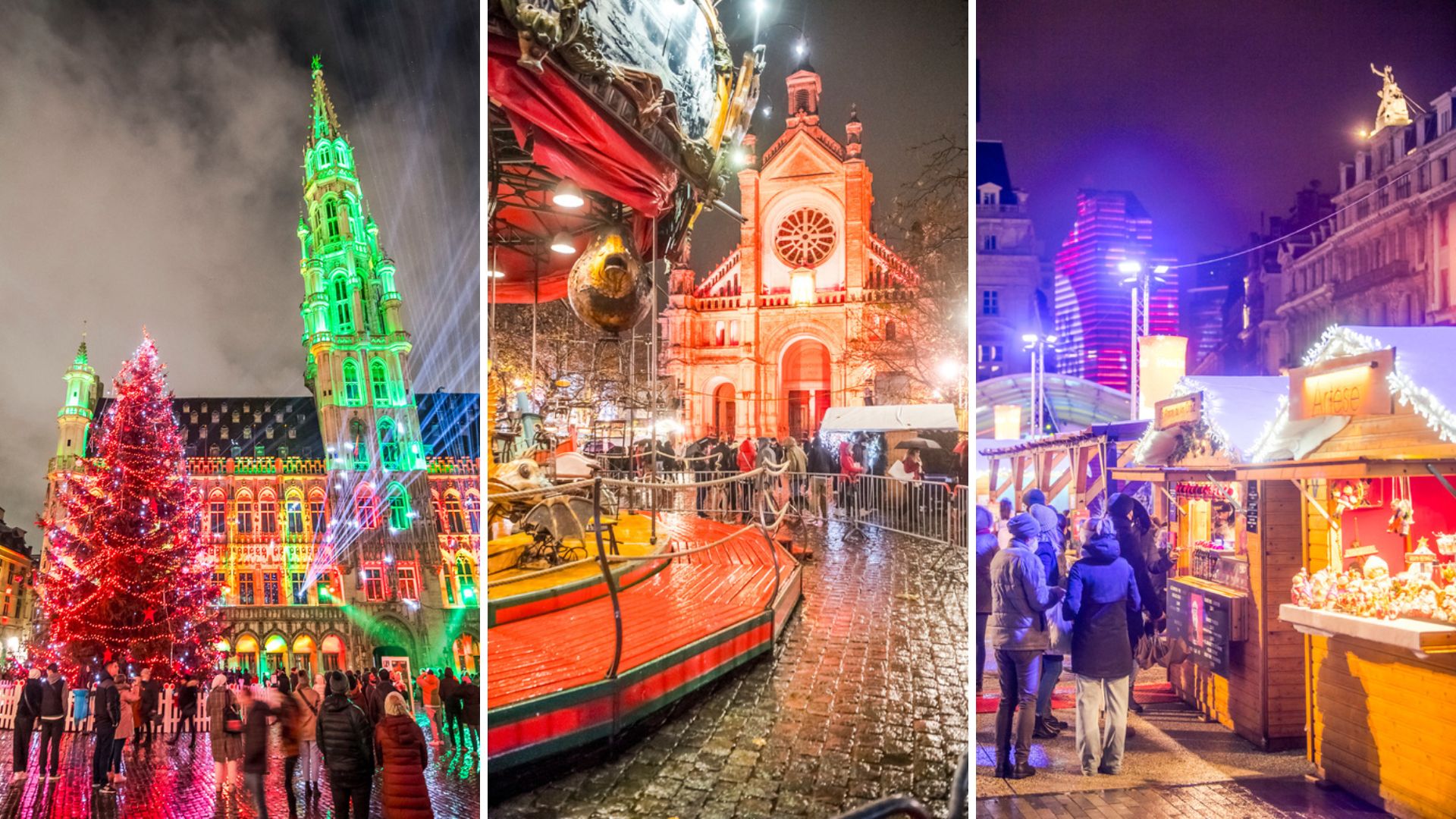 Andrea's Merry-go-rounds
These special rides are handmade and feature characters from the literary world of Jules Verne. Experience this timeless attraction every day between 12:00 and 22:00 on Place Sainte-Catherine and Vismet. Rides cost €3.
Stella Pavilion
Another favourite on Vismet is the Stella Pavillion which invites visitors for a refreshing local beer.
Winter Vox
Back for its 5th edition, Winter Vox brings recitals featuring Christmas songs, gospel, and a more pop and contemporary repertoire sung by professional and/or amateur choirs. Be serenaded every Saturday and Sunday from 26 November to 17 December between 15:30 and 19:00 at the Black Tower, behind the church of St Catherine.
What's new?
Curling rink
Place de la Monnaie will be transformed into an après-ski village with three artificial curling rinks for the more competitive Winter Fun enthusiast.
Saint-Catherine Church façade
Every day between 17:00 and 23:00, the magnificent façade of St. Catherine's Church will be illuminated with a poetic snowfall – a picturesque spot for passers-by.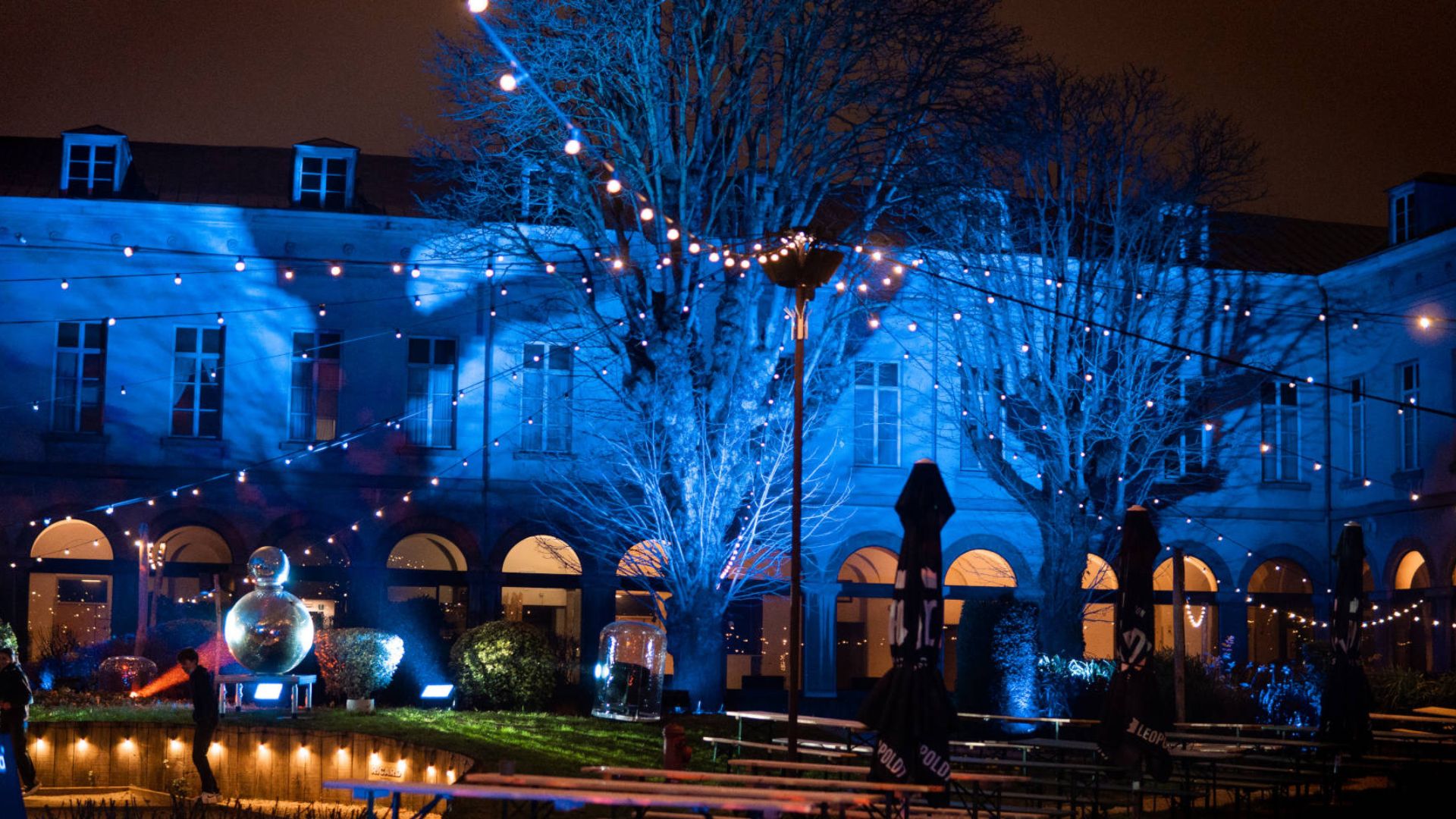 The Secret Garden
Looking for an escape from the Christmas bustle? The Secret Garden is just the place. Located in Grand Hospice, a stone's throw from the Giant Wheel, the Christmas atmosphere of the Vismet will be extended into a peaceful garden featuring light installations, acoustic concerts, local comedians, and even a wood-fired sauna.
Sundays to Wednesdays between 12:00 and 00:00 and Thursdays to Saturdays between 12:00 and 01:00, visitors are welcome for whatever activity is taking place on the day.
Wednesday – acoustic sessions
Thursday – after-work with DJ
Friday – party with DJ
Saturday – full band concert
Ice Monster
One of only seven in the world and the only one in Europe, the Ice Monster guarantees thrills and chills during a terrifying walk of special effects every day from 12:00 to 22:00 on Vismet.
Prices:
€5 per person
Family tickets: €12 for 3 people
€15 for 4 people
Quebec First Nations
A limited event from 15 November to 28 November at the Black Tower behind Saint Catherine Church, Quebec First Nations will represent Canada with typical foods and products.
Tribute to René Magritte
It is almost 125 years since René Magritte was born and to honour the world-renowned artist, the City of Brussels has chosen to honour the painter with an "intriguing and magical installation" at the City Hall. See the exhibition from 17:00 to 22:00 at Cour de l'Hôtel de Ville.
Spirit of the North exhibition
Traditional end-of-year activities and cutting-edge experiences will be exhibited in the Horta Gallery. Before entering the Spirit of the North exhibition, the public can get a free taste in place d'Espagne, illuminated by numerous magical installations.
Dream Space
A virtual reality experience on comfortable wraparound chairs awaits visitors at the Dream Space experience, great for all tastes and ages! On at Vismet for €7 from 12:00 to 22:00.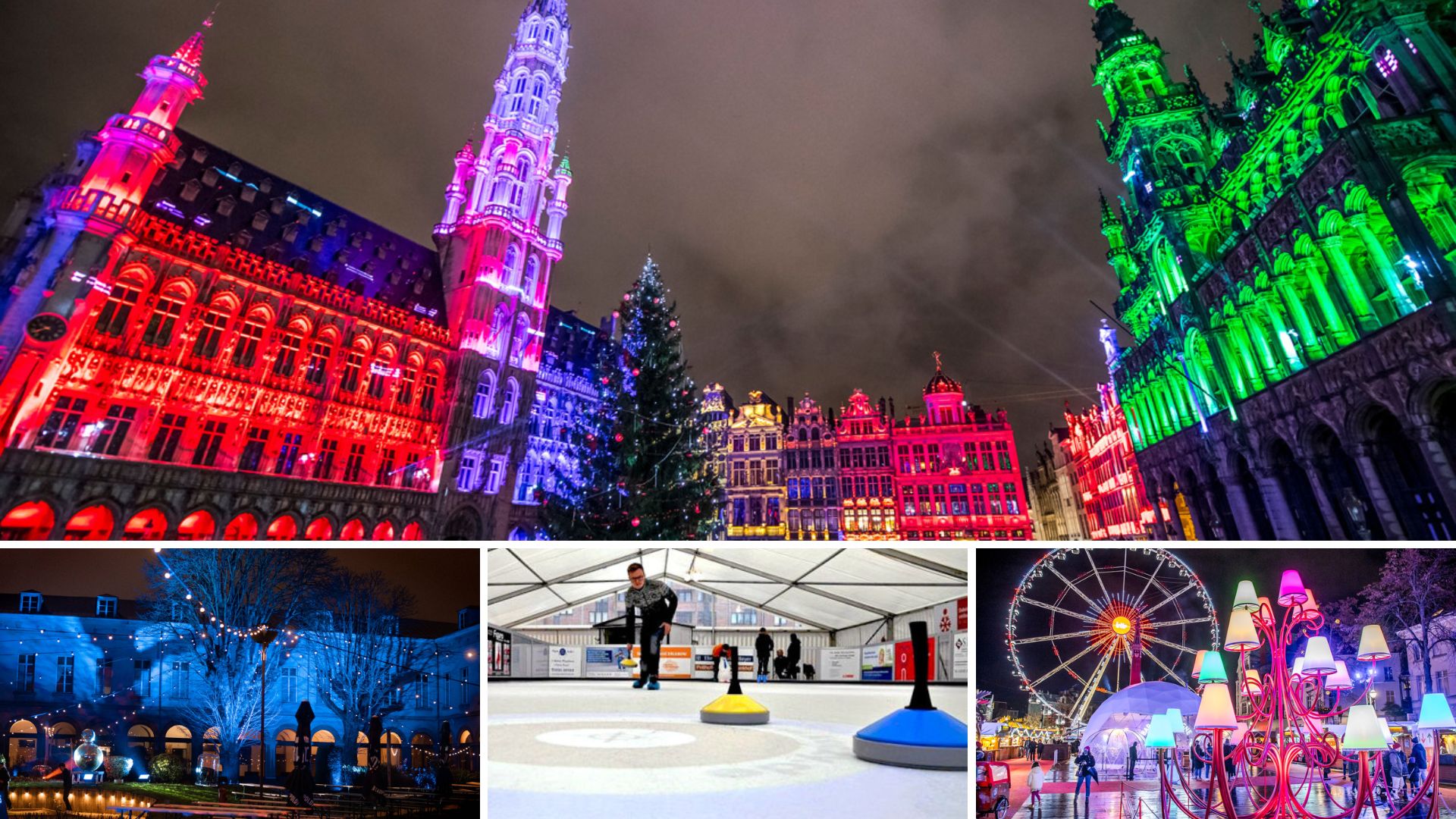 Must-see areas
If you're short for time, several key squares in the city have numerous activities in close proximity, making it even easier for you to experience the Christmas joy. Here are the must-see areas along with an interactive map of Brussels made by the city to help you plan your route.
Grand Place
The Grand Place really isn't to be missed, with its magnificent tree and light show. But don't limit yourself as there is plenty more Winter Fun just a short walk away.
Vismet and Place Saint Catherine
The attraction centre of Winter Fun, Place Saint Catherine and Vismet house the Giant Wheel, Andrea's merry-go-rounds, Stella's Pavillion, Winter Vox, the Ice Monster, the Secret Garden, the Quebec First Nations exhibition and the virtual reality Dream Space. And of course the façade of Saint Catherine Church will be illuminated.
You might need to stop and recuperate at a chalet with hot chocolate and a warm Belgian waffle after visiting this square.
Place de Brouckère
With the ice rink, numerous chalets and covered terraces, Place de Brouckère will be transformed into a warm and friendly mini-village. The activities taking place here will extend to Sunday 8 January.
Fun extras
For those with an insatiable craving for all things Christmas, the culture sector is also putting on a show throughout the city. For a full list of events planned as part of Winter Fun, visit their website.
The Creator's Factory is back for the second time in Halles Saint-Géry with various events taking place on specific days – see the website for details. The factory will be open from 25 November to 24 December during the following hours:
Fridays from 18:00 to 22:00
Saturdays and Sundays from 12:00 to 20:00
The factory will be closed on Friday 23 December from 12:00 to 22:00 and Saturday 24 December from 10:00 to 14:00.