When you've conquered the world at the tender age of 17, it must be hard coming back down to earth. You could be forgiven for being a teensy-weensy bit cocky.
In August, Belgo-Brit Mack Rutherford became the youngest person to fly solo around the world. His journey across 52 countries took five months and a day. He's also the youngest person to circumnavigate the world in a microlight airplane, taking the record from his sister Zara, whose time he beat by 24 hours.
Sitting opposite me at his parents' self-storage business in Rhode-Saint-Genèse/Sint-Genesius-Rode, Mack comes across as well-spoken, polite and calm. Not remotely cocky.
He's back home for half term from Sherborne, an exclusive fee-paying boys' boarding school in Dorset, whose illustrious alumni include the World War Two code-breaker and computing pioneer Alan Turing.
Going back to school after his record-breaking exploits must have been difficult, I suggest. "It was different of course. I had a lot of work to catch up on," replies Mack, who had hoped to complete his flight in a half the time but was hampered by delays in obtaining visas and permits, appalling weather and technical problems. "It's nice just to go to lessons and have the same friends as before. Everyone's pretty normal about it. Basically, it was back to normal quite quickly," he shrugs.
Mack, who's in the upper sixth and his final year, is studying for A-level (advanced) exams in history, economics and biology. He's interrupted his half-term break to sit an intermediate AS-level (advanced subsidiary) in biology. It meant heading back to Britain, but the travel was no hassle. He flew there and back in the €150,000 Shark Aero microlight which his sponsor, web hosting firm ICDSoft, has loaned him until May.
So what is this aviation trailblazer planning next? "I'm hoping to keep flying but I'm not entirely sure in which area of aviation. I'm going to go to university first and see what happens. I'm thinking of doing economics or international relations, but at the moment I'm really just trying to catch up on my A-levels," he says.
Digging for some sibling rivalry, I ask who's cleverer: Mack or Zara, who's three years older. "Probably my sister. She's very good with computers and all that sort of stuff. But we are very different. She's much more into maths-type areas. She's now studying electrical engineering at Stanford University in the US."
How did she feel about her younger brother snatching the record she set in January this year? He dutifully declines to take the bait, loyally pointing out that Zara's ambition was to become the youngest woman to fly solo around the world – a title she still holds.
Both were born in Belgium, Zara in Kortrijk, where their maternal grandparents live, and Mack in Rhode-Saint-Genèse. Both attended the same local junior school, De Boomhut (tree house in English) in nearby Beersel, and speak English, Dutch and French.
When he's not setting world records or busy studying, Mack enjoys skiing, tennis and football. So who does he support in the World Cup, England or Belgium? Mack diplomatically dodges the question. "Er, I'm neutral when they play against each other."
He misses some Belgian home comforts when he's away at school. "I really like the fries and things like that. But also just family and the animals nearby," he says, pointing to parkland which is out of sight.
Flying family
It was, perhaps, inevitable that Mack and his sister would become ace fliers. Aviation is in the family's blood. Father Sam, who's British, and Belgian mother Bea are both experienced pilots who've been taking their children up into the clouds since they were barely out of nappies.
Mack's grandfather and great-grandfather, on his mother's side, were private pilots and his great-great-grandmother, on his father's side, was one of the first South African women to fly. A great-granduncle died flying a Catalina flying boat during the Second World War.
Mack says he knew he wanted to be a pilot from the age of 11, having flown hundreds of hours with his father. He was 15 when he qualified for his pilot's licence at Buzet, a small aerodrome between Nivelles and Charleroi, in September 2020. He was the youngest pilot in the world at the time.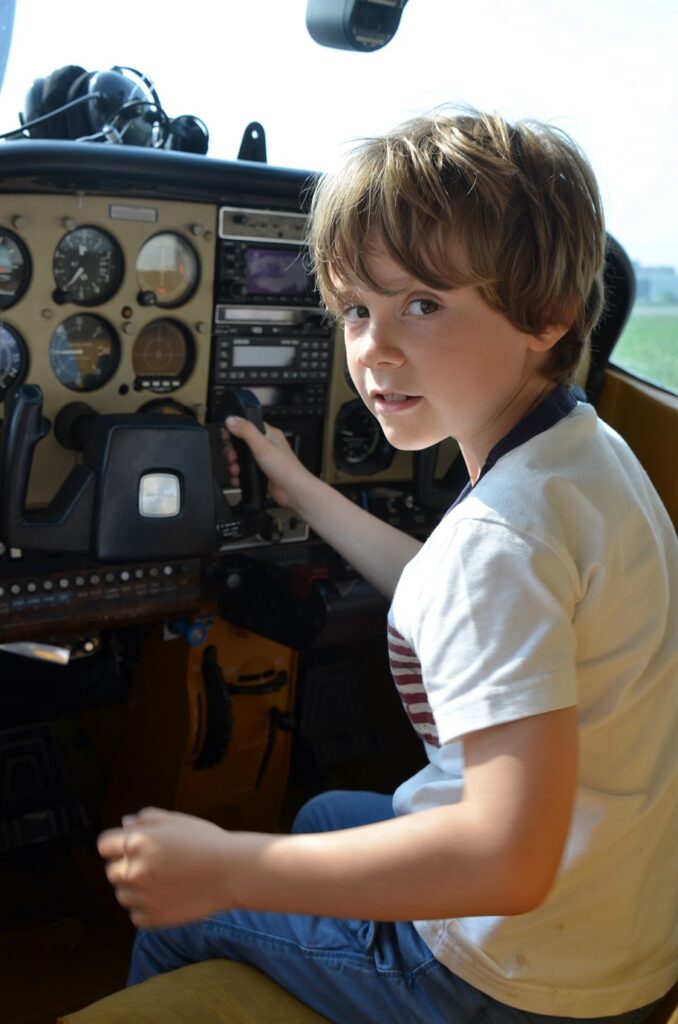 After qualifying for his pilot's licence, he immediately began planning for his solo flight around the globe. His sister Zara's success gave him an additional spur to realise his dream.
He spent six months on a gruelling training schedule before the flight. "We had to work very hard," Mack says. "I did quite a bit of flying in Europe and two transatlantic flights with my dad, from Toronto to Oxford, and then from Portsmouth to Ohio."
He also had to practise ditching in water in case of an accident or emergency. "It was a bit scary," he says. "You're in a metal box with seat belt straps. You have to try to find a way out. It showed how difficult it can be to get your bearings in the water. I found that a really good experience, but the toughest part was the transatlantic flights. It's four hours over water on both legs. It's a very tricky flight and you have to keep concentrating."
His Shark Aero, designed in the Czech Republic and built in Slovakia, was souped-up for his record-breaking attempt. The main modifications involved setting the propeller for maximum efficiency at 300km (150 knots) per hour and adding an extra Turtle Pac fuel tank to double the plane's normal 2,000km range.
His Shark uses slightly less fuel per kilometre than a small family car while covering around three times the distance at the same time. "Normally the plane can do around five hours of flying, but with the extra tank, I can do about 10 hours. The wings each carry 50 litres, so 100 litres in total. The extra tank is another 100 litres," explains Mack, adding that the engine runs on Avgas aviation fuel, premium unleaded car petrol – or a mix of both, which would prove very practical during landings at isolated locations during his flight.
After months of preparation, everything was now set for D-Day. On March 23, nearly three months before his 17th birthday, Mack took off from Sofia in Bulgaria, his sponsor's base. He headed to Italy and Greece, where he faced a six-week delay, having to revise his route and seek new permits. From there he flew south to Africa, crossing Egypt, Kenya and Sudan, where the plane's solar panel system collapsed in the heat.
The Guinness World Record guidelines required Mack's route to include two 'antipodal' geographical locations, opposite each other on the globe. On May 27 he crossed his first antipodal point near Rodrigues Island near Madagascar in the Indian Ocean.
He continued east to Mauritius before heading north to Oman and the United Arab Emirates, where he was again delayed, this time for more than five weeks, waiting for an Iranian permit. "I lost months on bureaucracy," he recalls ruefully.
Grounded in Dubai, he celebrated his birthday on June 21 by watching –what else? – 'Top Gun: Maverick', Tom Cruise's long-awaited sequel to the iconic 1980s aviator action movie. "I kind of liked it," he smiles.
He then changed his route again, heading to Pakistan and India, where he ran straight into the monsoon season. Heavy rains pierced his fuel tanks and the plane interior, leaving Mack and his flight documents soaked. Soon after, the autopilot failed and kept doing so, on and off, for the rest of his journey.
"There were so many big storms and technical issues, but we were luckily able to solve them and they didn't result in anything major bad happening," he says.
Best laid plans
Mack pressed on, crossing Thailand, Vietnam, South Korea and Japan. There was very little space in the cockpit to carry food but Mack was able to get by on snacks. "I would take quite small items of food, like Oreos, or things like that. You just need to make sure you don't take too much. I would pick up food from where I landed. In Japan, they had these rice balls, which are nice. In the US, it was sandwiches. It would change wherever I was," he says.
The longest leg of the flight was across the northern Pacific: 10 uninterrupted hours covering 2,400km. To ensure he could safely make it, Mack added two extra 25-litre fuel tanks, bringing his total fuel capacity to 250 litres. The flight path took him from Japan past the volcanic Aleutian Islands, near the Bering Straits, off the westernmost tip of Alaska.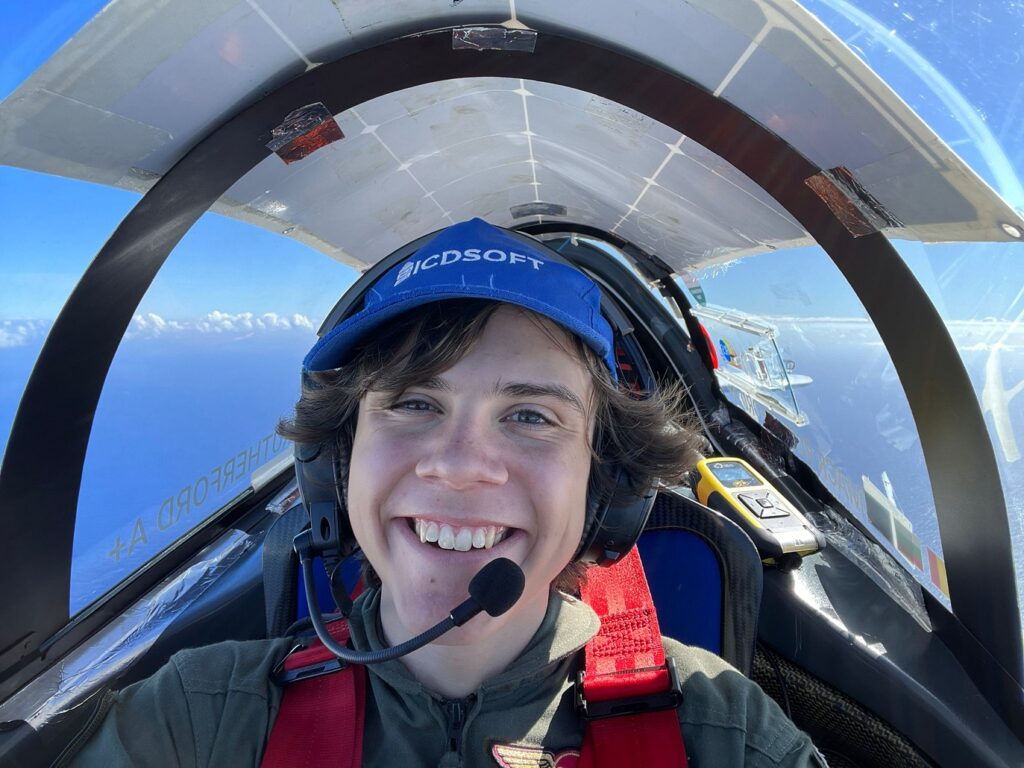 I have to ask. What did Mack do when he needed to relieve himself? "Well, you have a bottle but I actually didn't go when I was flying, even when I did the 10-hour flight." It seems like unbelievable bladder control.
On such a long flight, he must have been bored at times. Could he turn on the autopilot and get some shut-eye? Mack looks aghast.
"No, never!" he says. "It's not like you're sitting on a sofa and not doing anything. You're always checking around you, looking at the instruments. I wouldn't call it boring, but, yes, sometimes it's not very interesting either. But you're always concentrating on something. You can't sleep."
He continued his flight across mainland Alaska, along the west coast to Mexico, reaching his second antipodal point at Isla Socorro on August 9. From there he travelled north to Canada and across the Atlantic to Greenland, where his landing gear alarm went off.
Once again, Mack remained unfazed and fixed the problem. "I could always contact my dad or my mum or get help from someone on the ground if I needed it. Usually, I'd call home every night before going to bed," he says. He also received advice en route from Zara.
He continued his journey to Iceland, Britain and Belgium before landing back in Sofia – and celebrating a new world record with his family – on August 24.
An epic achievement, yet Mack is modesty personified, feet firmly planted on the ground. Does he have a message for people of his age who might not have access to a super-fast plane or sponsor with deep pockets? He pauses before replying. "For me, the most important thing was to show that young people can pursue their dreams. I hope I inspire others to achieve amazing things, whatever their chosen field," he says.
---
Mack facts
Youngest person to fly solo around the world and youngest to achieve the feat in a microlight
Age at time of world record: 17 years, two months and two days
Aircraft: Shark Aero.
Speed: 300 km/h
Normal average fuel consumption: seven litres per 100 km. Mack's modified plane consumed 5.5 litres per 100km
Total distance covered: 54,124km
Total time in the air: 221 hours
Total time of circumnavigation: 142 days – five months and one day
Takeoffs/landings: 68
Longest flight: Japan-US, 2,400km in 10 hours
Average altitude: 2,000 feet (610 m)
Highest altitude: 12,500 feet (3,810 m) in Mexico. Typical cruising altitude for a commercial airliner is 31,000 to 38,000 feet (9,400 to 11,600 m)
Highest temperature: +48C
Lowest temperature: -12C
No helicopter parenting
Sam and Bea Rutherford, the parents of two teenage record-breaking flyers, are proud and laid-back.
Born in Scotland and raised in England, Sam, 50, joined the British Army at 18 and, in his words, then "lived everywhere". He flew helicopters on operations around the world for eight years, before becoming a civilian 'ferry pilot', collecting and delivering aircraft for clients.
He met his future wife Bea during a stop-off in Myanmar (Burma), in a temple in Began, near Mandalay, when she was backpacking and he was on the way back from Australia. "It was the will of the gods," he jokes. Educated at Abdijschool van Zevenkerken in Brugge, 52-year-old Bea is a former lawyer who studied in Namur, Leuven, Siena and Panthéon-Sorbonne in Paris.
The couple settled back in Belgium in 2000, setting up Prepare2go, which provides logistics for the film and TV industry, flying shows and runs ferry flights (their website shows a warehouse packed with equipment from 18-tonne trucks to quad bikes to satellite phones). Bea and Sam also own My Bubble Self Storage, located in an adjoining building in which our meeting is taking place.
The equipment has come in handy. Sam was lucky to survive in 2019 when a Piper Malibu light aircraft he was travelling in crashed on a remote mountainside in eastern Canada. Despite suffering six broken ribs and facial lacerations, he managed to raise the alarm by texting Bea in Belgium with his GPS coordinates. She alerted the Canadian authorities. Unable to send a helicopter due to the blizzard conditions, a rescue party set out on snowmobiles and then foot, reaching Sam and his 73-year-old co-pilot – who later died from his injuries - after seven hours.
Given this experience, was Sam nervous when Mack and Zara were flying around the world? "A couple of times a little bit, but not hugely. They're both very competent aviators," he says. "The last thing they need is me piping up via the radio and saying, 'Why did you turn left?'"
Plus, he notes, the unexpected can happen anywhere. "It can also happen when you're on a train or crossing the road, or, frankly, on a bicycle in Brussels," he says.
Zara's story
At 19, Zara became the youngest woman to fly solo around the world and the first person to complete a circumnavigation in a microlight.
Her journey began at Kortrijk-Wevelgem Airport on August 18, 2021, and ended at the same airfield, five months and two days later on January 20, 2022.
While also flying a Shark, she took a different route to Mack, heading west to the UK, then north to Greenland, across the Americas to Alaska and Russia, before returning through Asia, India, Egypt and Europe.
Like Sam, she had her share of issues with permits and extreme hot and cold weather conditions. She was forced to spend long periods on the ground in Alaska and Russia, as well as having to change her route to avoid being quarantined in China.
After primary school in Beersel, Zara moved to St Swithun's School in Winchester, Hampshire, where she completed A-Levels in maths, further maths, economics and physics before starting her four-year degree course at Stanford.
Now 20, Zara's inspirations include Amelia Earhart, the first woman to fly solo across the Atlantic, and Valentina Tereshkova, the 85-year-old former Soviet cosmonaut who was the first woman in space. Her dream is to become an astronaut. You wouldn't bet against her making it.