Despite the importance of work-life balance rising in the public conscience, Belgian workers are among the worst in Europe when it comes to keeping track of working hours.
Just 60% of Belgians actively log their working hours, the second-lowest number in Europe. Only France performs worse on this front, where just 46% of workers do so, figures published by HR services provider SD Worx showed.
On average, 69% of employees on the continent consciously keep track of their working hours, with Sweden and Germany leading the way(80%).
Around half of the Belgian workforce uses a time registration system for recording working hours, slightly below the European average (55% of employees). These systems are especially popular in Spain (67%), Norway (66%), Germany (63%), Sweden (63%) and Finland (60%). Yet in France, they are largely absent and used by just 41% of employees.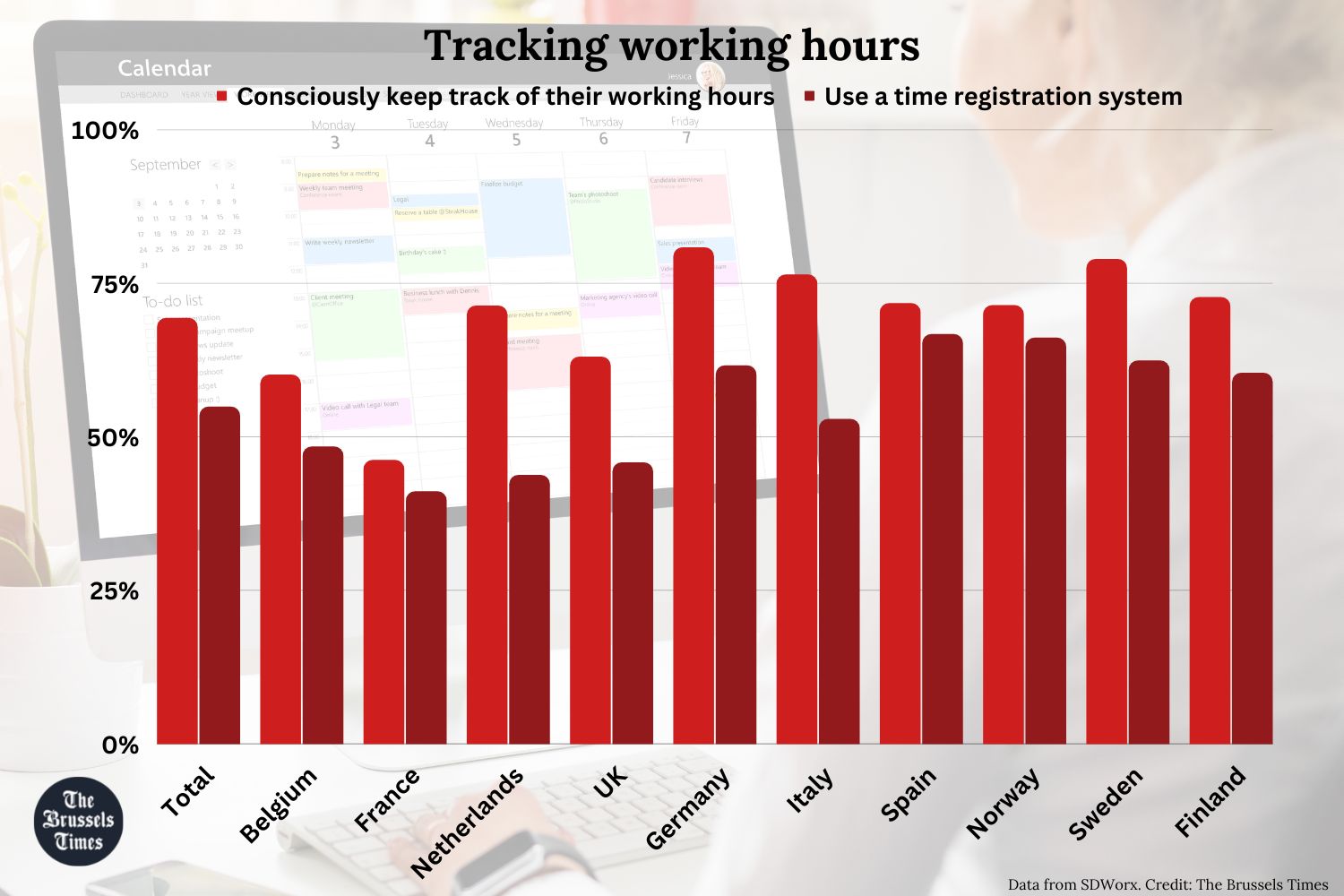 47% of workers in Belgium believe keeping track of their working hours with a type of system has positive effects on work-life balance; just 16% are against keeping track of working hours in this way. According to SD Worx, there is still potential to further implement such systems.
"Employers who invest in an employee self-service (ESS) not only increase transparency for all employees with a high probability of a positive effect on work-life balance, they also get a real-time picture for personnel planning," SD Worx noted.
Related News
In Belgium, about one in five companies have already invested in so-called employee self-service (ESS) tools that allow staff and managers to enter and manage their data. This allows employees to generate data-driven personnel planning and makes this part of business a shared responsibility. At present, these are mainly established in Scandinavian countries.
"This tool also allows employees to make more conscious choices and optimise their time management," Bruce Fecheyr-Lippens, Chief People Officer at SD Worx concluded. "Smart technology leads to greater efficiency, effectiveness and productivity."