Core inflation — which strips out the impact of energy and unprocessed food prices — increased at an alarming rate in Belgium last month, suggesting that Belgians' ongoing struggle to cope with rising prices is unlikely to abate any time soon.
According to the latest data published by Statbel, Belgium's official statistics office, Belgium's core inflation rate rose from 7.1% in December to 8.2% last month, despite the headline inflation rate falling to 7.4% from 10.2% over the same period.
The latest figures mean that headline inflation has now fallen for three months in a row, after peaking at 13.1% in October last year. Meanwhile, core inflation has steadily risen since March last year.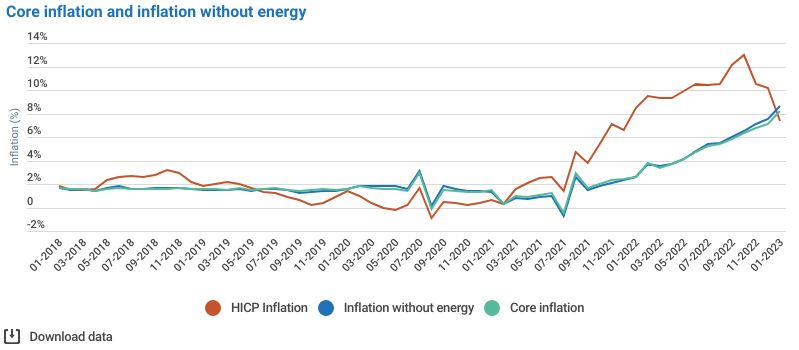 Reasons to worry?
The study found that the rise in core inflation was largely caused by an increase in prices for non-durable household goods, as well as articles and products for personal care. Rising costs for processed food products and services were also partly responsible.
Meanwhile, Statbel found that the overwhelming reason for the decline in headline inflation was a steep reduction in natural gas and electricity prices, precipitated by Europe's unseasonably warm winter weather.
Despite the welcome decrease in the headline rate of inflation, it is highly unlikely that the latest data will prevent European central bankers from further increasing interest rates to drive down price growth, given that the headline inflation rate in many eurozone countries is still well above the European Central Bank's (ECB) official 2% target.
Related News
Indeed, last month ECB President Christine Lagarde informed the World Economic Forum at Davos that inflation is "still way too high", stating that the ECB will "stay the course... so that we can return inflation to 2% in a timely manner".
Moreover, in an interview with Italian newspaper La Stampa last month, Klaas Knot, a member of the Governing Council of the ECB, explicitly noted that core inflation's steady rise implies that the ECB will "continue to be in tightening mode until the summer".
He added: "In the December data, we saw a first decline in headline inflation, but that was entirely due to base effects and lower energy inflation. When we focus on core inflation, unfortunately it's not good news; it is still on the rise. Underlying inflationary pressures show no signs of abating yet."