Following a week marked by travel chaos and protest actions, Belgium's main trade unions are organising a nationwide strike on Friday to highlight the importance of investing in public services. Public transport disruptions are expected throughout the day.
Today's strike is part of this week's wider trade union protest actions against the underfunding and understaffing of public services – such as healthcare and education, but also security and mobility – as well as the government's pension plans.
"The railway strike will start at 22:00 on Thursday 9 March and end at 22:00 on Friday 10 March," Günther Blauwens, President of the socialist railway union ACOD Spoor, previously confirmed to Belga News Agency.
National and international trains
The national railway company SNCB confirmed about one in three trains will run.
"Based on available staff, we have drawn up an alternative train service. Depending on this, disruption may be greater in some provinces than others," SNCB stated.
The company warned on its website that only one in two IC trains (between bigger cities) will run on Friday, along with just one in three S (suburban trains in and around several cities) and L (trains that stop at every small station between bigger cities) trains.
Most rush-hour trains in the morning and evening will not be operated, and very few connections will be guaranteed in the provinces of Namur and Luxembourg, in part of Walloon Brabant (no trains stop at Ottignies station) and between Liège and Huy.
To check if your specific train is running, SNCB advises travellers to consult the journey planner on its website or via the SNCB app. The company will also give regular updates via its social media accounts.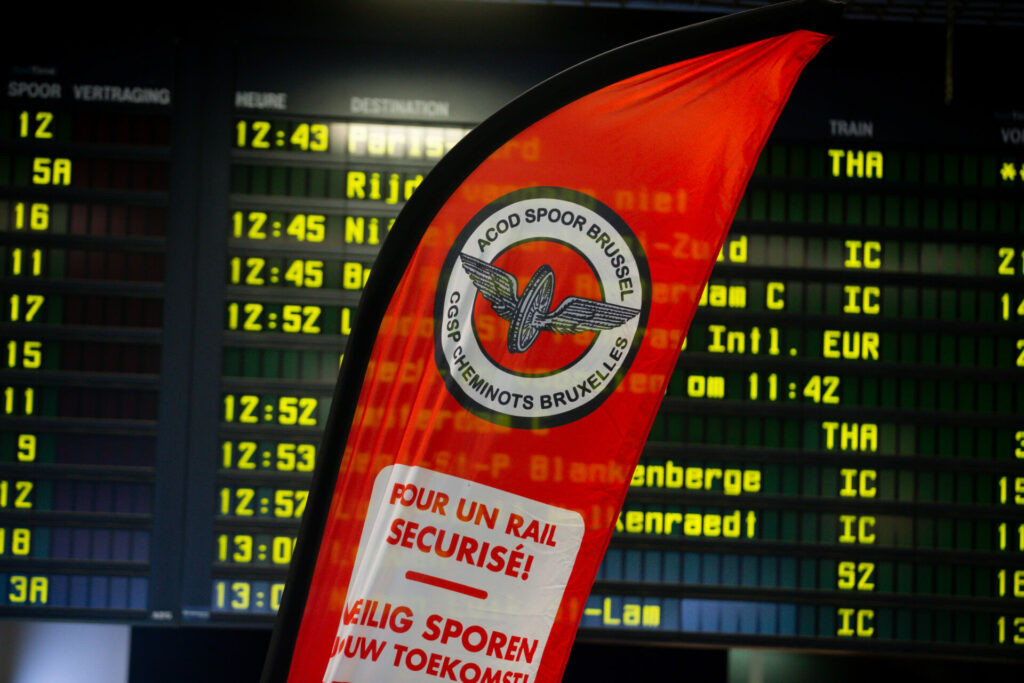 For most international train connections, normal service is expected for the time being with some exceptions.
Twelve trains between Brussels-Midi/South station and Amsterdam are cancelled, and two ICE trains normally serving the Brussels-Cologne-Frankfurt route will not stop in Brussels. More info about specific trains can be found here.
Brussels-Capital Region
In Brussels, public transport company STIB said in advance it was also expecting "severe disruption" on its bus, tram and metro network as a result of a large mobilisation of its staff. "Network capacity will be limited. Frequencies will be lower than normal and some lines will not be able to run at all," it said.
STIB announced on Friday morning on Twitter that only metro line 1 (extended to Erasmus), trams 3, 4, 7, 8, 9, 51, 92 and buses 12, 36, 46 (only between Moortebeek and Anneessens), 50, 53, 56, 59, 65, 71, 87 (extended to Étangs Noirs/Zwarte Vijvers) and 95 will run. All other lines will not be served during the day of the strike.
Passengers will be updated in real-time from 06:00 via the STIB website, social media and app, as well as on the various stops throughout the city, but the company has asked travellers to "look for an alternative public transport solution if possible."
Flanders and Wallonia
Flemish public transport company De Lijn also announced that it expects disruptions to its bus and tram services across Flanders due to the national day of action. "How big the impact on services will be, and where it will be felt the most, is not yet known."
De Lijn will provide an adjusted timetable based on the working drivers. The Flemish public transport operator announced that it will only be able to operate an average of 57% of its lines on Friday.
Via its route planner, both on the website and in the app, travellers will be able to see all lines that are running on Friday. "Lines that do not run will not be shown. On Saturday 11 March, services will return to normal."
Walloon bus company TEC also announced that it is fearing disruptions across its entire network, but the severity will depend on the province. Information on the cancelled routes, organised by province, can be found on the company's website and will be regularly updated during the day.
Brussels Airport
Brussels Airport will not be affected by the strike on Friday, a spokesperson confirmed on Friday. However, the airport did warn travellers arriving by public transport to plan their journey carefully and to check train and bus schedules.