Belgian workers make up the largest group of employees who cross borders for work compared to its neighbouring countries. Most are commuting to Luxembourg for work, while Belgium is the most popular destination for French workers.
The number of people commuting from other countries to Belgium for their jobs rose slightly (+0.7%) from 52,085 in mid-2021 to 52,469 in mid-2022, according to HR service provider SD Worx.
Overall, the province of Hainaut attracted the most incoming cross-border workers, even though a 35% drop was seen here between 2021 and 2022. The biggest increase in cross-border workers was recorded in Namur (from just 1,609 to 12,377 in 2022), followed by East Flanders where it almost doubled to 10,489.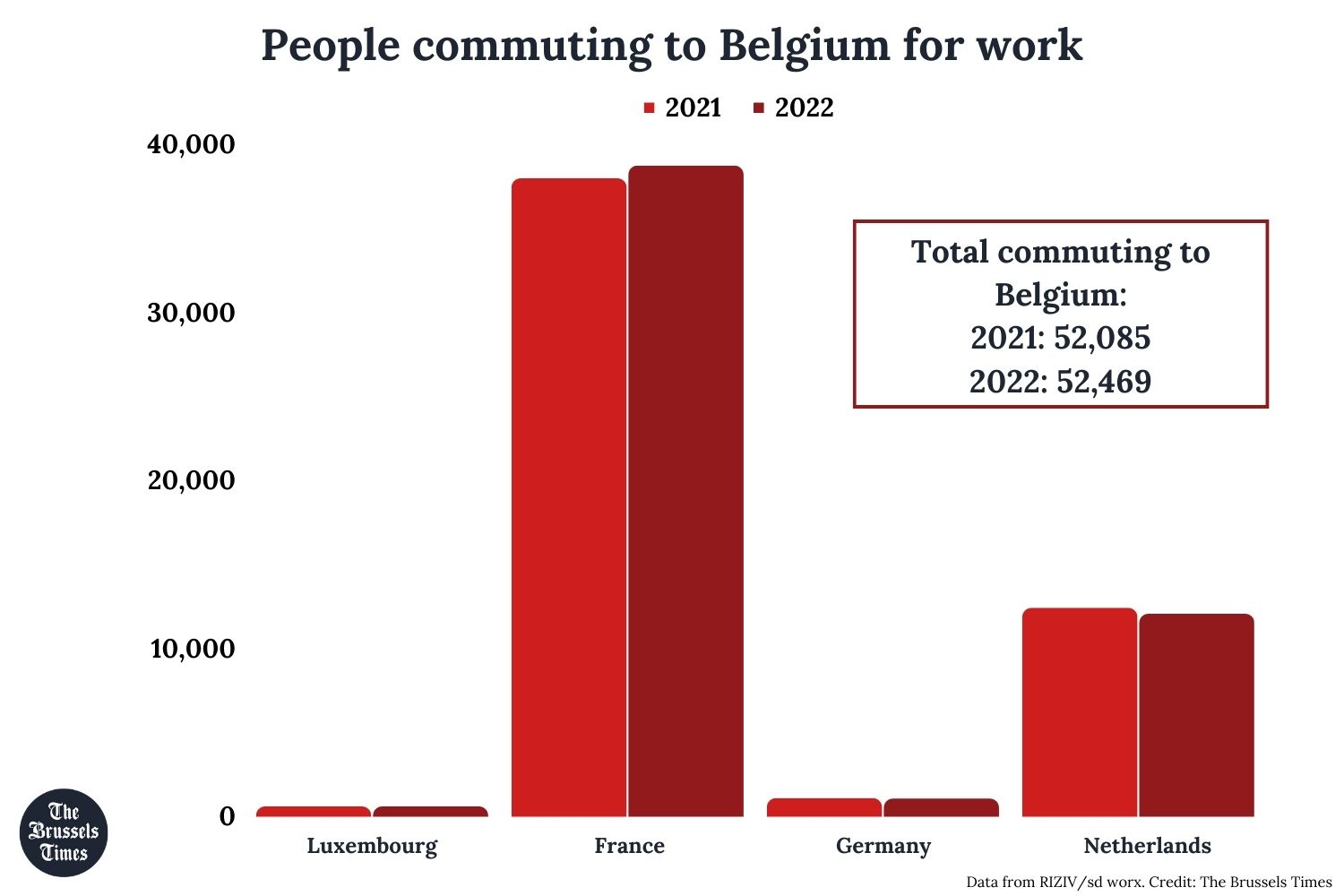 Already in 2021, the majority of "incoming cross-border" workers were French. This figure increased slightly (+2%) in 2022 when a total of 38,478 French people regularly came to Belgium for work. A rise was recorded in the provinces of Namur and East Flanders. In West Flanders, at the country's northern border, their numbers decreased.
More people leaving than coming for work
The number of people leaving Belgium to work in neighbouring countries remains stable. "At almost 88,000, Belgians working in a neighbouring country are the largest group of cross-border workers," SD Worx noted.
More than half of the people leaving Belgium for this purpose work in Luxembourg, a figure which has risen by 3% since 2021, and more people are commuting to Germany for work. Meanwhile, some 1,755 fewer Belgians are going to work in the Netherlands (-6.6%), however, it remains the second most popular destination for Belgian workers.
Most people who live in Belgium but work across the border live in the province of Luxembourg (36,622), followed by Liège (15,655) and Limburg (14,584).
Flexible framework
Soon, the more beneficial system for cross-border workers and teleworking (set up during the pandemic) will end definitely.
"In principle, we will then fall back to the 'normal' rules, whereby an employee is socially insured in their country of residence if they perform at least 25% of their activities in the country of residence," Jo Lavrysen, Senior International Employment Consultant at SD Worx, said.
Specifically, this means that, for example, if an employee works more than one day from their home in Belgium for a company in France, the French employer risks heavy administrative consequences, such as setting up payroll administration in Belgium, which adds complexity and costs.
Related News
SD Worx announced that a new international agreement is on the table that provides for relaxed social security rules for teleworking across cross-borders, which could see Europe adapt rules to the new phenomenon as some employers are happy to allow two teleworking days.
"It is positive that a more flexible framework is now being worked on at the European level, whereby the various member states can decide separately whether or not to apply it. Since Belgium and its neighbours are big supporters of a more flexible policy for frontier workers, these countries will probably join the agreement," said Lavrysen.