Activists donning masks of State Secretary for Asylum and Migration Nicole De Moor and Prime Minister Alexander De Croo opened up an abandoned building in Brussels to some 70 asylum seekers in protest of the government's handling of the reception crisis.
The 'Stop the Reception Crisis' collective publicly announced the opening of a building on Rue de la Loi in Brussels — the former Belgian headquarters of the Scientology church and next to the headquarters of the centrist CD&V political party, of which de Moor is a member — for asylum seekers.
"About 3,000 asylum seekers are sleeping rough today while they are entitled to reception. They see their health deteriorating by the day," said Sacha, spokesperson for the collective.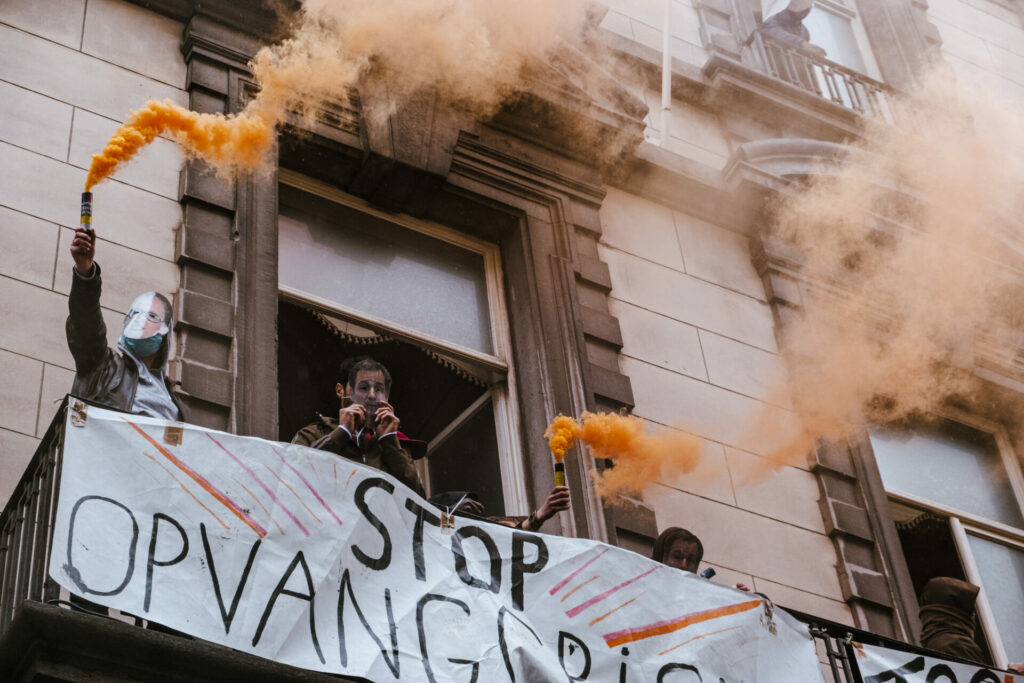 The building has been discreetly occupied by the collective for three days, but on Sunday afternoon, the occupation was unveiled by the activists wearing masks. The police were soon present on the scene, but officers did not intervene. There was allegedly pressure from political quarters not to intervene.
Reminder of responsibilities
With this action, they not only wanted to provide housing to homeless asylum seekers but also remind de Moor that the basic rights of asylum seekers are still being violated in Belgium. "Asylum seekers and citizens in solidarity are literally knocking directly on de Moor's door," the spokesperson said.
Sacha argued that while there is a need for structural solutions to the reception crisis, the only measures currently on the table offer absolutely no answer to the emergency, referring to the recent agreement on the migration deal, which includes measures which she said will have no effect in the short term.
"There is no asylum crisis, there is only a crisis of political will that is missing. Prime Minister De Croo also has a great responsibility to solve it," the collective said, adding that therefore, masks of his and de Moor's faces were placed at the building "to remind people that it is the government that has to open new shelters and not the citizens."
"But as long as ministers do not take responsibility, we will do it for them." The same collective also occupied the future National Crisis Centre in March together with some 70 asylum seekers. After judicial mediation, the asylum seekers were finally granted shelter.
"This is a victory, but today we demand solutions for all asylum seekers on the streets," the collective said. It is therefore calling on other organisations to squat and open up premises for asylum seekers.
"A lot of places and buildings are still needed. Many citizens do show solidarity and find it unjust that so many people are sleeping in the streets. We trust that many more squats will be opened in Brussels, Wallonia and in Flanders."
De Moor's cabinet responded that the government has taken measures to get people out of shelters faster to "free up" places for people on the waiting list and new asylum seekers who are still arriving daily. "Simply creating new places will not reduce the influx of asylum seekers." In the past, she has also argued that the number of reception places in Belgium is historically high.
Related News
Meanwhile, CD&V president and former State Secretary for Asylum and Migration Sammy Mahdi has said he is "not impressed" by the action, which he called misguided and argued it is an act of "pure blackmail that benefits no one."
He noted that he will not heed the squatters' call to receive them at the headquarters. "Squatting premises, occupying buildings, sometimes even hunger strikes to force individual or collective regularisation: none of these reprehensible techniques is a basis for constructive dialogue or a solution."
As stated in the Reception Act and European regulations, people applying for asylum in Belgium are entitled to shelter via the Fedasil network, however, the government has been breaching its responsibility, resulting in thousands sleeping rough instead for 1.5 years, despite thousands of convictions.