More women in Belgium embark on motherhood later in life, with the number of women over 40 having babies doubling in the last 20 years.
Though not against the trend, medical professionals warn that later pregnancies tend to need more medical intervention and urge women to get informed about the risks.
Of the 117,914 babies born in Belgium in 2019, 24,753 were to mothers over 35 years old and 4,919 to mothers over 40 years old (21% and 4.2% respectively). In 20 years, the number of women in Belgium over the age of 40 who had a baby doubled – and even quadrupled in 30 years.
In Brussels, the number of mothers between the ages of 40 and 44 was the highest in the country, accounting for 6.6% of all births in the region, according to figures from the Centre for Perinatal Epidemiology (Cepip). However, the number of births after the age of 45 remains very limited – just 0.6% of births in Brussels. In 2020, 18 women aged over 49 gave birth to a live child, according to data provided by Statbel.
Be informed of the risks involved
The number of women over 40 having babies has been on the rise and is reflected also in celebrity culture, Le Soir reports. Dr Julie Belhomme, a specialist in high-risk pregnancies at the CHU Saint-Pierre in Brussels, pointed out that these publicised pregnancies may hide very real concerns that women may face when opting to become mothers later on in life.
"My role as a doctor is not to decide for the patient, but to provide all the necessary information on the risks involved so that they can make an informed choice," Dr Belhomme said. "However, there are very few preconception gynaecological consultations among older mothers, which could help reduce potential problems that are totally overshadowed by media examples."
"The older you get, the greater the risk of gestational diabetes or pre-eclampsia (high blood pressure), with all the risks that this entails for the mother and also for the baby", explained Dr Belhomme. "During childbirth, caesarean sections, as well as haemorrhages or complications such as placenta previa (a poor implantation of the placenta), are more frequent in older mothers."
A study conducted in the United States showed that maternal mortality is six times higher in women over the age of 40 than in younger women. Another study of 37 million births estimated that the morbidity rate over the age of 40 is two to three times higher than among women who have a baby between 25 and 29. Additionally, the risk of the baby having chromosomal abnormalities such as trisomy 21 increases with the age of its mother.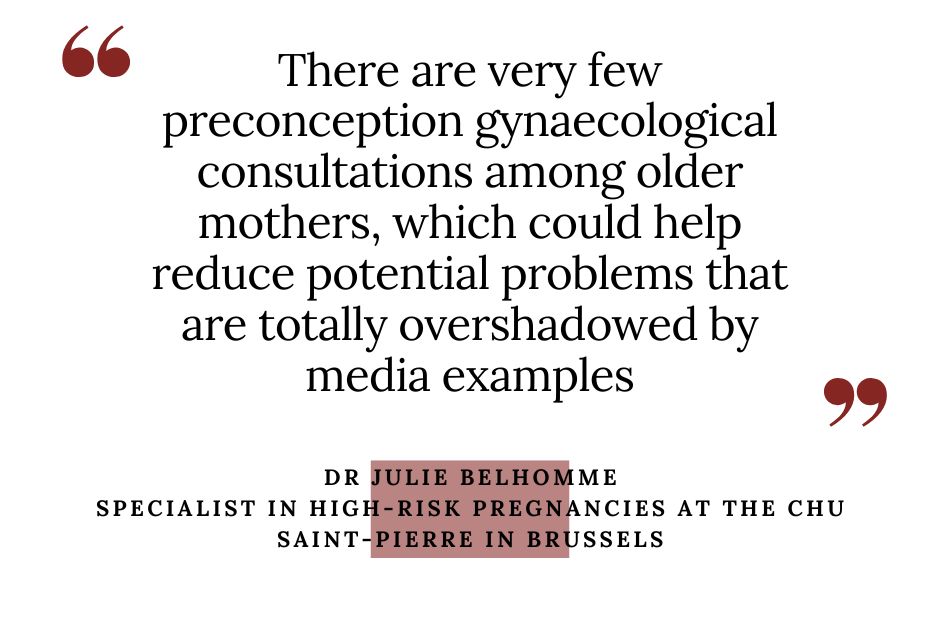 The high-risk pregnancy specialist also stressed that while 'late' pregnancies are on the rise, they are still relatively few in absolute terms and that the trend should not be overestimated.
Dr Belhomme stresses that it isn't a question of pushing against the choice to have a child later in life but rather to make sure that women are informed of the risks: "The sooner you discuss your personal situation with your doctor, the better you can be taken care of. Because diabetes or high blood pressure can be stabilised before pregnancy."
Related News
While the risks need to be considered and cannot be minimised, studies also show that children can benefit from having older parents: they often exhibit fewer language or behavioural problems as older parents tend to have more patience and time for their children. In addition, older parents often have a stronger perspective of their priorities in a way that may benefit a child.