The German hard rock band Rammstein has announced that it is chartering shuttles for fans to get to its Brussels concert.
For its 10 July show at King Baudouin Stadium in Brussels, the band's management agency, Greenhouse Talent, and the bus rental company Keolis have partnered to create 12 bus routes to transport fans to and from the concert.
According to Keolis, the busses will take fans to and from the show, and each route will have 3 or 4 stops along the way to the venue.
Shuttle ticket prices vary based on your departure point, but all start at 13 euro.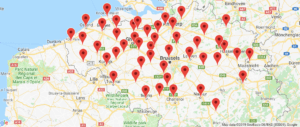 Rammstein is also asking fans to cycle to the concert if they are close to the venue, and the band is offering a special deal on train tickets home from the show.
Recently, the American band Metallica encouraged fans to cycle to its upcoming Brussels concert.
Tickets for the shuttle can be purchased here. Rammstein's concert is sold out.
Sam Nelson
The Brussels Times