Peace has slightly increased across the world, according to the 2019 Global Peace Index of the Institute for Economics and Peace (IEP), published on Wednesday.
The 13th edition of this report, which measures peace in 163 countries and territories, shows a worldwide improvement for the first time in five years. Belgium is at the 18th position, gaining three places.
For the first time in five years, the Global Peace Index (GPI) has improved slightly. The average score per country increased by 0.09%, with 86 countries showing improvement and 76 a decline.
Yet, the world seems less at peace than it was ten years ago, with an average decrease of the index by 3.78% since 2008.
Iceland has held the status of the world's most peaceful country since 2008. New Zealand and Portugal complete for the remaining spots on the podium.
On the other end of the spectre, Afghanistan is last place, an unenviable status that it stole from Syria. South Sudan is the third among the least peaceful countries.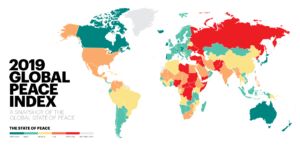 Belgium tied with Sweden at 18th position in the world, and thus gained three places. It ranked 11th in Europe, close behind the Netherlands while France is far behind (World's 60th, Europe's 29th).
The impact of violence on 2018's global economy was 14.1 billion dollars in terms of purchasing power parity (PPP), which is equivalent to 11.2% of global economic activity. A figure that has improved in 2018, thanks to the decrease of conflict intensity in Syria, Colombia and Ukraine. In the ten countries most affected by violence, the average economic impact was equivalent to 35% of GDP, against 3.3% in the most peaceful countries. For Belgium, the economic cost of violence represented 5% of GDP.
The potential impact of climate change on peace was also analysed. Global warming will impact the availability of resources, migration, livelihoods, which will increase the likelihood of violent conflict. Approximately 971 million people live in areas (very) highly exposed to global warming, of which 41% are in countries that already show low scores in peace.
The report covered 99.7% of the world population and used 23 quantitative and qualitative indicators, grouped in three areas: social security, national and international conflict and the degree of militarization.
The Brussels Times