The American rock band Metallica set up extra transportation around its concert this past Sunday, but Walloon fans were unable to take advantage of it.
The specific SNCB trains chartered for fans after Metallica's concert Sunday only went to Flanders, RTBF reported.
A similar incident occurred when Coldplay held a concert in Brussels in 2017 — fans discovered that additional trains had only been booked for Flanders.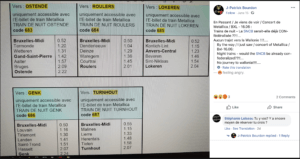 According to SNCB, Live Nation, the concert organiser, was responsible for determining the additional mobility plans. Live Nation determined that more fans would be coming from Flanders than from Wallonia, and so it requested trains to that region.
Walloon fans were able to get home from the concert using regularly scheduled trains.
Sam Nelson
The Brussels Times