There is a scene in the new Lambic documentary, Bottle Conditioned, in which a beer shop owner makes a phone call to a Lambic blender asking for more bottles.
Etre Gourmet's website is unable to deal with the volume of visitors trying to buy Bokke, the Lambic brand located in Hasselt and owned by Raf Souvereyns. The website server crashes, and bottles already sold are re-stocked on the webshop, effectively meaning shop owner Jonathon Schillebeeckx now needs twice as many bottles. "We never have 10,000 people trying to buy beer at the same time," says Schillebeeckx in the film. "We're just a small store."
The scene tells us that this is a type of beer unlike all others, where the level of demand is so hyped that a bottle release can crash a website. But the scene also tells us that the filmmakers here are committed, present for a huge number of hours with their subjects as they travel somewhere in the car, potter about at home, or work in their breweries and blenderies. It's the only way to catch the moments that describe this peculiar beer culture and its single-minded producers.
Sour, oaky, and fruity
Lambic is a spontaneously fermented wheat beer, aged in wood, that originated in the Zenne Valley, just outside of Brussels. In Lambic, no yeast is pitched by the brewer. Instead, the yeast and bacteria in the vicinity of the brewery transform it into beer. Lambics are blended into Geuzes to become refreshing, highly carbonated, and pleasantly sour beers which are often complex, oaky, and fruity. Lambic is also commonly blended with fruit, particularly cherries, raspberries, and apricots.
Because of the time it takes to produce (Geuze requires at least three years) and the patience, work ethic, and in some cases stubbornness required to produce it, the personalities in the Lambic world tend to be big, often fighting as much for the cultural preservation of the beer as they are working towards the elevation of its quality.
In addition, because of the unique skills required to produce Lambic and its pronounced acidic flavour profile, there are fewer producers as compared to other beer styles. There are some 740 companies producing beer in Belgium, 420 or so of these with brewing facilities. Of those, only around 20 or so produce Lambic. Lambic offers a curious cast of characters and a political spiderweb of perspectives. Perfect for a documentary.
Bottle Conditioned premiered at the Docville film festival in Leuven in March. The film has also been officially selected for Sonoma International Film Festival, Seattle International Film Festival, Florida Film Festival, and the American Documentary and Animation Film Festival.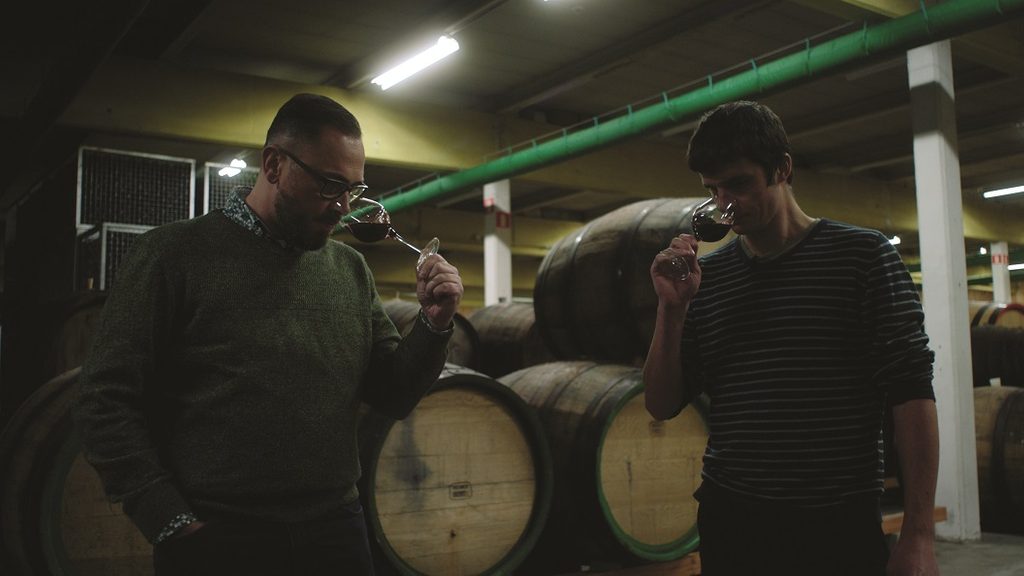 The film's title, Bottle Conditioned, hints not only at the final stage of the Lambic production process, in which the beer undergoes a final fermentation and maturation in the bottle It also alludes to the fact that as Lambic is shaped by the decisions of its producers, so too are we all as humans conditioned by our heritage, environments, and choices.
Cameraman to Oscar-winner
The film's director Jerry Franck grew up in Luxembourg, finished secondary education in France, and then moved to the United States at the age of 21 to study film. He had always been interested in filmmaking. "I always used my dad's VHS camera to film movies with my friends on the weekends and it was just a natural progression," Franck says. But his interest in Belgian beer only surfaced when he moved across the Atlantic. "You don't really appreciate what you have in front of you until you don't have it anymore," he adds.
In the US, Franck worked as a steady-cam operator, shooting the Canadian singer Drake, inside a Houston strip club for a music video, and working behind the camera on a movie with actor and filmmaker James Franco. "You work on a certain level of production where there's a lot of money invested and a lot of high-profile actors that you've only seen in movies until that point," says Franck. "Now you're the leading cameraman in that movie and you have to show up and perform."
In the US, Jerry Franck began working on independent projects with Courtney Marsh, now both his life partner and business partner. In 2016, the pair won the Best Documentary Short Oscar for their film, Chau, Beyond the Lines. March directed and Franck produced. Eight years in the making, the film profiles Chau, a 16-year-old boy living in a Vietnamese peace camp for kids disabled by Agent Orange, as he battles with the reality of his dream to one day become a professional clothing designer.
After the Oscar, Franck began working on his next idea: a documentary about Lambic. The idea arose from both a personal interest in the culture, but also from a frustration about the existing films about beer. "It was too fan-based for me," he says. "It was not in-depth enough. And if you've seen my previous work, I like the human stories more than the technical stuff. I guess I just didn't ask permission. I just did it."
Three blended stories
Franck's original idea for the film was a 'Year in Lambic' concept to show how production is seasonal, but once he began filming, he quickly identified three human storylines that he felt could best tell the story of Lambic.
The first is the story of the Cantillon brewery, where father Jean-Pierre Van Roy and his son Jean Van Roy butt heads over how the brewery should operate; Jean-Pierre wants to save space in the brewery for a museum to honour the family's story and the history of Lambic, whereas Jean tries to secure the space for barrel maturation so he can increase production and secure the family brewery's future.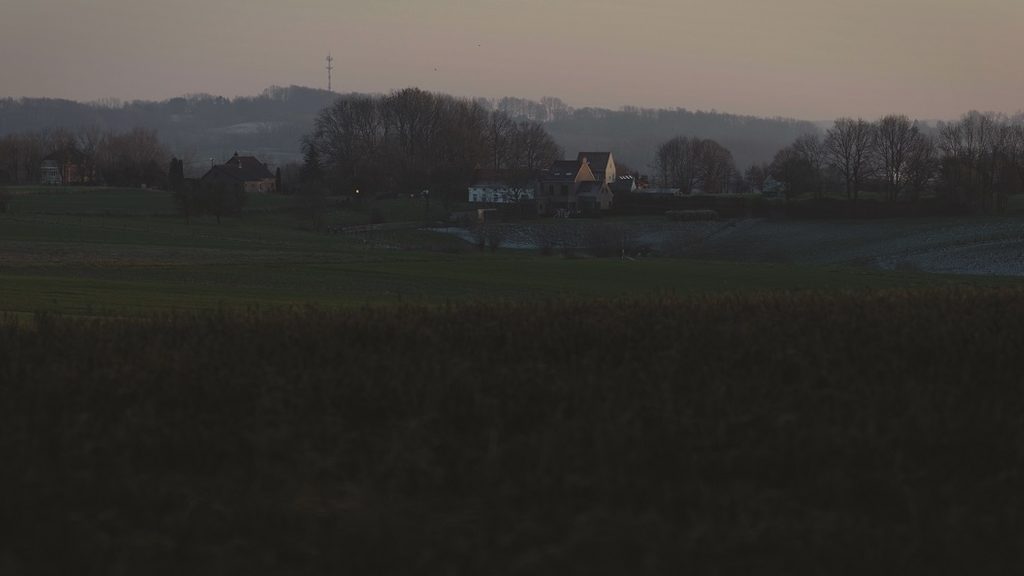 Their differing perspectives on beer are important: Jean-Pierre finds the way people engage with beer today is "disgusting", whereas Jean talks openly of experimentation and creativity. Nonetheless, it's clear that their relationship is founded on love and respect, culminating in a scene where the pair sit down for a frank but heart-warming discussion in the brewery bar.
The second storyline belongs to the 3 Fonteinen brewery, where Michaël Blancquaert and Werner Van Obberghen take the reigns from Armand Debelder, whose family started the business with a small blendery in their restaurant. It revolves around the tension between the respect for traditional values in Lambic production and the need to modernise and grow to be sustainable; a tension common in artisanal pursuits and one that often triggers people on both sides of the argument.
Blancquaert and Van Obberghen present their plans for a brewery expansion, and Franck captures their response to criticism that changes are motivated by money. Crucially, Franck was able to film Armand Debelder, a much-loved figure in Belgian beer, before he passed away in March of 2022. "I've seen this movie so many times and I still get choked up about the Armand thing," says Franck. "For me personally, it's sad that I was never able to show him the movie."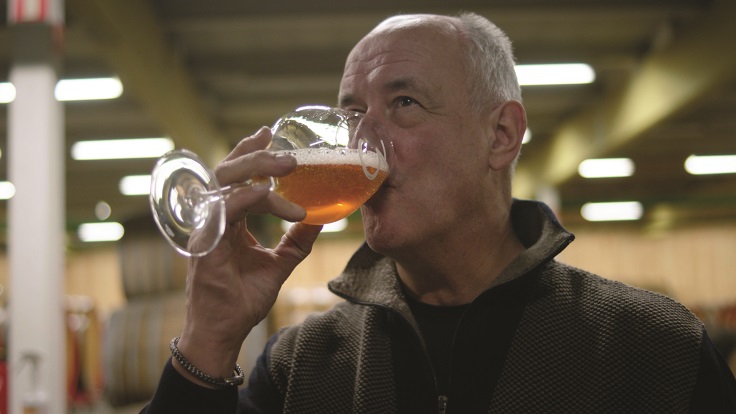 The third storyline is that of the Bokke blendery and its owner Raf Souvereyns, the dramatic tension built around the challenges of a passionate, talented, but at times chaotic artist trying to harness his creativity into a financially sustainable business which requires organisation, logistics, and commercial nous. It's another universal theme: the artist genius and their struggle for order, conveyed as much in an emotional bottle opening scene with Chris Lively of Ebenezer's Brew Pub in Maine as in the stressful scene in which Souvereyns tries to fill his barrels with a batch of Lambic he has received which is already fermenting.
Frank filmed other producers, in particular Pierre Tilquin of Gueuzerie Tilquin, but had to cut their stories to fit everything together. "It wasn't anything personal or that their story was less valuable," says Franck. "It was just the way we were building the movie." Franck was, however, able to add colour to the other voices he showcased, including Bill Young of Lambic.info, the Shelton brothers importers, and Frank Boon of Brouwerij Boon.
Bottle Conditioned is extremely vivid, with cinematographers Mario Contini and Cliff Lucas delivering beautiful, intimate footage: impressive close-ups, contrasts in facial lighting, and considered establishing shots. Robbie Teehan's original score – ranging from warm and quirky staccato strings to sweeping orchestral theatrics – is classical in style and dramatic in tone, lending tension to the film which complements each of the storylines. Editor Natalie Ancona cut it so the movie moves apace, while still allowing viewers enough time to dwell on moments of significance. And Sean Higgins as re-recording mixer and Peter Swartz as colourist ensure the film sounds and looks consistent and stylised throughout.
Although the film does not contain a huge amount of archive footage, that which was deployed brings the film to a new level; particularly shots of young Jean-Pierre Van Roy and Claude Cantillon pouring beer at festivals in the 1980s; and the scenes where Armand Debelder is brewing with his father Gaston Debelder at the previous location of the 3 Fonteinen brewery in the Debelder family restaurant in Beersel. "I'm proud of this movie," Franck says. "We didn't make a gimmick out of this heritage. We tried to treat it with the utmost realism and honesty."
The beer knows it's ready
The final scene of the movie is simple.
Current Cantillon brewery and owner Jean Van Roy is seen working in the brewery with his 27-year-old son, Florian Van Roy. Together they pull samples from several barrels, tasting them in preparation for a blend.
"We'll choose two two-year-olds and two one-year-olds," says Jean.
Together, Jean and Florian examine the young beer in the glass, the golden liquid glowing on camera from the morning light penetrating an otherwise dark loft space of wooden beams and red-brick walls. They taste in silence, smacking, sucking and swallowing.
"Hmmm," Jean finally says. "This one's rounder. We'll take this one instead of the other one. Ok?"
"Uh huh," replies Florian, agreeing.
"Onwards," says Jean.
They're seen walking along the row of barrels away from the camera, before the screen cuts to black.
This understated final scene is a perfect kicker. It demonstrates the importance of knowing your barrels, an understanding that the beer dictates when it's ready, and that the brewer must respect time.
It also hints at the physical and practical nature of the work involved in its production, with manual brewing and careful barrel management requiring a strong work ethic and long hours.
And romantically, the scene shows us that this is something being passed down from generation to generation. Despite its long history, producers are not looking behind them. The only way to survive in Lambic is for them, together, to march onwards.