Its majestic trees have stood for aeons, accompanying human history from the Romans to Napoleon: the Sonian forest, or Forêt de Soignes, is a glorious green tapestry that is forever inspiring, as Paul Meller relates
Some people sleep on big decisions before taking them. I walk on them. I take them to Belgium's greatest treasure, the Sonian forest – or if you prefer, the Forêt de Soignes or the Zonienwoud.
Like many regular forest walkers, my relationship to this 44km2 stretch of verdant, often ancient beauty, is very personal. But strolling under the enormous beeches that take up over half of the entire forest, it is very easy to clear your mind of the bric-a-brac of daily life. No matter what season, these giants - many of which are older than Belgium itself - always look resplendent, and never cease to inspire.
The beech trees are undoubtedly the rock stars of the forest. They are the reason UNESCO awarded five zones – all with quirky names like Ticton and Grippensdelle - World Heritage status in 2017.
These areas are among 94 so-called 'ancient and primaeval beech forest' patches in 18 countries in continental Europe. Most of them are in eastern Europe. To its credit, little Belgium punches above its weight in forestry terms, at least in this neck of the woods. It has the same number of classified World Heritage sites as Germany, while France has just one and the Netherlands none at all.
None of Europe's beech forests are natural. All were planted. If you go back to pre-history, the Sonian forest covered much of north-western Europe. But the felling of the trees to make space for farmland began 5,000 years ago by early settlers here.
Celtic hideout
Today, many refugees fleeing conflicts in the Middle East make Brussels their base as they prepare to cross the Channel to the UK. During Roman times Celts did something similar. They hid in the forest before braving the icy waters of the Channel to escape the might of the expanding Roman empire.
The forest as we know it today dates back to the 12th century when the Dukes of Brabant took ownership of it and used it for hunting and timber. They were the first ones to manage the forest. In addition to its economic and amusement value, the forest also had a spiritual significance.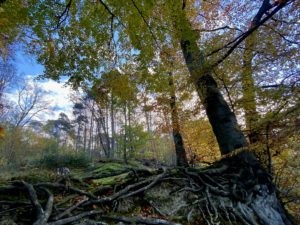 There are the remains of monasteries and other religious retreats, such as the Augustinian priory of Groenendaal, and the newly-restored Rouge Cloître abbey, which dates back to the 14th century.
Most of these religious retreats were demolished by Hapsburg Emperor Joseph II in the 18th century but some buildings still stand, including the farm building attached to the Groenendaal priory, which today houses a museum dedicated to the forest.
The golden era was at the end of the 18th century when France annexed much of what now constitutes Belgium, and a massive reforestation project began, under the visionary guidance of forester Joachim Zinner. The oldest beech trees in the forest today date back to this time.
Waterloo sunset
The Napoleonic Wars were hard on the forest. It shrank dramatically during the first half of the 19th century, partly because Napoleon Bonaparte himself order that over 20,000 oak trees should be chopped down to build his Boulogne Flotilla for an aborted invasion of England.
Forest lovers will feel some schadenfreude knowing that a few years later Napoleon met his Waterloo, literally, just down the road. Indeed, the forest played a key role in the Battle of Waterloo.
Before the battle that re-drew the map of Europe, the Duke of Wellington camped at Quatre Bras, the intersection of the Brussels Ring and the Avenue de Tervuren. It happens to be one of my favourite walking spots. When I look up at the tallest beeches, I sometimes think: did Wellington see this tree? Did he have lunch under its leaves? Did he take a leak against its trunk?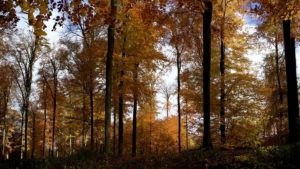 That's what comes from emptying your mind of daily duties and deadlines. Your imagination can run riot. When I'm not mulling big decisions, I'm looking around me, losing myself in thoughts inspired by our wooden cousins.
The forest took on a special significance when Covid struck. Instead of going twice or three times a week as I have done for many years, I was there every day. Always with my dog, Otis, and sometimes with members of my family. Often twice a day.
It was during these walks that I started to look closer for signs of what the German forester and author Peter Wohlleben calls the hidden life of trees. Sure enough, I found some and photographed them.
In September my local commune, Woluwé St Pierre hosted an exhibition of my photos, together with haikus – short three-line poems – inspired by what I saw. One in particular shows signs of a hidden dimension to trees. Close to Quatre Bras there are two young American elm trees growing side-by-side in a clearing. The photo was taken at the end of a sunny day in early/mid-spring last year. One tree is in full leaf while the other, slightly taller, is still bare.
I came to the conclusion that the taller tree was sacrificing itself so that its 'younger brother' would develop a fully rounded and symmetrical crown of leaves (a tree's symmetry is vital to ensure a long life). The resulting haiku is the voice of the taller tree speaking to his leafy sibling.
Could my cherished Sonian Forest be telling me something about myself too? If so, it would be fitting. It has listened patiently to my thoughts over the years, and it is still inspiring me. Long may it continue.