What are the most delicious foods, refreshing drinks, coolest cafés and chicest restaurants in Brussels at the moment? Wandering food and drink expert Hughes Belin selects the best of the best.
L'Espérance
Brussels boasts some stunning Art Deco facades, but if you want a genuine immersion into this glorious architectural and design movement, there is one special place: L'Espérance tavern.
This is one of the city's hidden gems, a stylish, cosy café that takes you back to the 1930s. Designed by architect Léon Govaerts, the building was listed in 2008. It is unchanged since its construction in 1930. It's a living museum where every detail, from seats to mirrors, windows, lamps and the clock is from another era.
The place is still a working café offering the usual warm drinks (although the list of coffees-with-a-twist is quite long) and a wide range of Belgian beers, including some very rare ones. The menu has expanded since the café reopened after the lockdowns: shrimp croquettes, cheese croquettes, croque-monsieur, spaghetti, salad du chef and the day's specials for a heartier meal.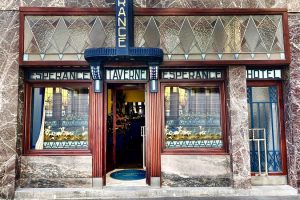 Everything is homemade and fresh. Desserts, sandwiches and finger food are also available. With a neoclassic 12-room hotel above the tavern open seven days a week, the restaurant is open for lunch and dinner every day until 9pm. Just off the busy Rue Neuve, it promises a moment out of time.
Taverne L'espérance Rue du Finistère 1-3, 1000 Brussels, www.hotel-esperance.be
Kokotte
This is not about a restaurant, but an address and an innovative concept to encourage young entrepreneurs.
Kokotte is a pop-up restaurant on Rue des Bouchers where wannabe chefs get real-life experience for four months. They enjoy a huge discount on renting fees plus coaching on marketing, sustainability, staff management and digital strategy from hub.brussels, the Brussels Region's agency for business support.
The agency also helps promote their cuisine on social networks and finds them another place after their Kokotte trial period has expired. Candidates still have to formally start a company, send hub.brussels a thorough outline of their project, and if they are shortlisted, pitch it in front of a jury and showcase their cooking abilities.
Konchū
Elie and Raphaël, founders of Konchū, successfully passed the selection process and will be at Kokotte until 4 December, 2021 (a special event is planned for their final day). Their concept is innovative in several ways. First, they propose no-sushi, no-ramen, no-gyoza Japanese cuisine: Japanese curry! No competition in town, definitely: "We want people to get to know something really new," Elie explains. Second, their foreign dishes, like shredded beef curry, use local ingredients, such as sirop de Liège and Belgian chocolate.
And they are delicious! They also include fermented ingredients, such as this great vegetarian dish, the miso eggplant curry. Their extras offer a deeper trip into Japanese cuisine. I can still taste the amazing hamburger taste of their incredible okonomiyaki, a kind of (not fried) cabbage roesti base topped with bacon, black sesame, katsuobushi (bonito flakes), Japanese mayo and sweet sauce.
I hope they will find another place to pursue their adventure – and can't wait to try their successors, Refoodgees, a restaurant that hires refugees and lets them create a dish reflecting their history and culture. Kokotte is the place to discover new cuisine concepts, right in l'îlot sacré.
Kokotte Rue des Bouchers 30, 1000 Brussels, hub.brussels/en/kokotte-food-incubator
Konchū: www.konchu.eu
Gudule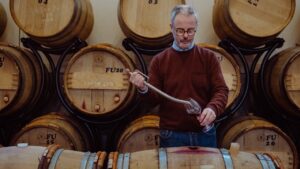 A winery in Brussels? And a winemaker who doesn't grow grapes? Are you kidding me? Well, winemakers don't need their own vineyards, as the Champagne houses and famous domaines of Burgundy or Côtes-du-Rhône can tell you: they buy grapes from all around to make their renowned wines.
With Gudule, the winemaker has simply gone three steps further by firstly, buying his grapes outside the region where he makes the wine; secondly, using very different regions; and thirdly, throwing grapes together that are rarely found in the same bottle. The result: wines which unlike any wine I know.
Thierry Lejeune, Gudule's owner, has the same spirit as New World winemakers, much more creative than Old World's traditional ones. Making wine is a complex and demanding task, much more than just blending two or more wines together.
Each of these wines has their own personality. That was indeed the starting point for designing them: Lejeune wanted a recognisable style for each, and went through his address book to find organic grapes first in France, then in Europe.
During my visit to Gudule, I saw a batch of petit manseng grapes from Jurançon region arrive in small crates. Fresh as if just harvested, it followed the usual process like in any winery, from press to ageing. The grapes will be part of the next vintage of Afterworkf en terrasse, the "easy-to-drink" white (€14.50).
Gudule wines are characteristically brusseleir in their genes: the different grapes create a tasty and unique character, truly zinneke, the essence of Brussels' inhabitants. And the grapes from different European countries are mixed in the capital of Europe. I'll stock a few bottles of Dîner en ville, the gorgeous premium red (€24), for Christmas. And for the first time this year, a sparkling zéro dosage (very dry) will enter the range - and my cellar.
Gudule Winery - Rue Dieudonné Lefèvre 37 – atelier 37.8 1020 Laeken, gudule-winery.brussels
---
Cougnou
This traditional Belgian bun, also called cougnole in the Liège region, is usually homemade and eaten with hot chocolate on the morning of 6 December (Saint Nicolas Day) or at Christmas, when kids discover the presents that Santa has left for them. A delicious brioche, it is also on sale in Belgian bakeries throughout the month of December. It normally contains pearl sugar, raisins or sometimes, chocolate chips. Its shape is supposed to show a swaddled baby, symbolising the new-born Jesus.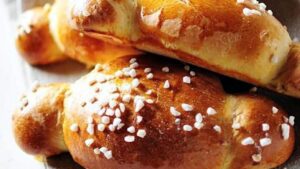 Ingredients:
- 21g of fresh baker's yeast (half a cube)
- 10 cl of milk
- 300g of sift white flour Type 55
- 5g of white sugar
- 2 eggs
- 50g of kneaded butter
- 6g of salt (20g/kg of flour)
- A total of 100g of pearl sugar, raisins and/or chocolate chips
- 1 egg yolk, a tbsp of water and a pinch of salt
Preparation: melt the yeast in lukewarm milk. In a bowl, mix it with flour, white sugar and eggs. Knead it 5 mins, then put in the butter and knead the dough another 5 mins to make it perfectly homogeneous and sticky. Put in the salt, then knead it 2 mins to obtain a big ball.
Leave it to rise for at least an hour in a bowl topped with a wet towel to protect it from air. Then make from it several 100g balls (or more if you want bigger ones). Spread each of them roughly on a slightly floured surface and put in the raisins, pearl sugar or chocolate, fold it and press it together to obtain a ball again.
Tip: incorporating raisins, pearl sugar and/or chocolate chips into each ball separately allows you to make different cougnous from the same batch.
With the palm of your hands, turn each ball into a 12cm sausage shape, then roll it delicately, pressing with the edge of both hands placed 3cm from each extremity to obtain a dough shape of a big ball flanked with two smaller ones holding together. Place them on a baking sheet with baking paper.
Leave them to rest for 30 minutes or until the volume has doubled. Whisk an egg yolk with a tbsp of water and a pinch of salt in a little bowl. Gently brush it on each of the dough shapes. This will give your cougnous a shiny golden-brown colour.
Cook in a warm oven at 185°C during 12-15 minutes. Leave your cougnous to rest on a grid.
Enjoy with warm chocolate milk!