Few would have predicted that sleeping giant Royale Union Saint-Gilloise would lead the league table almost immediately after being promoted to Belgian football's top division. But can they hold on to the top spot and claim their first league title in 87 years? The Brussels Times meets coach Felice Mazzù and the Stade Joseph Marien trailblazers to find out.
Belgium's national motto is 'L'union fait la force' in French, or 'unity is strength' in English, but it is also an apt maxim for Royale Union Saint-Gilloise, the Brussels club that is stunning the football establishment this season.
It was only last spring that the club – variously nicknamed L'Union, USG, les Unionistes and even the Apaches – won promotion to Belgium's top division after an absence of 48 years, but at the time of writing they are seven points clear at the summit of the Pro League table.
Union was founded in 1909, and with 11 league titles to its name – all in their heyday between 1904 and 1935 – it is the third most successful in Belgian history, after Anderlecht and Club Brugge. But after almost half a century outside the top tier, they are still barely known by the wider public in Belgium, let alone the rest of Europe. Yet, they are on track next season to host the likes of Real Madrid, Manchester City, Inter Milan and Paris Saint-Germain in the Champions League.
Even among the team's most diehard supporters, few would have bet on Union finding themselves in this position.
Of course, there's a long way to go before anything's decided this season and coach Felice Mazzù is quick to play down the possibility that Union could claim the coveted title. "The only goal at the moment is to achieve stability and stay in Division 1," he says. "Once we do that, when mathematically we have enough points, we'll see if we can set a new target. But we mustn't talk about titles or European qualification."
We're meeting at the team's training ground near Lier in Antwerp province, 50km from where Union play their home matches, the historic Stade Joseph Marien in Parc Duden (which is actually just outside the commune of Saint-Gilles, in neighbouring Forest). The club has not found a suitable training facility nearer the capital.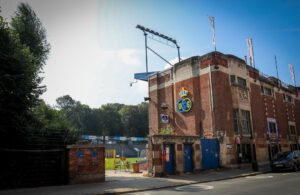 Arriving, I see Mazzù and his coaching staff running an 11-a-side game on a half-size pitch with small goals. It's non-stop, both sides seeking to retain possession and dominate with a high press. Whenever the ball goes out, coaches at each end of the pitch immediately throw a new one to the keeper so the pace doesn't drop off. The language among the players and staff is a mix of French and English. "Come on guys, allez, another five minutes," shouts Mazzù.
A couple of players immediately stand out from the sidelines. Kaoru Mitoma, a 24-year-old Japanese winger on loan from English Premier League side Brighton, glides past opponents with the ball seemingly glued to his toes. Standing 1.96m tall, it's hard to miss Christian Burgess, a 30-year-old free transfer from Portsmouth in England's third tier. He looks every inch the archetypal 'Rolls-Royce' defender, anticipating brilliantly and making the game look easy. A vegan and history graduate, off the pitch he's a campaigner for migrant rights and the environment.
The training session over, the players make their way back to the dressing rooms. Mazzù wanders towards me, lighting a cigarette, then smiles and pumps my fist. I speak to him in French, he replies in English.
Italian background
Mazzù, 55, grew up in Charleroi. His father Pasquale, 88, originally from Calabria in southern Italy, came to Belgium in 1952 to work in the mines. Mazzù started his professional career as a physical education teacher. He met his wife Julie when they were both working at the Athénée de Nivelles. They have two teenage children, Nando and Luna. "We still live near Nivelles. The return trip by car to the training ground takes me two-and-a-half hours," he says, as we sit down facing each other in a pair of armchairs.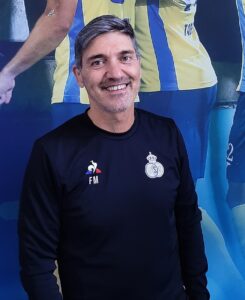 But first, a quick outline of Mazzù's football CV to date. After quitting teaching to coach, his career took him from fourth-tier Léopold FC in 2006-07 to deputy coach (T2) at FC Tubize in 2008-2009. He became head coach the following season, after the club was relegated to the second division. In 2010, he took charge of third-tier White Star Woluwe, winning the title and promotion in his first season.
In May 2013, Mazzù became coach at top-flight Sporting Charleroi. He spent six seasons with the Zebras, guiding them in 2015 into European competition for the first time in more than 20 years. In 2017, he was awarded the Raymond Goethals Trophy for best Belgian coach, a prize he won again this January.
In June 2019, Mazzù took over as coach of reigning champions KRC Genk, succeeding Philippe Clement who was lured by Club Brugge and now manages Monaco. Mazzù won the Belgian Supercup at the start of the season, but things quickly turned sour. He was fired the following November after a poor run of results left Genk in ninth place and with one point from four Champions League games. Many in the game felt Mazzù was harshly treated, not least by the Flemish media who didn't take to the Walloon.
Promotion winners
But you can't keep a good man down. In May 2020, Mazzù was appointed coach by ambitious Union, then in Division 2. He led the team to promotion in his first season, winning the title 18 points clear of their closest rivals.
Two strikers signed in the lead-up to their promotion-winning season have been central to Union's form. Deniz Undav, 25, a free transfer from third-tier German side SV Meppen, was the league's top scorer this season ahead of the winter break. His partner Dante Vanzeir, 23, signed from Genk after making only a handful of appearances before being sent out on loan, has been a revelation. The whole team celebrated when Vanzeir was called up by Roberto Martinez for the Belgium national squad last November.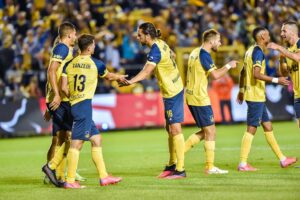 Union's return to the top division has been accompanied by some shrewd moves in the transfer market. Almost the entire squad are free transfers or loan players. Like Mazzù himself, many have had their fair share of disappointments in the game and are hungry for success.
Data-driven
The club's recruitment has also benefitted from the data-driven know-how of Chairman Alex Muzio, Sports Director Chris O'Loughlin and CEO Phillipe Bormans. The management group stress that they don't just look at what a player can do on the pitch, but also off it in terms of their human qualities.
"Mentality for me is important," says Mazzù. "The player has to work on his own game. He has to work for his teammates. He must understand his teammates. He has to help them when they are in a difficult situation. That's the most important thing. Everything we have achieved so far, we have achieved as a group and not as individuals."
Asked if he is surprised by the team's early impact this season, Mazzù takes a moment to reply. "I don't want to say I'm surprised because if I say that it means I'm disrespecting my group of players," he says. "We're certainly in a position that's higher than anyone expected. But when I look at what the players are doing, I think it's deserved. They're a group with a great mentality, a healthy group and a group with ambition. We will do our best to lose as few points as possible and try to stay as high as possible in the table."
New signings
Mazzù, whose easy-going appearance belies a ruthless attention to detail, is well-liked by his players. Several have spoken of motivational skills. Goalkeeper Anthony Moris, 31, who was out of work after a spell at RE Virton in the lower leagues when he got a call from Mazzù, has heaped praise on the coach's ability to bring the best out of the team.
Despite having one of the smaller budgets in the top league, the club has big ambitions. It moved quickly in the January transfer window to strengthen the squad, signing 18-year-old Polish international midfielder Kacper Kozłowski, on loan from Brighton; Koki Machida, a 24-year-old left-sided central defender, on loan from Japan's Kashima Antlers; and 23-year-old midfielder Cameron Puertas, signed for €1 million from Swiss club Lausanne Sport.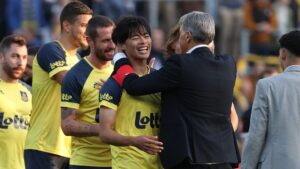 So what is Mazzù's secret to getting the best out of a group? "You have to communicate with the players, to be respectful, to be correct, to try to make them understand why they are on the field – and why they are not," he says. "I do this by being coherent, by being logical, and by being respectful. That is the most important thing."
While working with young players brings different challenges from when he was their age, Mazzù underlines that it is up to the coach to adapt – and not the other way round. "Today's generation are surrounded by automation, the media, mobile phones, TV, etc," he says. "But I think it's up to me to adapt to that because I live with this new generation. It's up to me to try to find solutions and understand the players as much as possible."
Role model Klopp
The coach admits that the club's recent success might distract the players. "I worry about all the publicity around the team and the club," he says. "I worry that the players won't keep their heads on their shoulders and they'll turn into different people. We've been normal, simple people for a year and a half. We're an average team, with only a few players who had experience in Division 1. We've succeeded until now because we're still the same people. We've stayed down-to-earth. We try to have fun. I'm afraid they'll change if we advertise ourselves too much. So I'm very vigilant about that."
Money is inevitably a disrupting factor. "The thing that also worries me about football is when the sport becomes much less important than money, than finance, than transfers, than the profits and losses that a club can make. Everything ends up revolving around finance and it's at the expense of sport. That annoys me a bit because I'm in this job for the sport and not for the rest."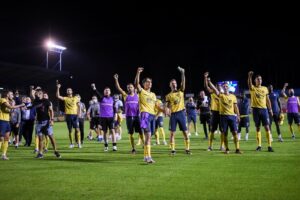 But there are ways to deal with it, and there are examples to follow. Mazzù says he has learnt a lot from Liverpool boss Jurgen Klopp, the coach he most admires in Europe. "He is accessible, straightforward and close to his players. I had the opportunity to meet him when I was coach at KRC Genk and we played Liverpool in the Champions League two years ago. We talked a little bit. He is a very simple man who is doing an extraordinary job at Liverpool. I really like him as a person and as a coach. He's very intelligent, very charismatic, he's someone who has personality and yet is very grounded. That's what's important to me too."
Ambition
Mazzù is aware that his own success means he may well attract attention outside Belgium. In December he was awarded the prestigious Raymond Goethals Trophy for the second time in four years in recognition of his achievements. Would he consider working in future in another country, in France, Italy, Spain or the Premier League, for example?
"Yes, I think that if I don't have ambition there is no point in doing this job," he says. "So, obviously, it's my ambition one day, maybe, to coach somewhere else. France would suit me well because the language is easier and Italy would also be good because I speak Italian fluently. I don't have a problem with English either. If the opportunity arises one day, that would be great."
A fan's view
Nick Elles, an Anglo-French European Commission official, is a longtime Union season-ticket holder at the Stade Joseph Marien. "It's a great club with a fantastic multi-national following," he says. "Even in the days when the results were not going well, the atmosphere was always terrific. Win, draw or lose, we always sing. I also support Tottenham in the Premier League. It's nowhere near as much fun. I stress about the results. With Union it feels totally different, you enjoy it much more."
Expert's view
Laurent Thieule is Chairman of Kraainem FC and President of the Sport and Citizenship think-tank. "Union have recruited very well in the past two seasons. Felice Mazzù knows the Belgian league from top to bottom. He hasn't signed big names but has managed to spot quality players with something to prove. The investment and sponsorship the club has seen since Tony Bloom's takeover has also made a big difference."
Who's who behind the scenes
Tony Bloom: Owner of Union in May 2018, Bloom is also Chairman of English Premier League team Brighton & Hove Albion and a former professional poker player. The two clubs are run as separate entities, although Union currently have two players on loan from Brighton (Kaoru Mitoma and Kacper Kozłowski). The 51-year-old multi-millionaire entrepreneur also owns Starlizard, a data-driven betting consultancy which makes sporting predictions for clients worldwide. He was nicknamed 'The Lizard' in his card-playing days.
Alex Muzio: Chairman of Union since August 2018 and a minority shareholder, Muzio is a British sports data specialist and longtime associate of Bloom. While based in London, the 37-year-old is hands-on and watches every game. He has said that he and Bloom took over Union because of its potential, the quality of the Belgian championship and because it's easier for foreign investors to work in the country.
Philippe Bormans: CEO/General Manager since August 2018, responsible for the day-to-day running of the club. The trilingual Limburger, 34, was the youngest CEO of a Belgian Pro League team when he took the reins at previous club Sint-Truiden in 2014. Bormans is leading Union's planning for a new stadium, which he promises will be "the greenest and most ecological in Europe". The current ground has a capacity of 9,000. He hopes the new stadium will be located near the current one. The target date for opening is 2024-2025 and it will be developed in stages, initially with 14,000 seats and gradually increasing capacity up to 22,000.
Chris O'Loughlin: Sports Director since May 2019, Irish-born O'Loughlin joined from KV Kortrijk, where he was assistant coach. The 43-year-old has also coached at Orlando Pirates and Supersport United in South Africa, where he grew up, AS Vita in the Democratic Republic of the Congo, Melbourne Victory in Australia, Charlton Athletic in England, Sint-Truiden in Belgium and for the Irish under-21s.