With summer right around the corner, the question of where to swim in Brussels remains somewhat unanswered, the city's only outdoor swimming facility is a pop-up pool that was not designed to last for six seasons.
Other options have either closed down or have not yet opened, like the outdoor pool in Huizingen which shut down due to worn-out infrastructure and high operating costs. Another large swimming pool in Anderlecht is set to open in 2024.
But one can still find some rare swimming spots and 'provincial domains', known for public-oriented leisure activities, in Belgium that allow for outdoor water fun.
For those days when ice cream melts faster than you can eat it, here are six outdoors swimming spots in and around Brussels.
Flow in Brussels
This summer, the number one swimming spot in the city is still Flow, Brussels' only public outdoor pool. The pop-up pool in Anderlecht opens from July onward after a successful crowdfunding campaign.
To keep the 17-metre long pool from getting too crowded, only 30 people are allowed at once. Furthermore, you will need to book your visit online in advance to enjoy a dip in the sun.
The best part is that a visit to Flow is completely free. A ticket is valid for one time slot of 45 minutes in the pool. Before and after your time slot you can stay longer on the sun decks around the pool.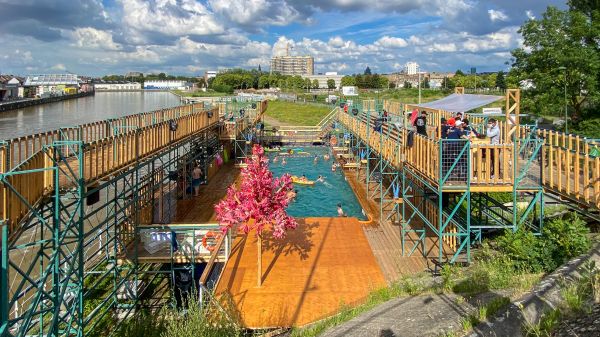 Kessel-Lo in Leuven
Just east of Brussels, in the town of Leuven, the Kessel-Lo paddling pool welcomes keen swimmers from 1 May to 1 September. With a paddling pool of maximum 1 metre deep and lifeguard surveillance, it is mainly aimed at children and families.
There is a sunbathing area around the paddling pool and you can buy an ice cream, snack or drink. With bad weather, the paddling pool remains closed.
The entrance fee in Kessel-Lo is €12 for an adult who does not live in Flemish Brabant, compared to €4 for residents of the province. Children up to 13 years pay €3. Tickets can be booked online to help regulate visitor flows.
Hofstade in Zemst
Just a half-hour drive or train ride from the city centre is Hofstade in the Flemish town of Zemst. The beach has been divided into six swimming zones since the pandemic, allowing visitors to buy a ticket in advance for a specific zone.
Hofstade is very popular with Brussels residents, says Tim Herbig, responsible for the beach in Hofstade. "On very hot days, at peak times, we call in extra security personnel and De Lijn does the same."
Tickets can be booked online for €5 per person.
Blaarmeersen in Ghent
Another swimming spot that is popular among Brussels residents is Blaarmeersen in Ghent. The outdoors sports and leisure park is just an hour away by car or train and access is free for all.
The lakeside spot also has a playground for children, including a climbing course, an adventure forest and a hedge maze.
De Nekker in Mechelen
Recreational and sports centre De Nekker in Mechelen has peculiar payment options: online tickets are €4,50, paying at the cash register will cost you €5,50, and if you come by bicycle, you only pay €5.
Just 45 minutes from the city centre by train, swimmers can easily make their way to De Nekker pool and the Rotselaar lake.
The lake is open to anyone for free in May and June, and only during good weather. In July and August, you can splash in the water for €7,50 per adult.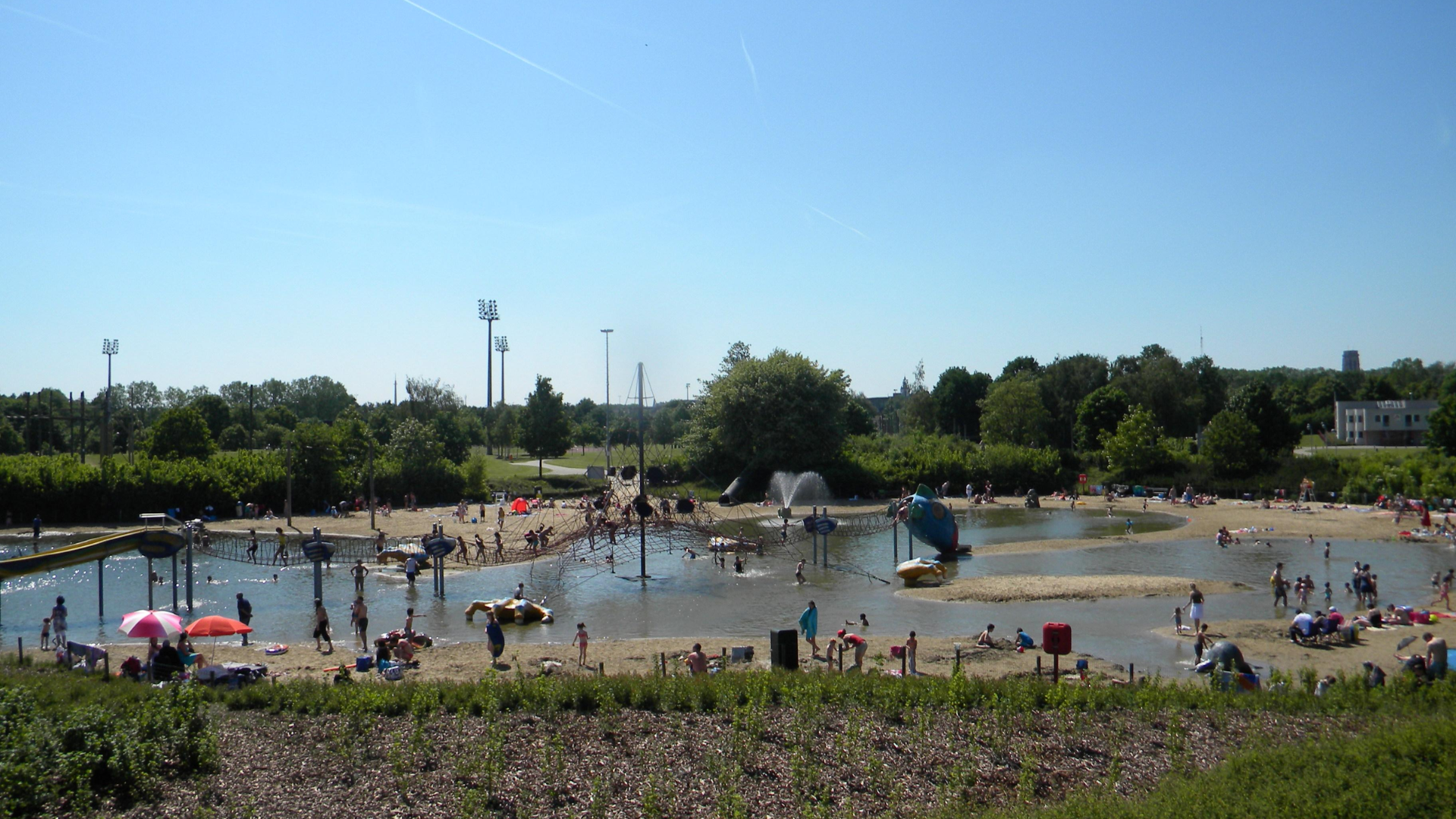 Grand Large in Mons
Head to the Grand Large swimming pool in Mons for a great day with the family.
Under two hours outside of Brussels, the aquatic centre offers two heated outdoor swimming pools: a large one and a paddling pool for children.
Tickets are between €4 and €10,70 per child, depending on the access zone.
Nausicaa in Waterloo
Waterloo in Walloon Brabant is home to the Nausicaa swimming pool, including a large pool and a paddling pool, just under an hour away from Brussels.
In summer, the roof comes off, allowing swimmers to enjoy the outdoors. The pool also features a slide and a hammam.
Prices are €4,10 for adults, €3,60 for children under 12 and €3,30 for Waterloo residents.