Belgium is famed for chocolate, beer, frites and waffles – all vegetarian-friendly and palate-pleasers for visitors and residents alike. But the country's capital has much more than sugar highs and fries to offer when it comes to animal-friendly cuisine.
Of all people living in Belgium, those in Brussels are most likely to opt for a vegetarian meal and the city's dining establishments are increasingly catering to this demand. Veganism, too, is becoming increasingly popular with many of the capital's favourite veggie hotspots offering something for those on a plant-based diet.
From Saint-Gilles to Sablon, here are some of our picks for vegan and veggie meals.
Liu Lin, Sablon
If Liu Lin's fresh approach to plant-based food doesn't make the restaurant stand out by itself, its backstory is a testament to its commitment to authenticity and tantalising flavour. Run by the Taiwanese sisters I-Wen Liu and Hsuan Lin since 2019, the Taiwan-inspired street food bar combines local fresh ingredients with flavours from East Asia.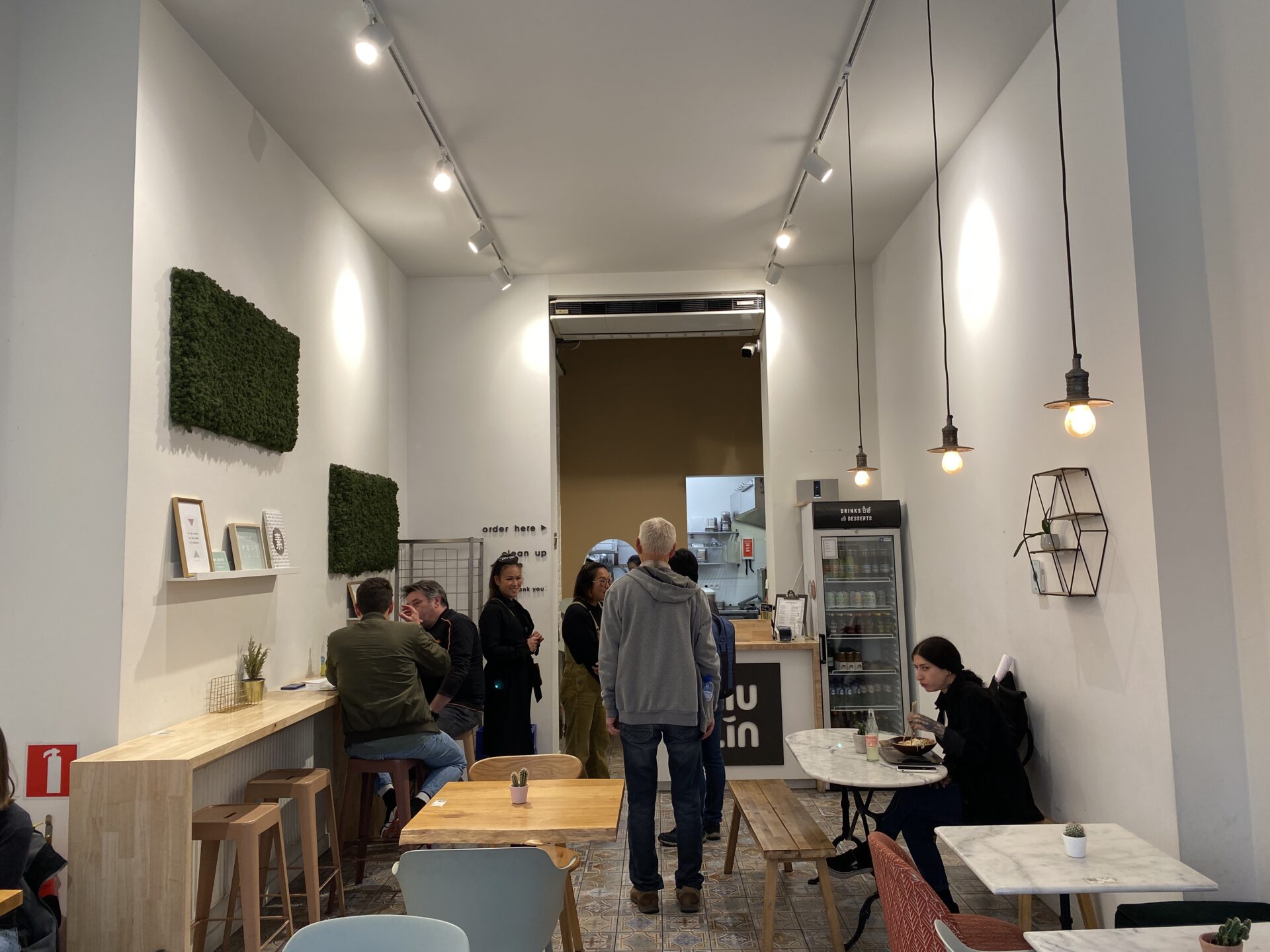 The eatery offers something that is hard to find in the capital — quality and affordable Asian plant-based food — and is best known for its noodle soups which contain dumplings and a variety of vegetables. Its salad bowls with 100% vegan "crispy chicky" strips could trick carnivores into believing they are eating meat.
The sisters describe the atmosphere in the restaurant as chilled, light and casual. It is an easy place to stop by and get a quick bite to eat, with food usually ready within 15 minutes.
Opening hours: Wednesday-Sunday 12:00-14:30, 17:30 - 21:00
Chana Parvis, Saint-Gilles
Open Wednesday to Sunday, Chana Pakora and Falafel is a picturesque restaurant located amidst the bars that line the lively Parvis de Saint-Gilles, making it the ideal people-watching spot.
As the name suggests, the menu focuses on perfect falafel served on light pita bread and pakora with fresh mint-yoghurt sauces, alongside various sides and dips.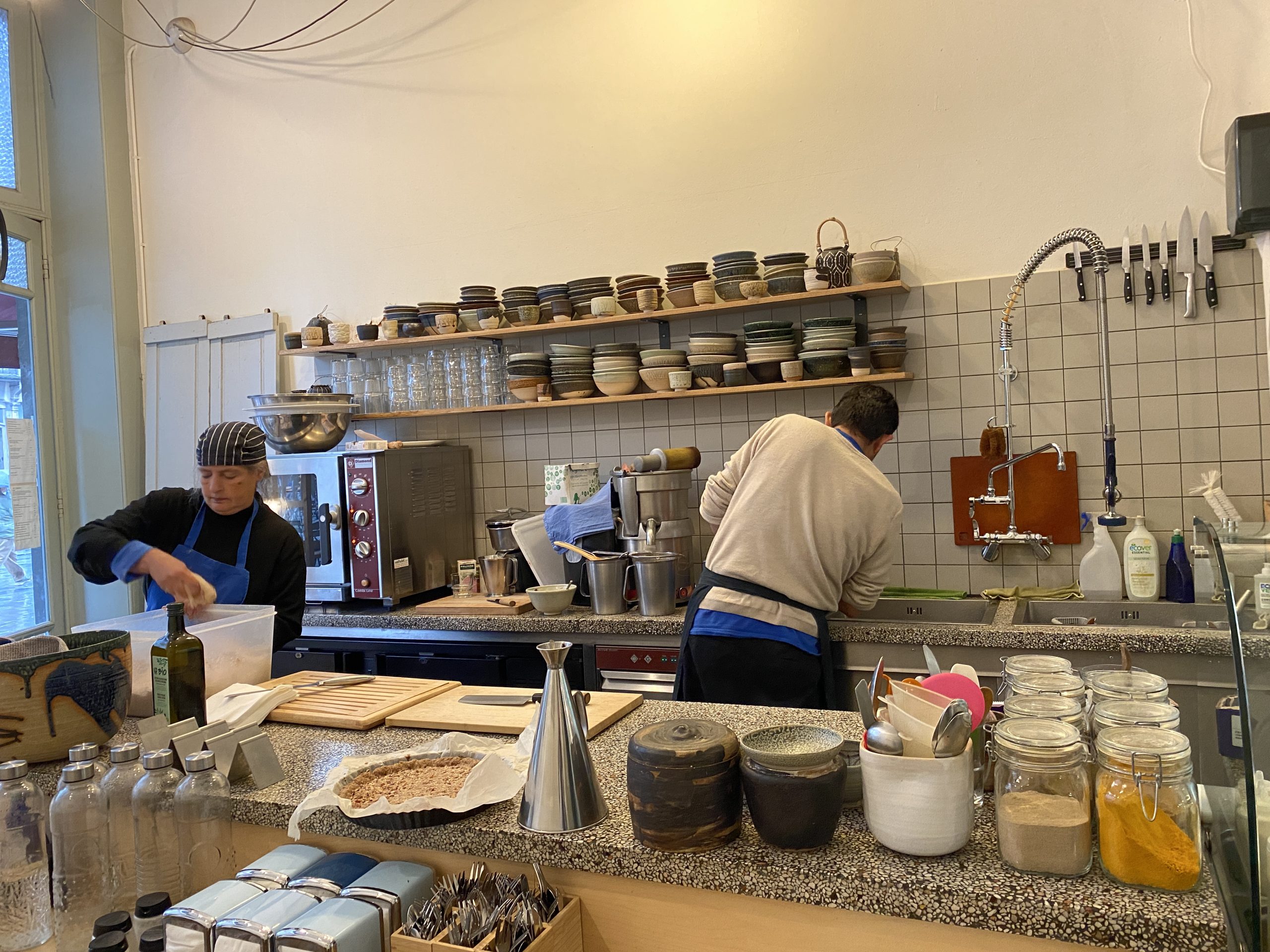 The restaurant is owned by a Pakistani couple who lovingly prepare dishes from their home country using organic and largely vegan ingredients. While Chana is slightly more expensive than other eateries serving similar meals, the quality of the food is second to none.
Opening hours: Wednesday, Friday and Saturday 11:30-15:00 and 18:00-22:00, Thursday and Sunday 11:30-15:00
Mo Mo, Saint-Gilles
For a unique veggie meal look no further than Mo Mo, a Tibetan canteen with a focus on their namesake, momos – traditional Tibetan ravioli.
Located off of the busy Chaussée d'Alsemberg, the small side street of Av. des Villas will provide a quiet escape from the hustle and bustle. Whether you're after a quick lunch or a dinner out with friends, the soft lighting and potted plants make Mo Mo welcoming and cosy.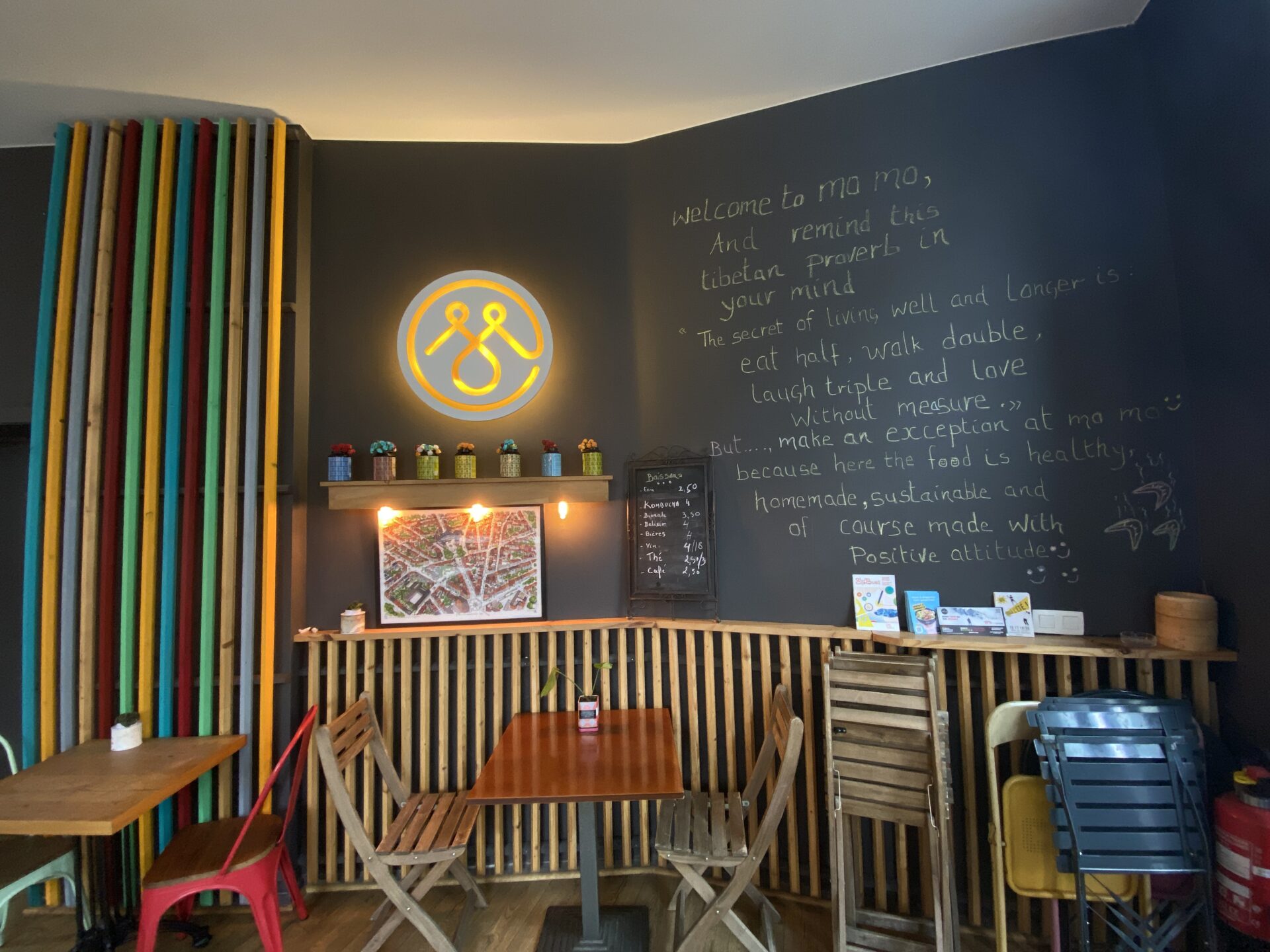 The momo is the star of every dish and can be steamed, pan-fried, in a salad or even for dessert. Though the menu is not exhaustive it allows for mixing and matching with different side options, making it easy to continue to try new things with every visit. Meals can also be taken away.
Run by Tibetan ladies, Mo Mo goes beyond food. The restaurant employs those who escaped from Tibet as refugees to offer them stable jobs and a welcoming environment.
Opening hours: Tuesday-Saturday 12:00-14:30, 19:00-22:00
Lucifer Lives, Marolles
This little gem is nestled among the unique antique shops for which the Marolles district is famous. It serves no-nonsense vegan comfort food.
Lucifer Lives has breakfast and lunch menus as well as soul-warming coffees and other hot drinks. A range of delicious pastries and cakes complete the fika experience.
A recent addition is its very own movie night which includes an exclusive dinner, followed by 100% plant-based desserts. The eatery is also dog-friendly, further adding to the sense of comfort.
Opening hours: Wednesday-Sunday 10:00 - 17:00
Pois Chiche, Marolles
Aside from being known for its terrace where customers can regularly be seen basking in the sun while enjoying a home-made lemonade, a glass of crisp, natural wine, or its very own beer 'Tish', Pois Chiche (chickpea in French) is a Brussels staple for veggies and vegans, loved for its falafel and its bowls of goodness.
On colder days, the restaurant's interior is a cosy oasis (and means you're closer to the self-serve drinks station).
Be prepared for a short wait, it's a popular spot and indoor seating is limited. Be sure to try brunch during the weekends!
Opening hours: Monday - Wednesday 12:00 – 21:00; Thursday & Friday 12:00 - 22:00; Saturday 11:00 - 22:00 and Sunday 11:00 - 21:00
Le Botaniste
Who said vegan food is all the same? Le Botaniste takes plant-based food to the next level and has two locations in Brussels (Schuman and Bailli) as well as one spot in Ghent and four in New York City.