Brussels is famously full of foreigners, yet the city still denies this big chunk of its population a say in how it is run. A group of international residents is trying to change that.
When Ilaria Maselli first moved to Brussels 15 years ago she remembers feeling alone and vulnerable. With little French and no Dutch, her insecurity was compounded by the complexities of dealing with Belgium's notorious bureaucratic barriers. "It was mind-boggling trying to juggle it all," says the 38-year-old Italian. "You get lost in a labyrinth of red tape."
Bryn Watkins can sympathise. One of his first memories of moving here eight years ago was something else the city is notorious for: the state of of its pavements. "I actually fell down a big hole on the sidewalk soon after arriving here and hurt myself," he recalls.
Both Maselli and Watkins have helped launch a major campaign to bring non-Belgian voices to decision-making in Brussels. As they live and work here and have made the city their home, they insist on the right to a bigger say on how it is run.
One of Maselli's ideas is to make English an official administrative language in the Brussels Capital Region. This means, she says, translating all official documents into English and increasing the ability of public servants to speak the language.
Watkins's proposal, among others, is to push for better and cleaner pavements, an issue he says is of particular concern for the disabled.
Watkins and Maselli call themselves 'international Brusselers', residents of Brussels with non-Belgian citizenship. They have been joined by thousands of others in a new campaign to promote the rights of about 400,000 people in the city – one-third of its population – who live and work in Brussels but who have the nationality of another country.
Both Watkins, a linguist, and Maselli, a researcher married to a Belgian, have happily settled long-term in Brussels and contribute to the city's economic well-being. The international sector is of huge importance for Brussels, estimated to generate around 20 percent of the gross domestic product of the Brussel Capital-Region and 23 percent of its employment.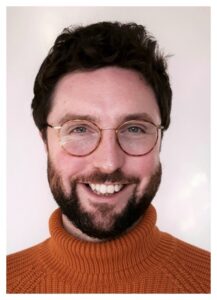 Maselli, Watkins and others say they feel disenfranchised in their adopted homeland, playing little or no part in how policies that affect their day to day lives are shaped. This, they insist, has to change. "I have come to love the city and call it my home, but things do need to improve substantially for non-Belgians here," says Maselli.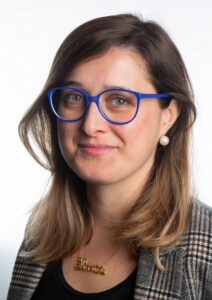 Pascal Smet, Brussels State Secretary for European and International Relations, agrees. "Brussels is Europe's most cosmopolitan city and it is our task as politicians to make them feel at home," he says. "It may not be a city you immediately fall in love with, but a real love affair is not always about love at first sight. My message to non-Belgian citizens here is: you are one of us."
Voting rights
A central plank of the campaign is to give this huge non-native community the right – currently denied – to vote in regional elections. This is just one of 22 proposals contained in a political party-style manifesto drafted after a major public consultation exercise. It covers everything from housing costs, safer streets and more accessible public services. "The idea is to create a better Brussels," Watkins says.
Why should it matter that non-Belgian citizens have a say in things?
The Brussels regional government is responsible for a raft of key policies directly impacting the lives of Watkins, Maselli and many others. These range from mobility issues and the environment to housing and international relations. But if non-Belgians cannot even vote for the Brussels regional government, what chance have they to determine who's elected?
"It's a disturbing democratic deficit," admits Els Rochette, a Flemish Socialist member of the Brussels regional government. "People like Ilaria moving here from another country face a lasagne of institutions. It can be hard."
Last April, the international Brusselers campaign produced a manifesto that was presented at a special session at Brussels Capital Region Parliament on Rue du Lombard.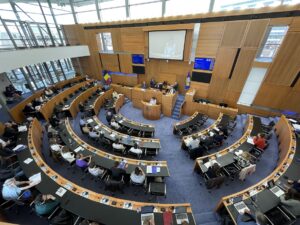 The manifesto was the result of an initiative, called Brussels Voice, first launched by Smet and led by the office of Alain Hutchinson, Brussels Commissioner for Europe and International Organisations. Between last May and December, thousands attended small-group workshops and joined a digital platform.
Some 77 percent of non-Belgians who participated in the exercise come from EU member states, 14 percent from the rest of the world (many from India) and nine percent from elsewhere in Europe (mostly Brits). Forty-two percent of those who took part work in the EU and 10.8 percent work for international NGOs.
Democratic experiment
Hutchinson, whose British father was among those who liberated Brussels in 1944, says he backs this "bold experiment in participative democracy", describing it as a "fascinating snapshot of the worries and hopes of this diverse community."
He warns that the demand to vote in regional elections will not be easy and may require a change to Belgium's constitution. But Hutchinson, an ex-MEP, says the country should find more ways to integrate them. "International Brusselers have a complex relationship with Brussels. But they build careers, homes and lives here and engage in the city's cultural and social life," he says.
Smet agrees that while the regional government enthusiastically supports the voting rights idea, getting the different regions and political parties to agree will not be easy. In the meantime, he has come up with a compromise: a new consultative body for international Brusselers.
This is roughly in line with one of the manifesto demands, for a new regional consultative assembly consisting of Belgians and non-Belgians "randomly selected." It says seats, "should be allocated proportionally to the demographics of the Region and the assembly should have a formal advisory role in regional policymaking."
Manifesto demands
But what will it take to make international Brusselers like Watkins and Maselli truly feel "at home"?
The 46-page manifesto is a wish list of a range of recommendations and suggestions. The aim is to not just benefit residents, native Belgians or otherwise, but also improve the city's reputation among those who visit for work or tourism.
After Dubai, Brussels is said to be the world's second most international city, at least if measured by people not born in the country. Their demands for improved public transport and more quality green public space shouldn't be asking too much.
The manifesto says footpaths "are often dirty or damaged and should be repaired or cleaned more quickly," comments that will certainly chime with many.
The use of English as an official language is an idea championed by Maselli who, as a newly arrived Erasmus student at ULB, recalls, "It was difficult trying to navigate administration and public services in Brussels," she says.
Smet himself chose to address the manifesto launch on the 'Day of the International Brusselers' solely in English specifically to promote the language proposal.
Grouped under six headings, the manifesto says people who move to Brussels "often say they don't feel safe in streets or public spaces, with women especially concerned" and calls for measures such as the installation of smart street lighting.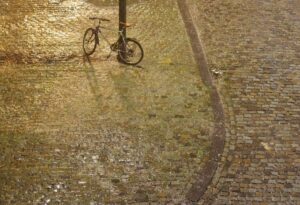 Another key issue flagged is the city's rental market with recommendations to curb rents and simplify the process of finding a home. It calls for an expansion of the so-called orange card system to enable newcomers from all over the world to set up rental deposits (blocked accounts) on arrival in Belgium. "We should ensure rents remain at affordable levels. A fair price would be guaranteed by better enforcement of rules and careful control of price rises," the manifesto says.
Cutting the number of cars in the city through "restrictive" measures is another recommendation, as is ending the rubbish collection system based on residents leaving plastic bin bags in the street. One solution here, it is argued, would be to install larger containers, "local and accessible for residents," across Brussels' 19 communes.
Rachid Madrane, President of the Brussels Parliament, says that hosting the event in the assembly itself was a "significant statement of intent" and "shows that we take these proposals seriously."
The Brussels Times canvassed reaction to the manifesto from other Brussels regional MPs. All support the proposals but caution that it should be seen as a "work in progress."
Carla Dejonghe, an Open Vld member, says that while the manifesto is "good" it is "just a start." Jeunes MR member Nima Hairy hailed what he said were "fantastic proposals," while warning that, "it's not the finished article and needs more work."
His Socialist colleague Martin Casier agreed that Brussels "should be for everyone, not just native Belgian citizens," but added that while the Brussels parliament supports voting rights, "this is out of our hands."
So, what happens next?
Watkins and Maselli say they want more debates like the one in the Brussels Parliament. The event marked the end of their 'Live Here. Speak, hear' project and they hope it marks the start of a new chapter.
Watkins says the manifesto launch was a "lively success" even if it still has a long way to go. Most importantly, he says the message has been heard across the Brussels political institutions. "International Brusselers are passionately defending not just their proposals but their very right to have a say in the policies of their home region," he says.
---
Who are the international Brusselers?
- One-third of people working in the Brussels-Capital Region do not have Belgian nationality, double Belgium's average.
- The share of non-Belgians in the Brussels labour market has risen by almost a quarter over the past five years, to 30.4 percent in 2021.
- This is more than double the national average (14.8 percent).
- About half of the non-Belgian employees in the Brussels-Capital Region come from an EU country, with France, Poland, Romania and the Netherlands leading them.
- The biggest group of non-EU citizens in the Brussels business community are Moroccans.
- Nearly 25 percent of babies born in Belgium in 2020 had a non-Belgian mother.
- After decades of decline, there has been a steady rise in the population of the Brussels-City commune, from 134,000 in 2000, to 157,000 in 2010, and almost 187,000 in 2021.
- The entire Brussels Region is forecast to grow to 1.288 million inhabitants by 2050, up from 1.219 million in 2021.