Actiris, the Brussels public employment agency, has released the latest figures for the month of June indicating that the unemployment rate in Brussels has decreased for the 11th month in a row, with the unemployment rate among young people below 20%.
These findings for June 2022 allow for some optimism for those worried about the war in Ukraine's impact on the job market in Brussels.
There are currently 84,475 jobseekers in Brussels, 3,465 fewer than in June last year.
Related News
The current unemployment rate of 14.7% is also 3.9% lower than in June last year.
Amongst young people, 7,481 are currently seeking employment, which is a 5.1% decrease since June of 2021.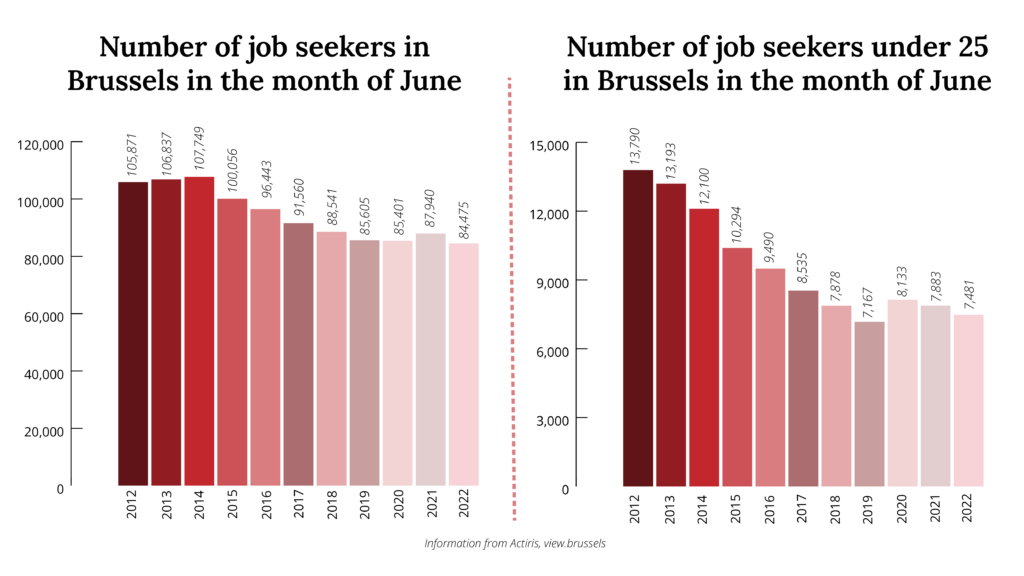 With these figures confirming an 11-month stretch of decreasing unemployment in Brussels, Jan Gatz, a spokesperson for Actiris, told Belga News Agency that this was a step in the right direction.
Painting a profile
Actiris' data paints a better picture of unemployment in Brussels. Firstly, of the 14.7% who are currently unemploymed, 13.9% identify as men and 15.6% as women.
Secondly, the month of June saw 8,833 unemployed people sign up to Actiris, with 8,202 re-enrolments and 1,631 new registrations.
Thirdly, 4,309 young people are currently on work experience schemes and 26,489 other jobseekers have registered voluntarily or compulsorily to vocational training.