The refugee transit centre Ariane in Woluwe-Saint-Lambert is currently housing 1,070 refugees who have no place to go due to a shortage of reception centres.
The issue is a major bottleneck in the reception of refugees, with many left to find accommodation but unable to do so with no fixed address.
The Ariane centre was set up by Belgian Red Cross Flanders on behalf of Fedasil, the Belgian agency responsible for the reception of asylum seekers. It was meant to be a stopgap between the registration at Heysel and a local reception centre.
Fedasil is responsible for assigning more permanent residencies but the agency sent a letter to the residents of the centre stating that it is unable to provide shelter for the refugees and asking them to look for a permanent residence themselves.
Catch-22
Ukrainian refugees can only receive a living wage once they are registered in a municipality. As long as they do not have a permanent address, they cannot work, open a bank account, receive financial support, or access Belgian schools.
Alena Tereshenko (57), who has been staying in the centre for a month, explains the predicament: "We are not allowed to register in Woluwe-Saint-Lambert because this is only a temporary shelter. And we don't have the money or the papers to look for a house on our own."
Joachim Deman, the spokesman for Belgian Red Cross Flanders, confirms that more than 1,000 Ukrainians are stuck in the transit centre, some for more than two months. "Today, almost 30% of the refugees are here for more than 25 days."
Related News
The Ariane centre is not designed to accommodate people for more than a few days. "Neither the building, nor the processes, nor the resources can provide for it. The residents themselves have money problems because their living wage is delayed," Deman said on Radio 1.
Dennis Trytyvychenki (30) from the north of Kyiv says the doors cannot be locked: "Recently, someone was at my bedside in the middle of the night." Single women, who make up a large part of the centre's population, have to barricade bedroom doors for their own safety.
Deman explains that the organisation is doing its best but that the building is simply not suitable for long-term care. The showers are housed in a container in the parking lot, there are no washing machines, and the Red Cross can only provide basic care.
Bottleneck
As the centre only offers the temporary space for 1,500 people, the entire reception chain is in danger of collapsing. "The outflow is stuck. We are not authorised to fix that, it is up to the local authorities to provide places," said Lies Gillis of Fedasil.
Flemish Minister of Housing Matthias Diependaele (N-VA) says that those places do exist. 58% of the 50,000 total Ukrainian refugees that Belgium receives are registered in Flanders. "That almost corresponds to the 60% that we have committed ourselves to," says Diependaele's spokesperson.
He also said there are plenty of places available: 27,000 have been created and only 17,000 of them have been taken. In practice, however, many places turn out to be unavailable. Local authorities are keeping them free in case host families who have taken in refugees withdraw their support.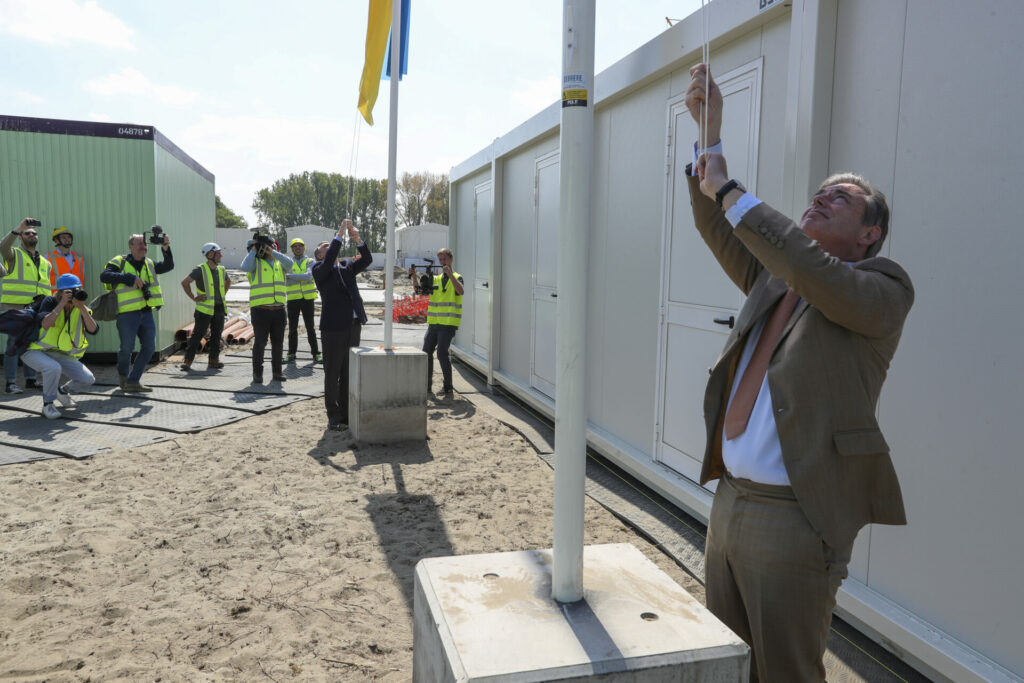 As a counter-measure, Diependaele's cabinet speaks of "extending the financing of local reception initiatives", which will include "the construction of two additional emergency villages in Ghent and Flemish Brabant that should raise the number of reception places to 30,000".
A meeting between regions is scheduled for next week to discuss the issues. Yet Alena Tereshenko is dismissive and insists: "We are a hardworking and self-reliant people, give us the opportunity to live up to that reputation. As long as nothing is done, Belgium has de facto turned us from war refugees into hostages."