As a major European capital, Brussels sees its share of musical icons coming to play at several of the city's venues. Often their stardom makes quite an impression, as was the case with Coldplay this summer or the Rolling Stones, when Mick Jagger took time before the show to explore the streets.
Yet it seems unlikely that Bob Dylan will make such a public splash on the Brussels scene, though the artist plays tonight at Forest National theatre. Though his songs are some of the most celebrated of any artist ever – indeed, earning him the Nobel Prize for Literature – Dylan himself is notoriously reluctant to reveal anything beyond what he gives on stage.
For tonight's show, he has even gone so far as to prohibit mobile phones entirely, the emphasis being on experiencing the concert first-hand and not recording it (potentially disrupting other attendees and undermining the ambience). It isn't unusual for artists to request that their fans refrain from watching their show through a phone, often in theatres there are staff to make sure that filming doesn't take place.
But Dylan is going a step further by making use of a lockable smartphone pouch (made by a company called Yondr) which concert-goers must put their phones in before entering the concert hall. If this seems a little severe, Dylan has long been uncomfortable with the notion of cameras getting too up close and personal.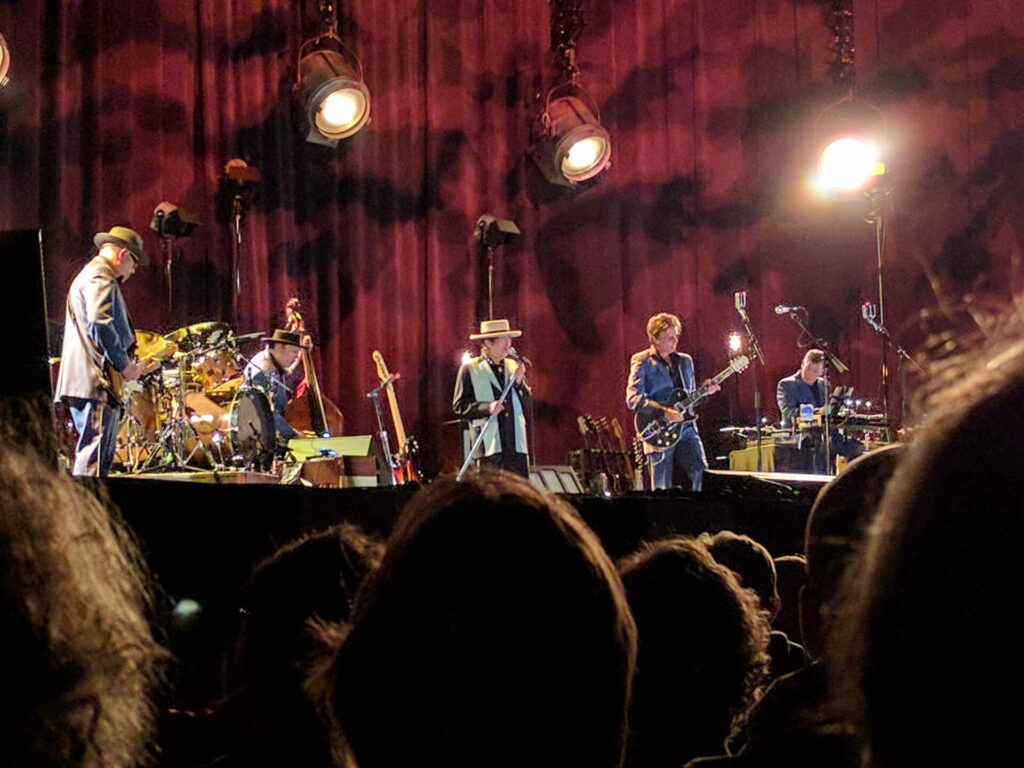 When playing bigger stages, the screens that frequently project close-up images of the artist to the crowds further from the stage only show a zoomed-out view of Dylan with his band.
Management for Forest National write on their website that "It improves the concert experience", adding that often "older artists who have been on stage for a long time have known the days when they didn't play in front of a lot of screens in the air. And they often find that more pleasant."
An upcoming book
Aside from his "Never Ending Tour", Dylan has other creative outlets, be it painting or metalwork sculpture. No stranger to long-form written word, Dylan (81) now seems to have a new book poised for release.
The first excerpts were unveiled in The New York Times on Thursday. The book will bear the title "The Philosophy of Modern Song" and is due to be released on November 8, then in French by Fayard editions.
It will be his first work since "Chronicles, volume 1″, published in 2004. The excerpts published by the New York Times reveal the 81-year-old poet and musician's reflections on legendary titles by Frank Sinatra ("Strangers in the Night") or the Who ("My Generation").
About Sinatra (1915-1998), Dylan pays homage to his "vital breath, something that runs in the veins, (…) which is essential to stay alive and cheat death". The folk star started writing his book in 2010 and the book includes, according to its publisher, more than 60 texts, also on artists such as Hank Williams and Nina Simone, and on the art of composing texts and melodies.
Spanning generations
Bob Dylan appeared on the New York folk scene in the early 1960s and has since sold more than 125 million albums around the world. Aged 81, he continues his concerts with a current tour which should run until in 2024.
He released his critically acclaimed 39th studio album, "Rough and Rowdy Ways", in 2020. Robert Allen Zimmerman, alias Bob Dylan, was awarded the Nobel Prize in Literature in 2016 "for having created, within the framework of the great tradition of American music, new modes of poetic expression".