The riots that broke out in central Brussels on Sunday following Belgium's 2-0 loss to Morocco led to 11 arrests and left considerable damage to public and private property. Three journalists were also physically assaulted during the violence, Belgian media RTBF and RTL report.
One RTBF journalist was injured after being hit in the face by fireworks. An RTL Info reporter and her cameraman were repeatedly assaulted while covering the riots. The journalists were unable to continue covering the riots and their equipment was destroyed and stolen. Both were forced to take refuge in a nearby business.
"Our colleagues were physically attacked by several individuals. They were able to find refuge in a nearby business. Barricaded for a long time, they were finally able to leave the premises," RTL Info stated. The editorial board of RTL has condemned the attacks against its staff. A vehicle from the Flemish broadcaster VRT was also targeted by hooligans.
Martine Simonis, secretary general of the French-speaking Association of Professional Journalists (AJP), denounced the attacks against Brussels journalists.
"Insults, beatings, destruction of equipment, the AJP denounces the violence against several journalist teams in Brussels today and will join in all legal actions taken," Simonis said.
Nultolerantie als het gaat om veiligheid van journalisten. #pressfreedom

Lik-op-stukbeleid is onderweg (prompte opvolging + strafverzwaring bij agressie tegen journalisten)! ✅ https://t.co/ZUiadup7OE https://t.co/TX7WB8nxrz — VVJ (@vvjournalisten) November 28, 2022
Belgium's Flemish-speaking journalist union (VVJ) has also condemned the violence, especially against TV journalists in Antwerp, who were harassed by supporters live on air.
Far-right capitalises on violence
The violence has been condemned by officials from across the political spectrum, although some parties have used the occasion to put a racial slant on the violence.
Vlaams Belang President Tom Van Grieken (whose party takes a strong anti-migrant stance) said that Belgium had a "Moroccan problem." The far-right party took particular issue with a Belgium flag being ripped down in the suburbs of Antwerp. He accused the rioters of being guests who hate their hosts and told rioters to "go home".
We hebben een #MAROKKANENPROBLEEM

Druggeweld: vooral #Marokkanen WK-geweld: vooral #Marokkanen Geweld op oudjaar: vooral #Marokkanen Fraude sociale woningen: vooral #Marokkanen Laten we het daar eens over hebben. Niet in het minst voor Marokkanen die het wél goed voor hebben pic.twitter.com/99VHx9ZV4g — Tom Van Grieken (@tomvangrieken) November 27, 2022
Flemish rightwing N-VA politician and Flemish Justice Minister, Zuhal Demir, also used the riots as an opportunity to question Belgium's immigration policy. "It is yet another demonstration by a group that feels untouchable and wants to make it clear: 'the streets are ours,'" she wrote on Twitter.
Parties and politicians represented in the current Federal Government posted firm messages of condemnation online but otherwise refused to frame the incident racially.
Extensive damage
Several vehicles from numerous branches of the capital's emergency services were damaged during the riot. A Brussels fire brigade vehicle was also damaged, stoned by football supporters.
"There is damage to the bodywork, mirrors, and headlights. Fortunately, the crew is unscathed and was able to benefit from the support of the police on the scene," said Brussels fire brigade spokesman, Walter Derieuw.
In total, police made eleven arrests in connection with Sunday's violence. Despite the damage and injuries caused by the rioters, especially in the area surrounding Boulevard Lemonnier, Brussels Mayor Phillippe Close has withheld from banning public gatherings.
Related News
"There is the question of whether parents realise what some of their children are doing. We were able to limit the damage though this was not fully successful when you see the images. But the main culprits are troublemakers," Close said on Monday.
Similar incidents were reported in Antwerp, as well as Rotterdam and The Hague.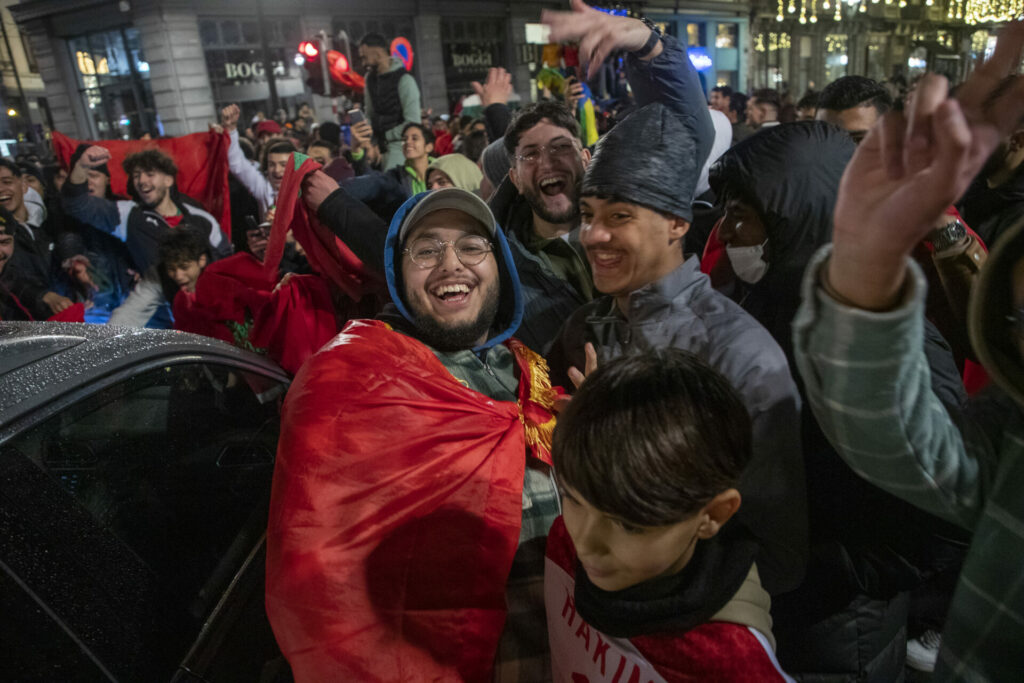 Meanwhile, no incidents were reported in the mining municipalities in the Limburg province, such as Maasmechelen, Genk and Beringen – which all have large communities of Moroccan descent.
Images and videos circulating on social media show groups of cheerful football fans singing and dancing in the streets, as well as long lines of cars decorated with Moroccan flags driving around playing the country's national anthem and/or honking their horns to celebrate the win.
While police were present to intervene if necessary (which is not unusual in these mining communities before, during and after important football games in which Belgium is playing Morocco or Italy, for example), the celebrations took place without any trouble – unlike in big cities such as Brussels and Antwerp where riot police were reportedly present en masse before the game started.