A large number of asylum seekers have been sleeping rough along the canal in Molenbeek. Since mid-February, the line of tents and makeshift shelters has spread down the edge of the waterway. On Tuesday, they are finally being evacuated for rehousing.
For months on end, the pavements next to and bridge over the canal in Molenbeek Saint-Jean near Belgium's Asylum agency Fedasil's registration centre Petit Château have been lined with tents housing asylum seekers who were denied the shelter to which they are legally entitled in Belgium.
In recent weeks, the number of tents has risen, largely as a result of the evacuation of the so-called "squat" in Schaerbeek. The authorities promised these people accommodation elsewhere, but many instead ended up on the streets for weeks.
The municipality of Molenbeek confirmed on Tuesday that the asylum seekers who have been occupying tents along the canal have been evacuated, bringing a brief period of relief.
Tweet translation: "The tents at Petit Château are being removed. There is no clarity yet on shelter for those on the streets."
"I am relieved to see the end of this occupation via a rehousing solution for all the asylum seekers present on the quays. Human dignity and the honour of our country are at stake," Molenbeek's mayor Catherine Moureaux said, adding that the increasingly concerning health situation spurred the operation.
The tents have been removed from the site and destroyed, something which was criticised by asylum seekers' lawyers and civil society organisations. However, Moureux explained that, due to the contagious diseases identified among some people, these were not reusable and had to be taken away.
Concerns remain
At the latest headcount, some 200 people were sleeping rough here – the majority of which are asylum seekers. During a press conference on Tuesday, Moureaux noted that definitive numbers could not yet be provided as the operation was still ongoing.
A medical screening of all people evacuated will take place on Tuesday, after which solutions will be found on an individual level. State Secretary for Migration Nicole de Moor confirmed that all people have been transferred to shelters.
Fedasil will take in those who are registered as asylum seekers — however, the exact locations have not yet been confirmed — while those who are not eligible for shelter with Fedasil will be taken to other shelters, Moureaux explained.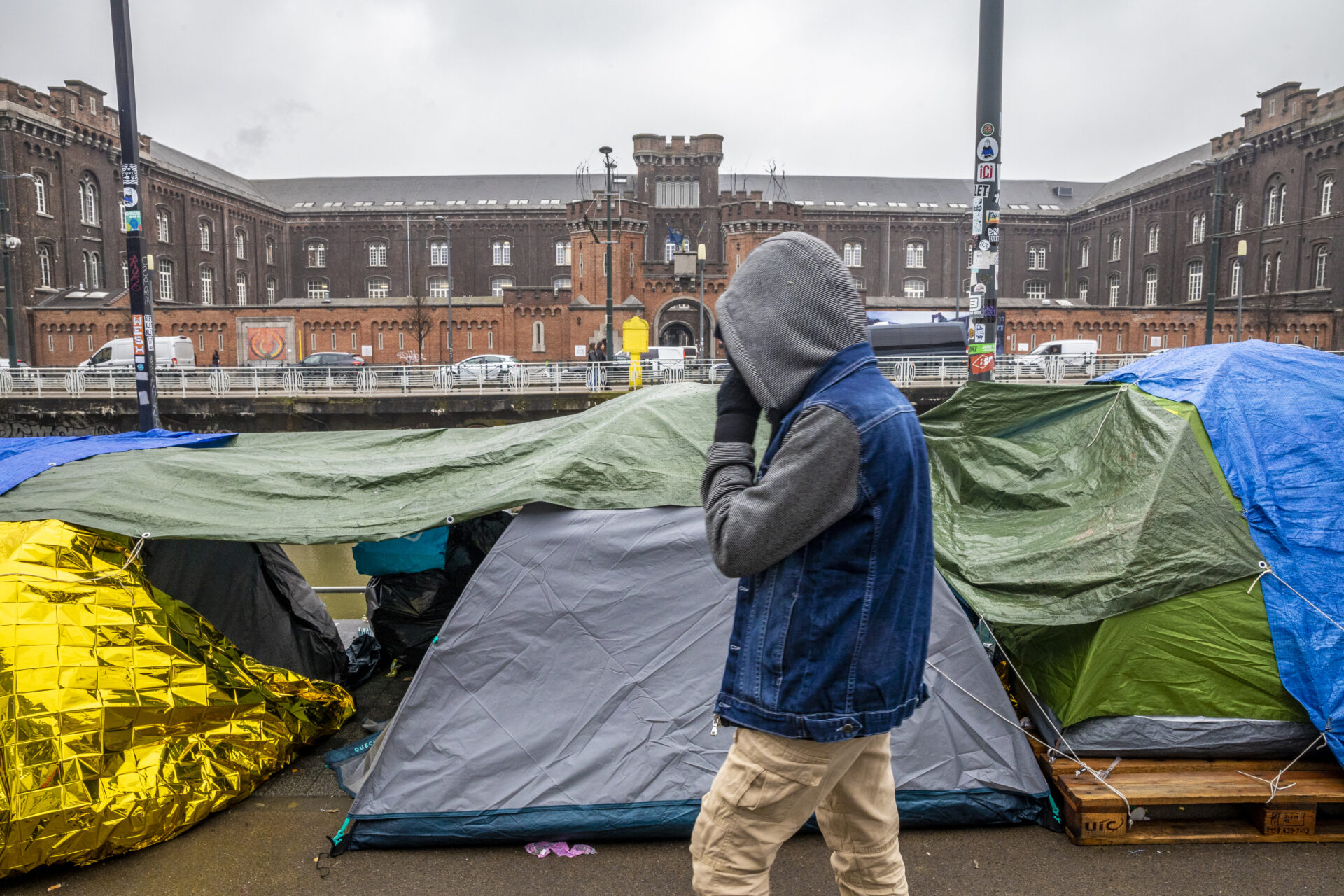 Vluchtelingenwerk Vlaanderen's Thomas Willekens stressed that, while the evacuation is at first glance a good thing, it remains uncertain whether all people will be given the shelter they are entitled to, adding that the organisation will continue to monitor the situation.
Meanwhile, several of the asylum seekers' lawyers present at the conference argued that not all people living there were present on Tuesday morning when the evacuation was carried out, and warned that without the tents, they now risk finding themselves in even more precarious situations than during previous nights.
Neighbourhood goodwill
Moureaux noted that, for weeks, it mobilised all teams to ensure that the growing number of people sleeping rough here did not cause any incidents.
"As mayor, I have noticed a real difficulty in terms of security. The cohabitation of so many people in this public space was unthinkable," Moureaux stated.
This was mirrored by a Molenbeek resident Katrijn Dehantschutter who since day one has been involved in assisting asylum seekers sleeping rough next to the canal. She told The Brussels Times that for people living in the neighbourhood, it has been very difficult to witness such human suffering day in, day out.
"I was very emotional this morning. First, when I saw a large number of police officers this morning, I was very scared for the people living on the streets, who we know well by now, and didn't know what was going to happen to them," she said.
Crisis ignored
Although Dehantschutter made clear her impression that the operation is now being handled correctly, she lamented the delay to meaningful action. "I do still have mixed feelings, we are happy because people are finally being housed, but what's unfortunate is that it's taken so long and these people have had to suffer so much."
Dehantschutter stressed that the fact it was Molenbeek, and not the Federal Government which is responsible, that finally put out the fire, speaks volumes about how the country is dealing with this crisis.
"I am asking myself serious questions about what we are doing as a country. Something is thoroughly wrong if Molenbeek has to solve this crisis while the Federal Government just stands by and watches after letting the problem drag on for so long."
Related News
She added that, while the problem may temporarily become less noticeable now the tents have been removed, there is still a crisis which the government has been ignoring for months. "As long as they don't change things structurally, there will be new squats and new tent camps."
Willekens stressed that the asylum seekers evacuated on Tuesday represent just the tip of the iceberg of the crisis and that the government must engage Defence for pre-shelter capacities, to improve the outflow from the shelter network and require municipalities to take in a number of asylum seekers each.
"For this, political courage must be shown. If the Government manages to do this, the crisis could be solved in a few months," Willekens concluded.