Three Brussels municipalities have called on the regional and federal governments to urgently open a reception centre for unaccompanied minors wandering around the Brussels Midi/South station, arguing that ignoring the problem is not a solution.
In recent years, the presence of unaccompanied minors residing in the country unregistered (NBMV) in the neighbourhood of the city's Midi Station has increased. This vulnerable group consists of 11- to 18-year-old Maghrebian boys whose living conditions are worsening every day.
"Ignoring these children and teenagers and just complaining that it is difficult to get them into a support system is tantamount to encouraging their social marginalisation," said Khalid Zian, president of the public social services centres (CPAS) of the City of Brussels, explaining that this group of young people finds it hard to ask for help.
A study conducted by the therapeutic association Lama Project and Crebis, the research centre for social inequality, published on Friday identified the problems experienced by young people residing here, as well as their needs.
It showed that they are more likely to be victims of exploitation, while their status as migrants means they are "characterised by a loss of their social environment" at a crucial stage of their development, weakening their mental health and making them more susceptible to addictions.
Much more than problem for public space
According to the neighbourhood's residents, their presence has disrupted public order, which was mirrored in the study, stating it has created "numerous security problems such as thefts and fights between groups," the study noted.
However, the study also stressed that, apart from the need to find a solution to restore the public order, caring for these minors has a double democratic dimension, "not only in terms of respecting international conventions and the legal principle of the best interests of the child but also in terms of policies to combat social exclusion."
"Without a strong commitment to a policy specifically aimed at them, we cannot protect them and reduce the health and safety risks their presence poses, for local residents and for themselves," Zian explained.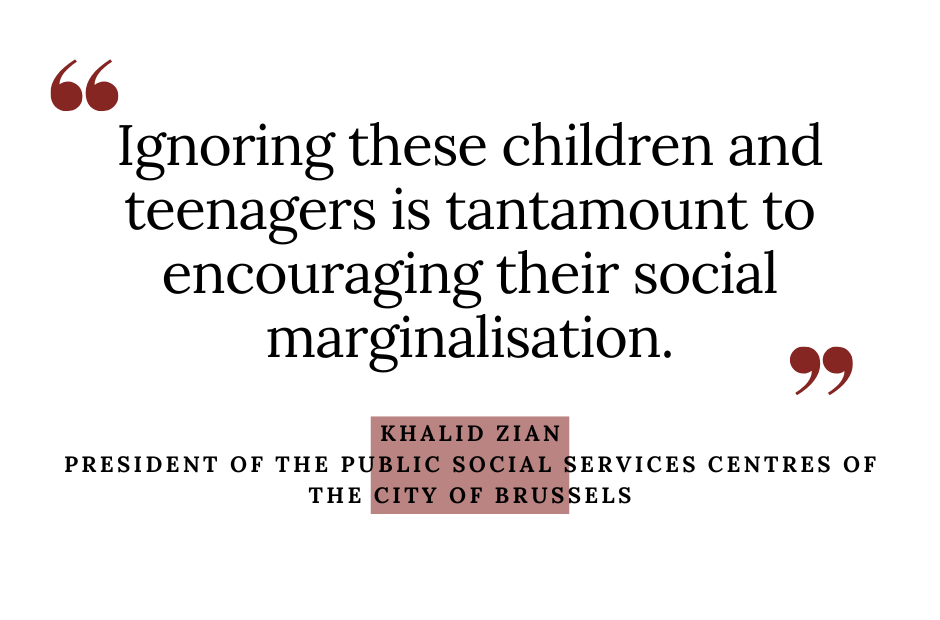 For years, various CPASs in Brussels were in contact with the cabinet of the State Secretary of Asylum and Migration (previously Sammy Madhi, now Nicole De Moor) to find a solution, with no real result.
Several NGOs such as SOS Jeunes and Macadam as well as the municipalities of Anderlecht, Brussels City and Saint-Gilles are already offering medical and housing assistance, however, due to their young age and their unusual profile, as well as the lack of a concrete policy for this group, offering consistent help is challenging.
Need for funding
The municipalities later helped in the CPAS' quest to find humane and pragmatic solutions, with the priority of organising a "low-threshold" reception centre specifically for these young people.
After a long plea, with the support of Belgium's Agency for Asylum Reception Fedasil, a project manager was recruited by the municipality of Anderlecht to create such a centre at the beginning of 2023. But that centre urgently needs further funding, according to its mayor.
"It is our responsibility to protect children at risk by providing them with a dignified framework and future prospects. Solutions are needed to get these young people off the streets and away from the neighbourhood around the Midi Station, where crime is on the rise," stressed Fabrice Cumps, mayor of Anderlecht.
Related News
The municipalities are now calling on the federal and the Brussels regional governments to make a "real commitment" for concrete answers in the areas of youth protection and public health and to organise "low-threshold" housing to "offer them alternatives to their endless wandering," Zian stressed.
Dr Kevin Moens, medical director of the Lama Project noted that it is also essential to equip the social health sector to provide appropriate care. "Caring for this public is a challenge for the welfare and health sector, they need reference people and intercultural mediators."