Riot police were deployed to disperse crowds in Brussels' Bois de la Cambre on Thursday afternoon after thousands of people showed up to "La Boum," a fake festival that was announced as an April Fools' joke.
Photos and videos on social media show large crowds of young people dancing and partying, but police spokesperson Ilse Van de Keere told the Belga news agency that police started clearing the park around 5:00 PM.
Many of the people present, however, refused to leave and threw bottles and other projectiles at the police, leading the police to use water cannons, police horses, pepper spray, tear gas, and a drone.
juste avant le week-end de pâque, la police ne chasse pas des oeufs dans le bois de la cambre, mais des étudiants alcoolisés ?? #laboum #boisdelacambre #COVID19 pic.twitter.com/J0JWY2rhpF

— ????? ??? ??? ????é (@DenKinte) April 1, 2021
Since the beginning of the week, it was clear that the professed festival "with eight stages, a hundred DJs and zero coronavirus rules" was an April Fools' joke.
The City of Brussels was aware of the Facebook event, and communicated in advance that it was "unauthorised and fake," and that the police would be present in the park.
Die Polizei beginnt die Räumung. pic.twitter.com/IGeYRp6ZB9

— Stefan Krabbes (@StefanKrabbes) April 1, 2021
The anonymous organisers of "La Boum" announced several times via social media that it was an April Fools' joke, but that did not stop thousands of people from flocking to the park.
Several of those present came to protest against Belgium's coronavirus police. One of them told De Morgen that he does not believe in any scientific consensus on the coronavirus, called the measures "excessive" and said that "enough is enough."
Related News
Around 6:30 PM, the mayor of Brussels City, Philippe Close, tweeted that "we cannot tolerate" gatherings like the one in the Bois de la Cambre, after having seen the efforts of the vaccination centres to fight the virus on Thursday afternoon.
We hebben daarom het bos geëvacueerd. Degenen die de bevelen van de politie niet opvolgen, lopen het risico gearresteerd en vervolgd te worden. Bedankt aan de politie voor het moeilijke werk en aan de mensen die al meer dan een jaar de regels opvolgen. (2/2)

— Philippe Close (@PhilippeClose) April 1, 2021
"We have therefore evacuated the forest," he said. "Those who do not follow the orders of the police run the risk of being arrested and prosecuted."
Additionally, he thanked the police "for the difficult work," and "the people who have been following the rules for over a year."
Around 7:30 PM, the police were still at the scene, four people were administratively arrested, and three police officers were injured by projectiles, according to interim figures by police spokesperson Ilse Van de Keere.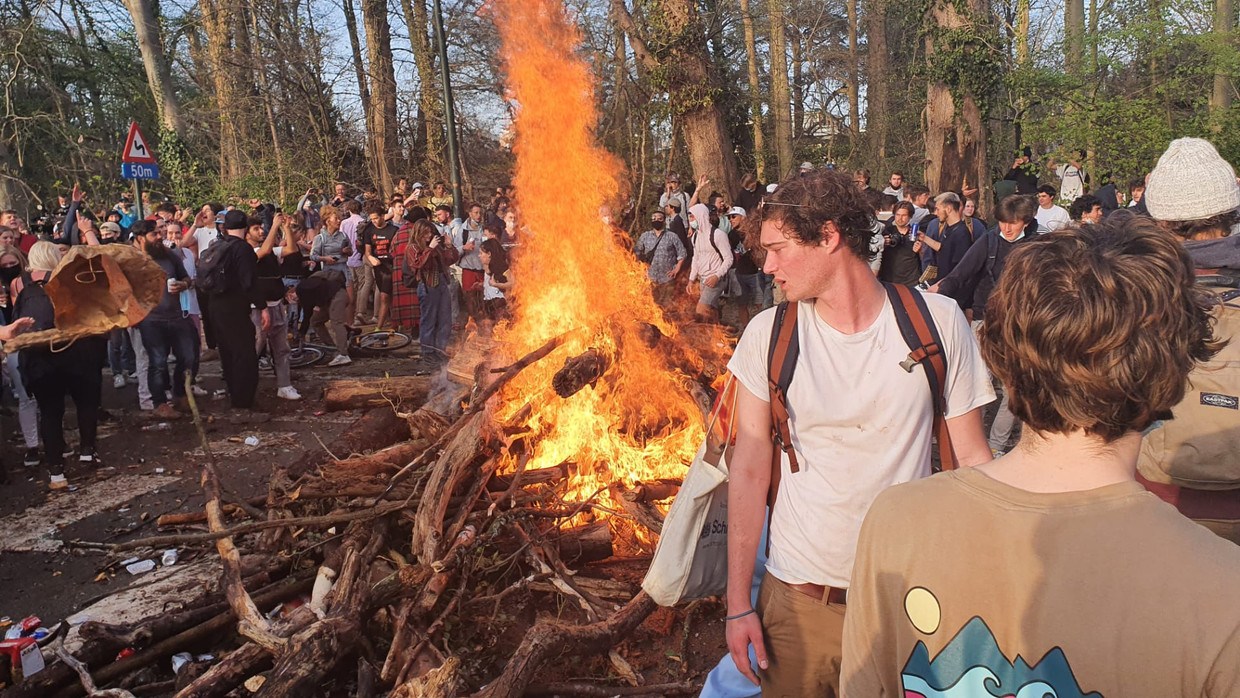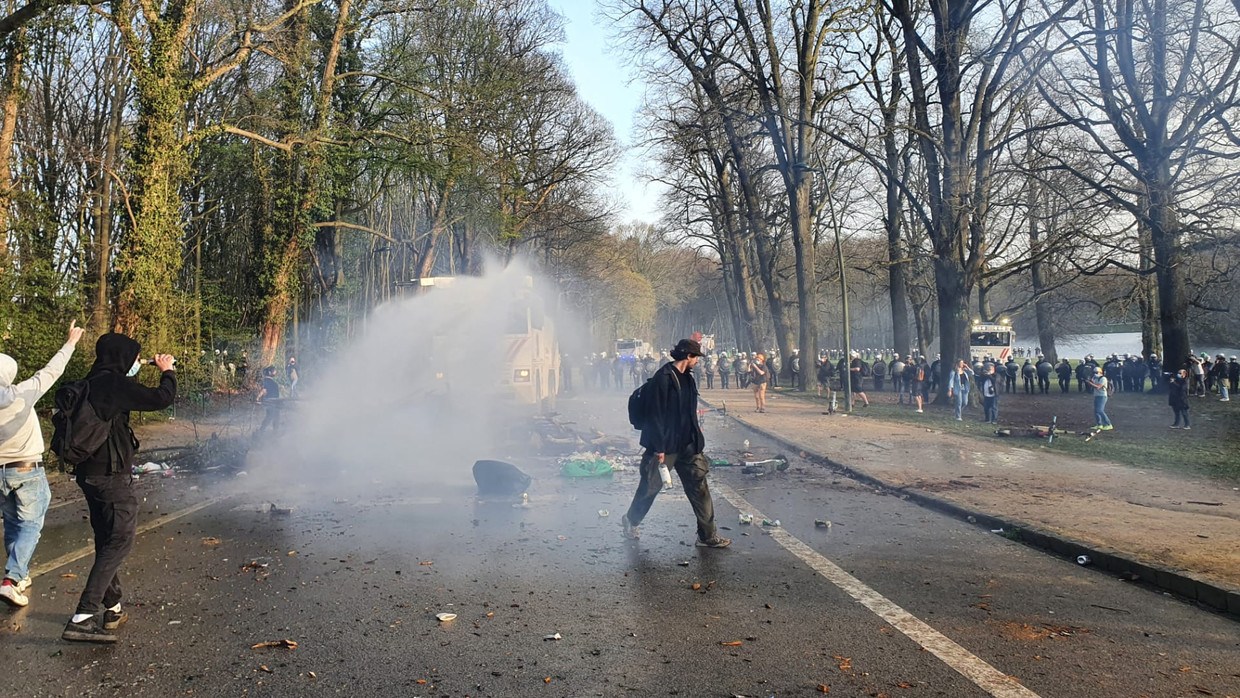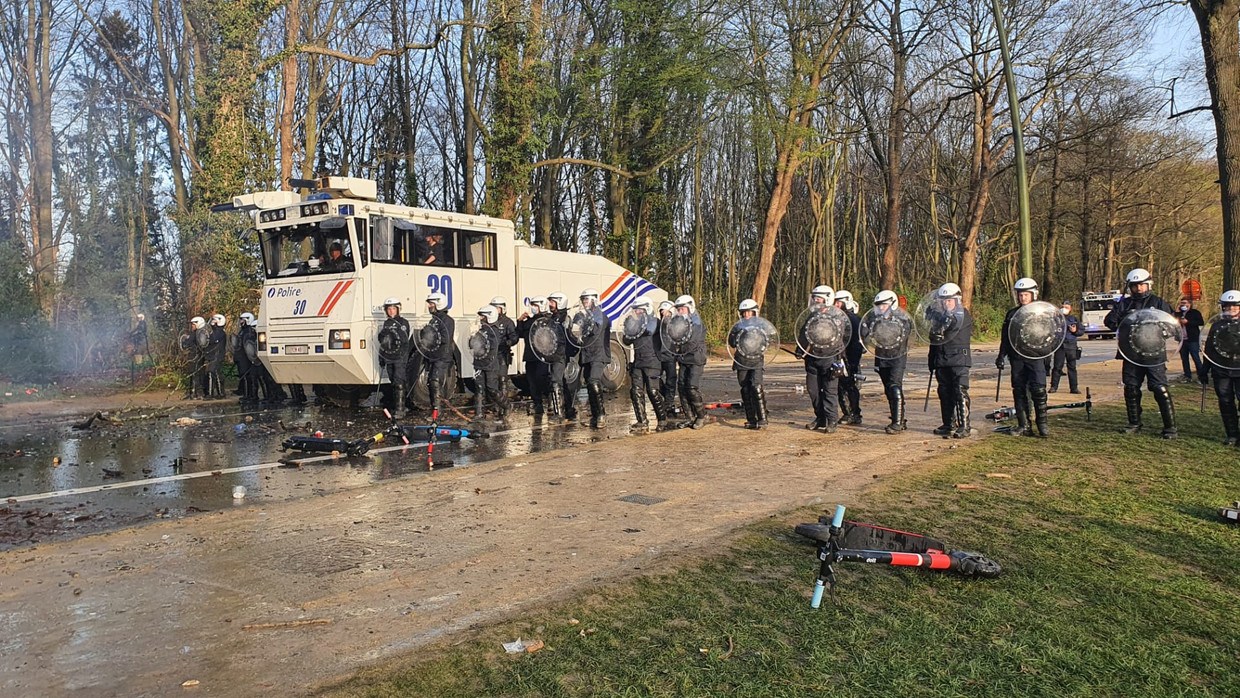 Update: This article has been updated to include comments by the Brussels mayor and figures by the police.
Update: Over 20 arrests were made, and dozens of people were injured, according to the police on Friday morning. The latest can be found here.
Maïthé Chini
The Brussels Times