Experts, stakeholders and policymakers from Brussels and London came together last week in the UK capital to trade best practices for becoming 'net positive' cities.
The term 'net positive' refers to cities that go a step further than simply 'net zero': not only do they produce net zero emissions, they actually provide a net positive impact on the environment and on society.
"It's about creating happy cities," summarised Brussels Secretary of State for Foreign Trade and International Relations Pascal Smet, who addressed participants at discussions held at the initiative of hub.brussels and ecobuild.brussels as part of the Belgian-UK economic mission.
"Cities that are beautiful, resilient and open-minded are cities that are happy," Smet emphasised.
Brussels a world leader in circular construction
Brussels has been tackling environmental issues such as heavy air pollution, congestion and poor canal water quality in recent years. The city has also invested in circular construction techniques and green infrastructure, and its award-winning GoodMove plan aims to rethink mobility to encourage alternatives to driving.
"Brussels was one of the first in the world to construct passive buildings and use circular construction techniques," Smet said, referring to projects such as the Le Jules building which aim to reuse as many materials as possible in construction projects, minimising waste.
But while progress has been made, barriers remain for both London and Brussels, which stakeholders hope can be solved through cooperation and collaboration between the two cities on sustainability initiatives.
Sustainable construction, circularity of projects. With Good Move, Good Living and Renolution, presented to London real estate professionals #BEmissionUK with @Brussels_hub, we're shifting paradigms by valorising the experience of our companies.#BrusselsForPeople@ULIBelgium_Lux pic.twitter.com/UmdY3ItgAk

— Pascal Smet (@SmetPascal) May 10, 2022
Lisette Van Doorn, chief executive of Urban Land Institute Europe, addressed the Belgian and British delegations and called for optimism.
"There are hurdles that are still getting in the way – regulations, preferences for timber, for example – but we shouldn't forget that road maps aren't easy trajectories to reach our ambitions and targets," said Van Doorn.
"When thinking about maximising our impact, we need to focus on eliminating these hurdles. It's like acupuncture – if you find the right point and press it, the impact can be big."
Related News
Stephen Kampelmann of the Brussels-based Sonian Wood Coop echoed calls for smarter building with a view towards sustainability.
"We need to stop designing buildings then deciding where to get the materials," said Kampelmann. "We need to design with the materials in mind from the start."
Van Doorn noted that the composition of each country's delegations included members of both the public and private sectors: "Regulation is catching up, but we can't wait for it. Decarbonisation, net zero – they destine the public and private sectors to work together at a level we've never seen before."
No time to waste
Some of that work was begun on the mission: two Brussels companies were among the nine to sign Post-Brexit trade agreements with British businesses.
One of those companies was Bopro, which offers real estate advice and project management with an emphasis on sustainability.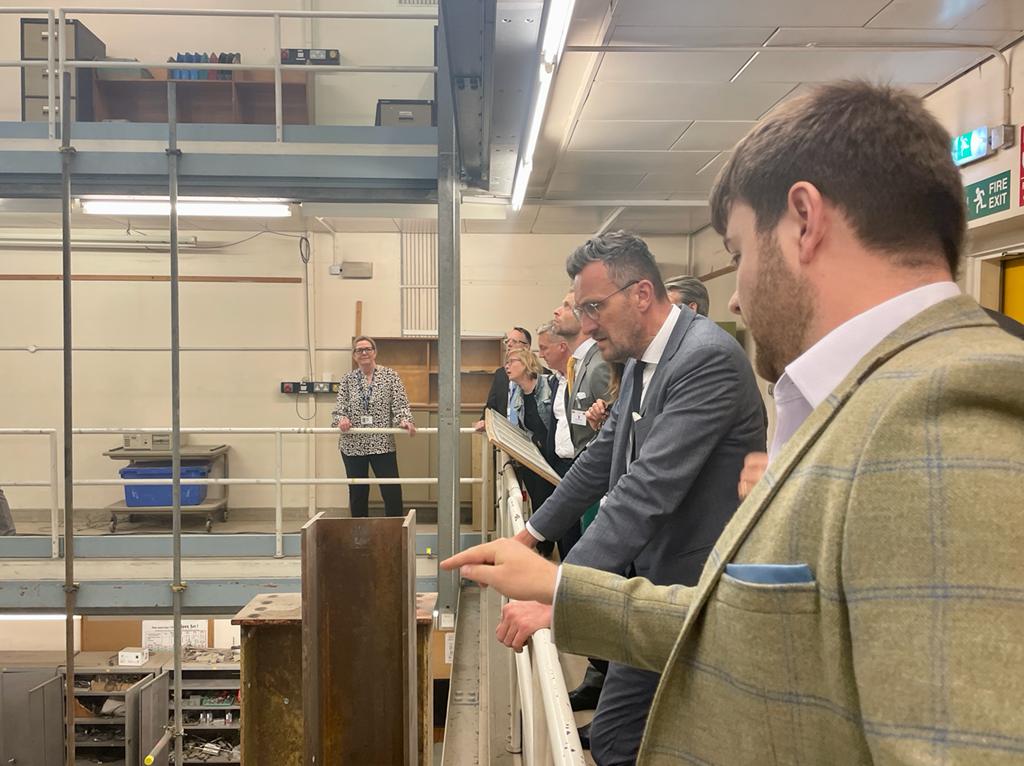 Representatives of Bopro joined Smet in a visit to the Building Research Establishment (BRE), the entity responsible for the coveted BREEAM certification for green buildings.
Bopro and BRE reinforced their cooperation through the signing of an agreement at the end of the economic mission, done in the presence of the princess.