Just months after the Vrije Universiteit Brussel (VUB) was criticised by victims for its slow response to allegations of transgressive behaviour, intimidation and abuse of power by one of its professors, the university is once again under fire for its handling of such incidents.
As reported by The Brussels Times earlier this week, a young student – reportedly the son of a diplomat – locked up and assaulted several fellow students in his room, but the university waited more than six months after the first complaint was made against him to impose a sanction.
Students and experts have since spoken out about the VUB's slow and lax response, which resulted in victims regularly seeing the young man on campus and during social gatherings, and people wondering how many victims there must be before the university will respond to complaints.
"It shocks me that VUB does not even warn us or give any type of help when such incidents occur. If something happens, you are mainly left to your own devices and have to figure it out yourself," one student (referred to as S. for the purpose of this article) told The Brussels Times.
Temporary measures instead of punishment
The university itself claims that, because "such behaviour is unacceptable, an investigation and disciplinary proceedings were launched after the complaints were received."
However, S. said that the university first imposed precautionary measures on the student, who was living in student housing at the time, such as not being allowed alone in a room with fewer than three people. Yet these rules fell short of substantial barriers to prevent further incidents. This was also confirmed to another student in reports from De Morgen.
She added that the university didn't warn victims that he would remain on campus after receiving the complaints about his behaviour. When the young man was finally banned from campus, no email was sent out to inform students about what has happened, or to explain what students can do if they experience similar incidents.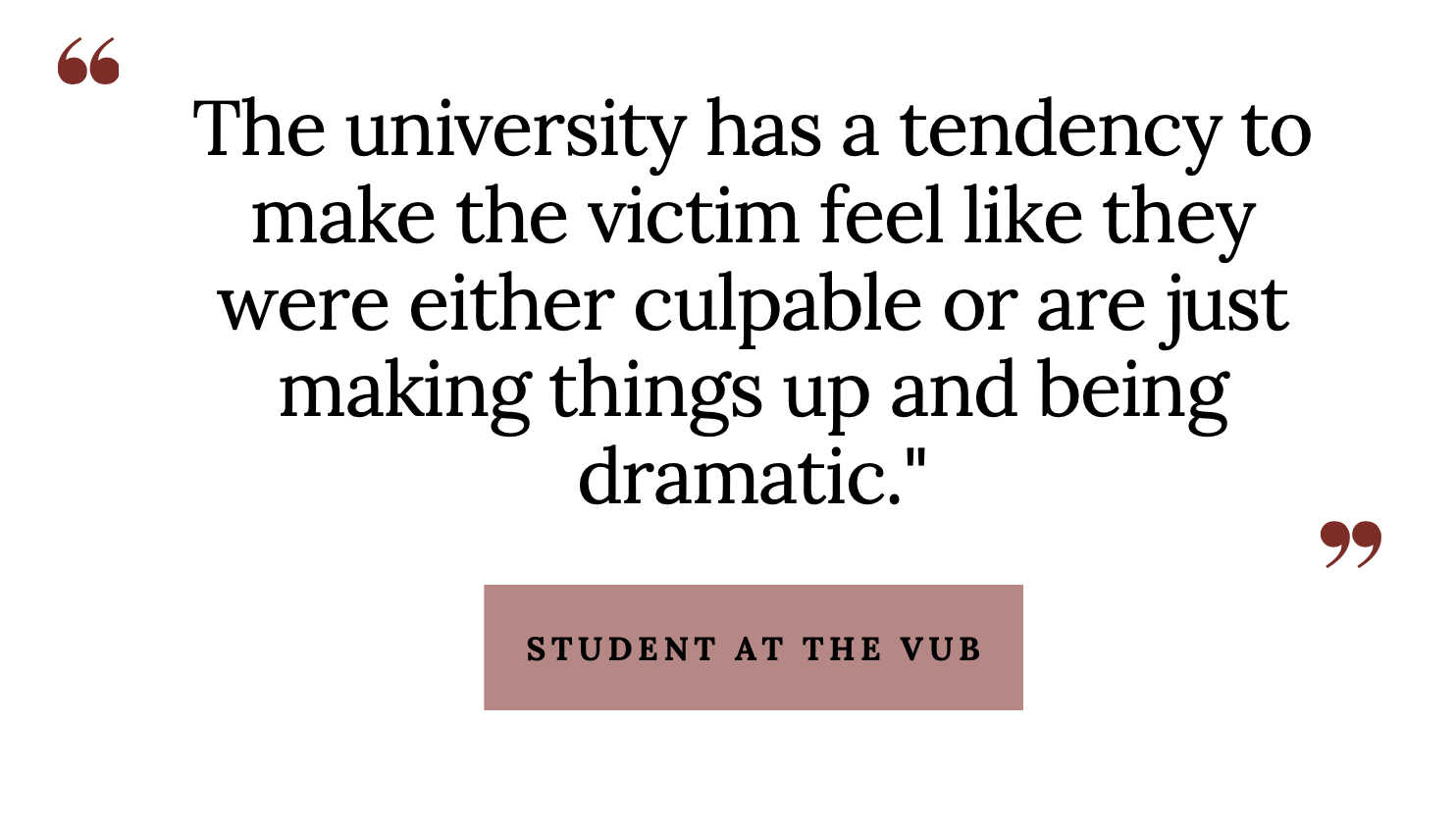 One student living with the young man in the university accommodation where he committed some of the offences said she and her roommates had heard rumours that he behaved badly at times, but that they "had no idea it was this bad."
The roommates have not been informed by the university as to why he left one week ago.
Victims left to fend for themselves
As the number of complaints increased, the university set up a disciplinary committee — consisting of students and lecturers but not external investigators — which decided on 20 May that the young man "was no longer allowed to participate in all educational activities or any student facilities. He has been excluded from VUB campuses, except for the exams."
Yet rather than expelling the culprit outright, this punishment is only in place for one year, according to reports from Bruzz. Provided that he doesn't break the disciplinary sanction, this means that the man will soon be among his victims again.
Related News
One expert, Danièle Zucker, told Bruzz that "the university is more concerned about its image and wants to show that the campus is a safe place, but does not acknowledge the gravity of the facts."
In a written statement, the VUB said it is "very aware that the process is emotionally strenuous and frustrating for the victims" and that it is therefore setting up a renewed procedure to establish a contact point for victims: "This is especially focused on improving guidance for the victims during this process."
However, S. said this incident is only the tip of the iceberg, and that while the university recognises that rape exists on its campus, it has a tendency to "make the victim feel as if they were either culpable or are just making things up and being dramatic."
"Seeing their response and how the victims are so alone is shocking," she added.