When walking down Chaussée de Charleroi in Brussels, you may be lucky enough to bump into a fluffy white shepherd dog outside a welcoming coffee bar, just a few minutes from Place Stéphanie.
The dog's name is Stella, which is (not coincidentally) the name of the café she sits outside. For those who enjoy specialty coffee served in a unique way, not to mention mouth-watering home-bakes, Stella Coffee Bar will be an instant hit.
Though opened just a few months ago, there is much more to the specialty coffee bar than quality food and refreshments. Its story is one of friendship and determination – a testament to the unrelenting spirit of co-owner Bassel Abou Fakher.
Dangerous journey to a new home
Although Bassel shows utmost commitment to his work, eagerly discussing, making and serving specialty coffee, his first love is in fact the cello, which he started playing when he was just eight years old and living in Syria.
Stella came to live with Bassel in the suburbs of Damascus when he was 12 and she was just 40 days old. The pair was soon inseparable. But at the age of 18, Bassel had to leave Stella behind to flee the war in Syria, undertaking the dangerous journey alone.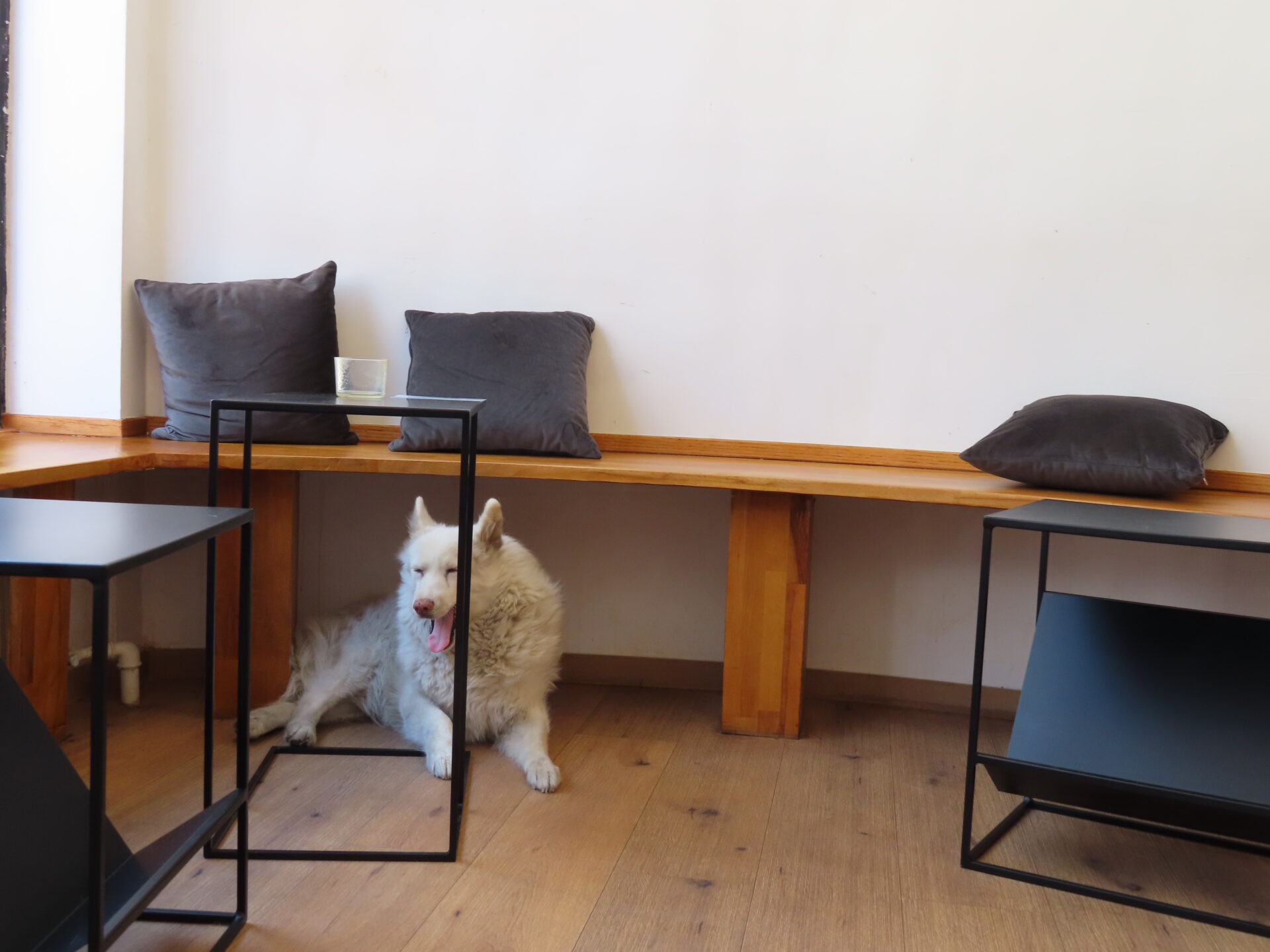 Though it wasn't his initial plan, Bassel ended up in Belgium where he later received asylum. He was hosted by a family, Johannes Vandermeulen and Ann Host, while he figured out his next steps and they later helped reunite him with Stella – a major step in helping Bassel feel at home in Belgium.
A warm welcome, an unwelcoming system
While Bassel did take up his passion for music again, he found that without a family or other caretakers to help him towards his dream of a career playing the cello, he needed another way to support himself. This led to working in coffee bars – an occupation he took to at once.
"I played the cello every day when I was younger and making music is like breathing for me. But being an immigrant with little support and education made just doing music very difficult financially," he told The Brussels Times.
He originally wanted to open a gallery/coffee bar three years ago with two Belarusian friends but an unwelcoming system put a stop to this dream.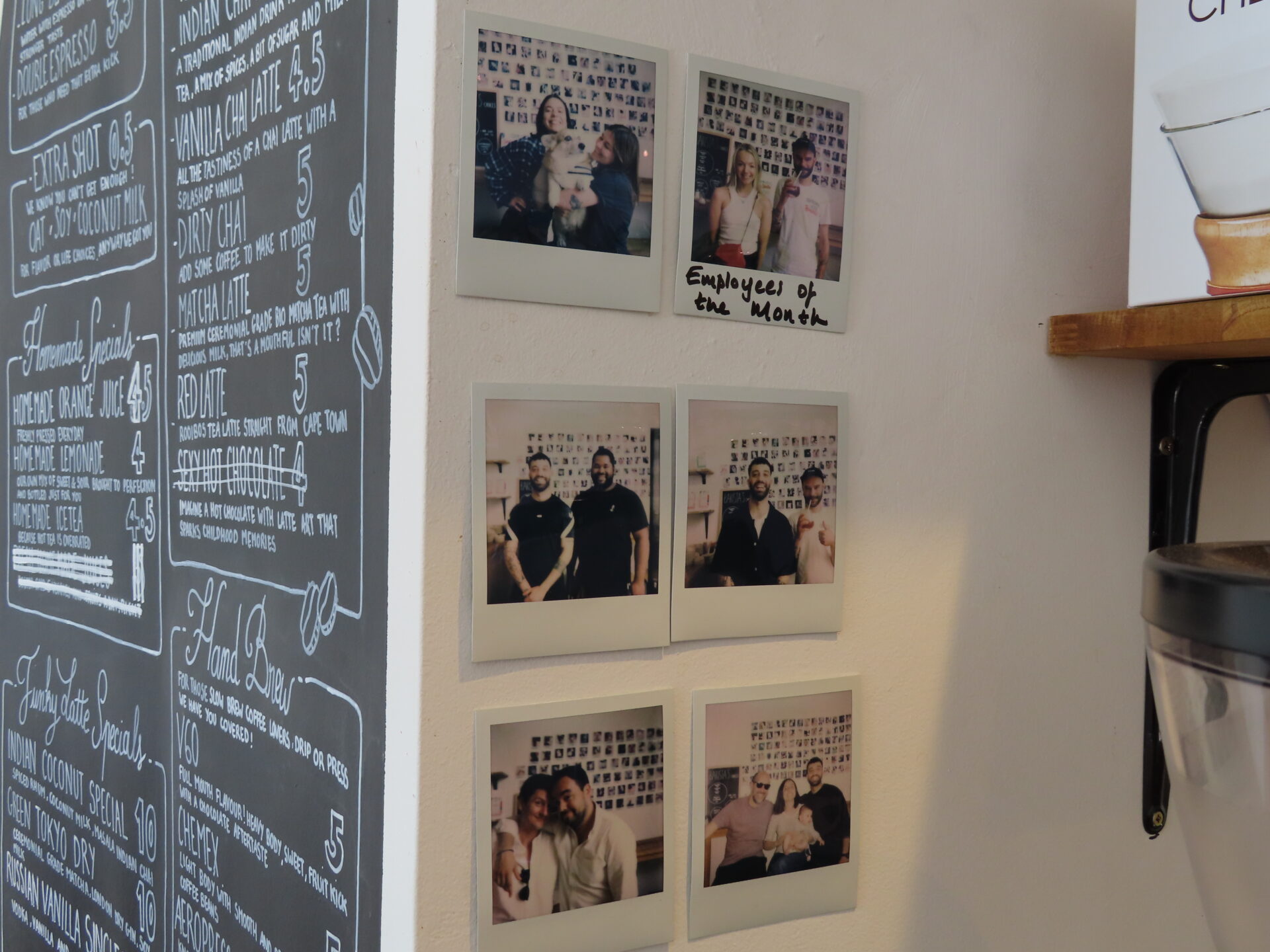 "We went to several banks but none of them wanted to give us a loan. In one, a loan officer admitted to us that the system is racist. She said that our backgrounds would mean that our dossier would immediately be rejected. I realised that discrimination is everywhere, not just against me because I'm Syrian."
However, at the end of last year, his current business partner presented an opportunity to get a good deal on a location. "He asked me if I wanted to start a coffee bar together, to which I obviously said yes."
Part of the local community
Bassel wants the specialty coffee bar to become more than just a place for great coffee. It has quickly become a space in his neighbourhood in Brussels for locals and newcomers to enjoy where he wants to give back to the people – a homage to his love for his new community.
This is clear from the moment you set foot into Bassel's haven, with people of all backgrounds and ages (one as young as just one week old) pop in for a chat with Bassel, who welcomes them with a big smile.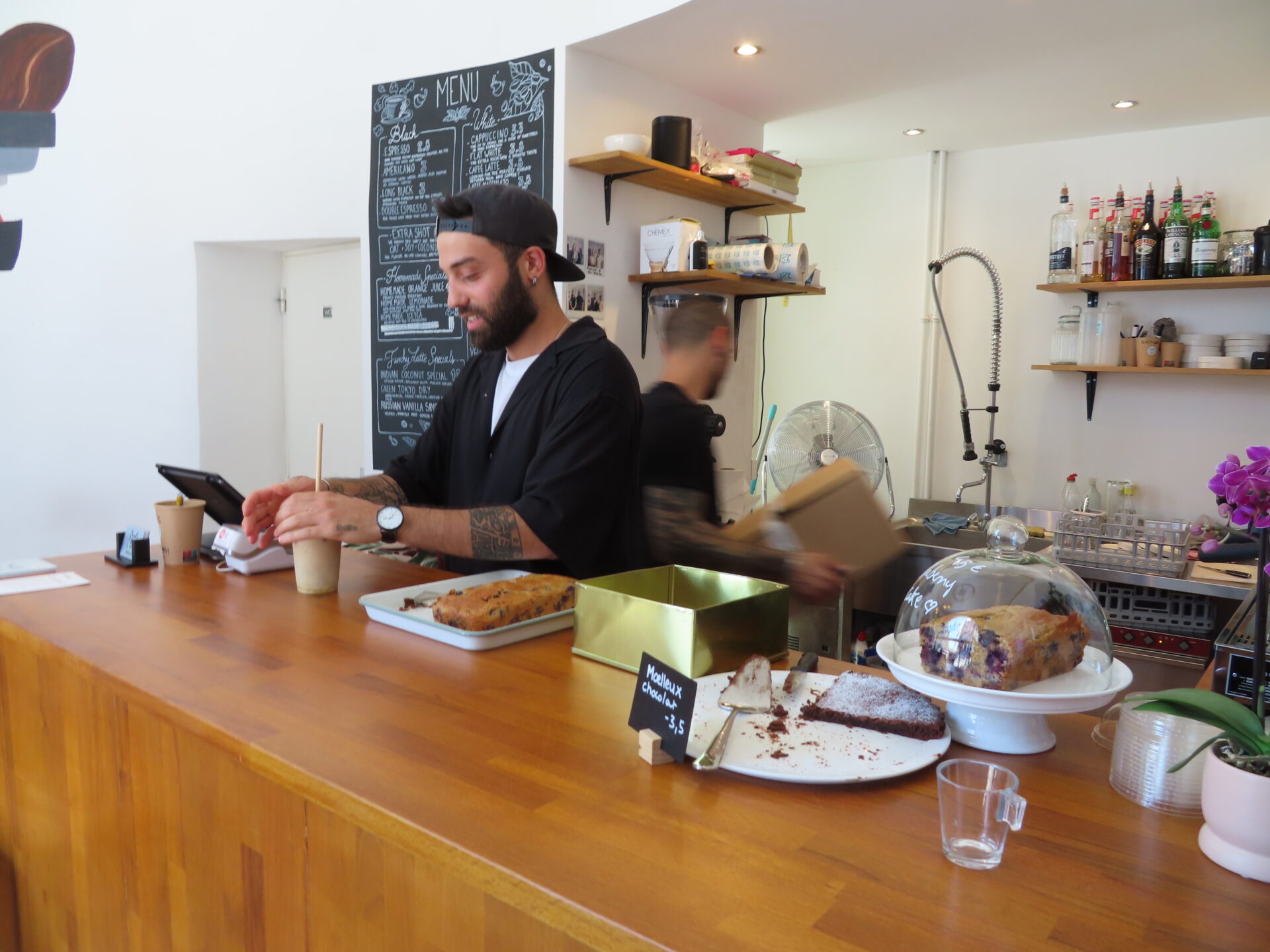 Aside from being a hub of positivity, Stella Coffee Bar also helps and supports animals by donating part of its earnings to the Help Animals non-profit organisation, a shelter located in Anderlecht and Braine-le-Château.
Our recommendation if you stop by Stella's: An Indian chai latte, one of the amazing cookies on show on the counter, a good chinwag with Bassel and, of course, a little hug for Stella.
Making music is still a big part of Bassel's life. Since moving to Belgium, he has released three solo albums under the name Linear Minds. In addition, he has worked with chamber ensembles and film composers.