What are the most delicious foods, refreshing drinks, coolest cafés and swankiest restaurants in Brussels at the moment? Here are some of the best.
Origine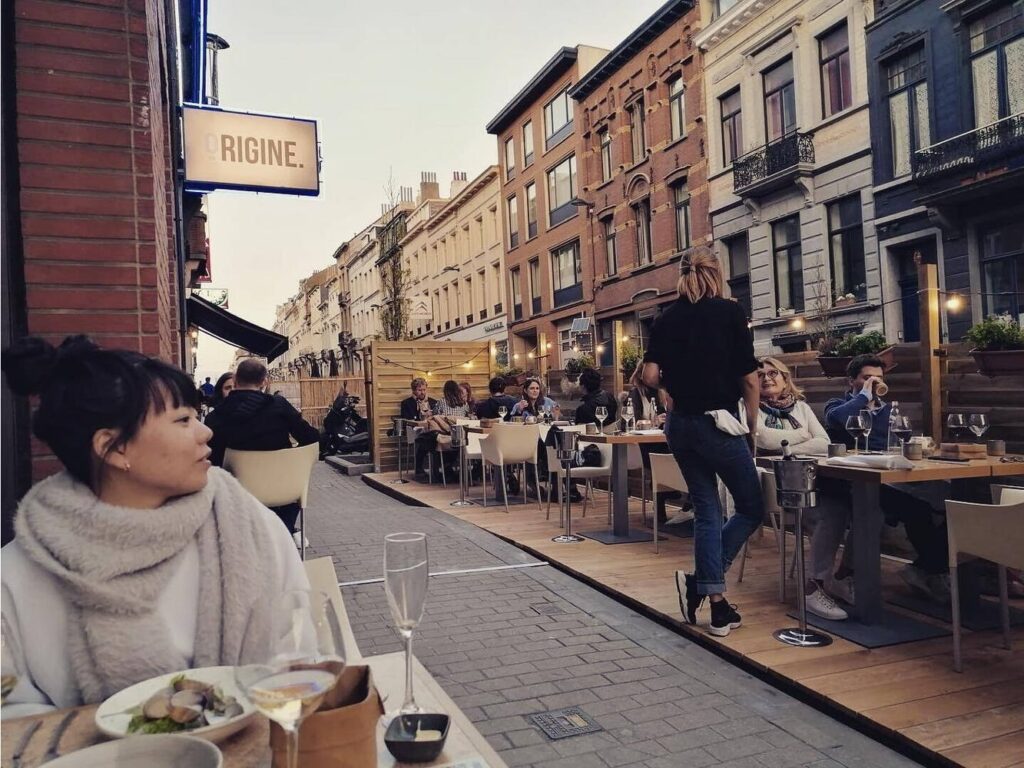 It has been more than 20 years since my food guide to the European quarter was published. My goal was to discover a handful of top-notch restaurants, offering astonishing yet affordable food in the area. Origine fits the bill.
Opened in 2017, it is run by Xavier Lizen, from Namur, a globetrotter who once worked for renowned Belgian chef Bart de Potter. My lunch here was so stunning that I found myself asking myself what it was about him that made it so impressive. Is it his link with the land, since he comes from the countryside? His values: simplicity, taste, regard for people (staff, clients)? His use of top quality and sometimes unusual ingredients? His ability to gather a faithful team of talented collaborators and suppliers? His attention to details like cutlery, napkins, dishes, presentation on the plate and the professional calligraphy used to depict the menu on the wall?
Perhaps a little bit of everything, underscored by passion. The chef has fun and wants to share it with you – plus, he has absolutely zero ego, which is exceptional in the profession. And you taste it. Tip: great chefs should always surprise you with the way they cook vegetables. It's the case here. Lizen's motto: "You shouldn't be punished if you're vegetarian."
And you aren't, because at Origine, vegetarian dishes have absolutely the same status as meat or fish orders, whether at lunch or dinner. And the customers applaud this approach: two-fifths of the dishes sold are vegetarian. The cooking techniques are perfectly mastered, and the food is impeccably balanced. The result is a tasty, original, creative example of haute cuisine at an affordable price.
No long menu à la carte, here: you choose from a matrix of four-by-two dishes. There is always cheese on the menu and ice creams are quickly made. The main room is run like a bistro when its 43 seats are fully booked, including the two most requested high tables and a couple of Asian-like seats at the bar, facing the open kitchen. However, most tables are sufficiently apart from each other to offer some privacy.
The wine list is well designed: €4-8 reds or whites by the glass and carefully chosen bottles from twelve suppliers, including many natural wines. The wine pairing option is a recent add-on to the menu. Due to its stunning success, reservations for the evening must be made well in advance, and it's closed on Saturdays. I plan to return there soon to confirm that my last visit was not an illusion.
Origine: 36 rue Général Leman, 1040 Etterbeek origine-restaurant.be
Tea Jolie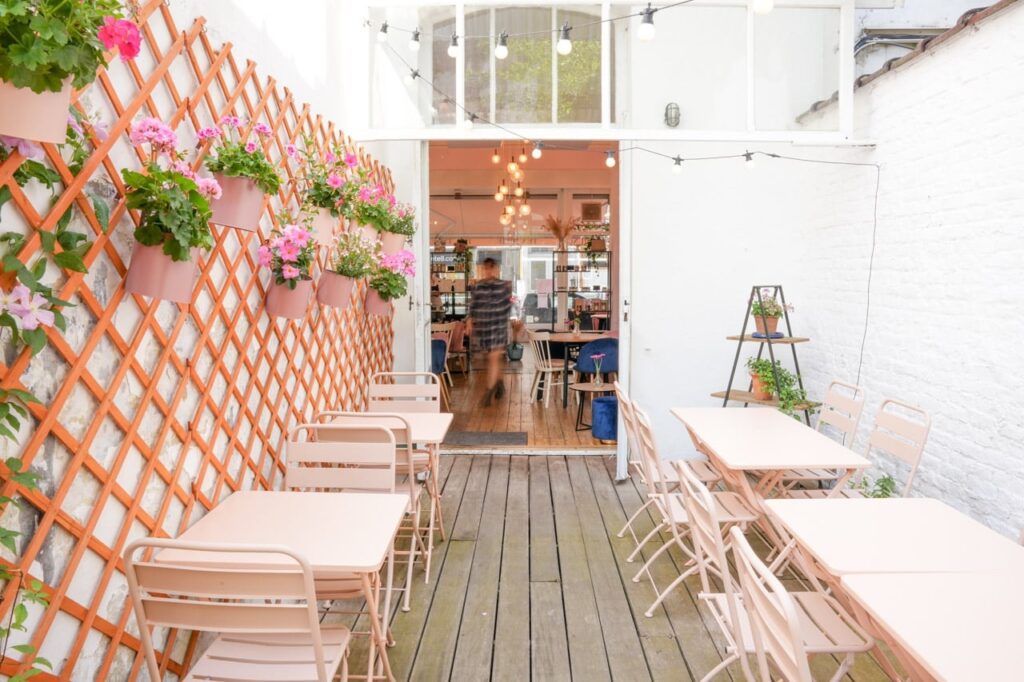 I love how Brussels, as a cosmopolitan city, naturally absorbs other cultures and makes eventually them its own. This is what I felt when I entered the English tea parlour, Tea Jolie. You feel like you've entered a dollhouse, with its pastel tones (mainly pink), but the high ceiling, typical of a Brussels maisons de maître, makes it spacious rather than cosy. I immediately thought of it as a nice place to work away from the office, against the background of chill-out music.
There are two lower tables, each with a little sofa for two, and you can avail yourself of the free wifi while drinking your tea. Julie, the founder, launched her business one year ago, right in the middle of the pandemic crisis and saw it through. A frequent traveller to Brighton, she fell in love with fine English cuisine and wanted to share it here in Brussels, after having worked for five years in the political and event sectors.
You come to indulge yourself with great English food here. You can revel in Tea Jolie's confections: dark brownies, sweet blondies, colourful cupcakes, soft carrot cakes and, of course, fluffy scones. Drinks, be it coffee, tea (including chai and matcha), hot chocolate or smoothies, are perfectly made. Local suppliers include Pipaillon (jams), Eugène (sweet spreads), Buddy Buddy (peanut butter) and Ritchie (soft drinks).
But Tea Jolie has more to offer: petite restauration (a Belgian term for simple cuisine or street food) at noon. The choice is limited to a delicious soup of the day with bread and butter, a crunchy fresh baguette sandwich with salad on the side and a hot dish like croque monsieur or mac and cheese (it changes every week). Tea Jolie also proposes a brunch on Sunday, which radically changes its calm atmosphere during weekdays. From the classic English breakfast, pancakes or French toast (called pain perdu in Belgium) to healthier options such as açai or granola bowls, there is a large of choice for brunch. The moderate food and drink prices are very good value for money.
Tea Jolie: 509 chaussée de Waterloo, 1050 Ixelles teajolie.be
Bamboo granola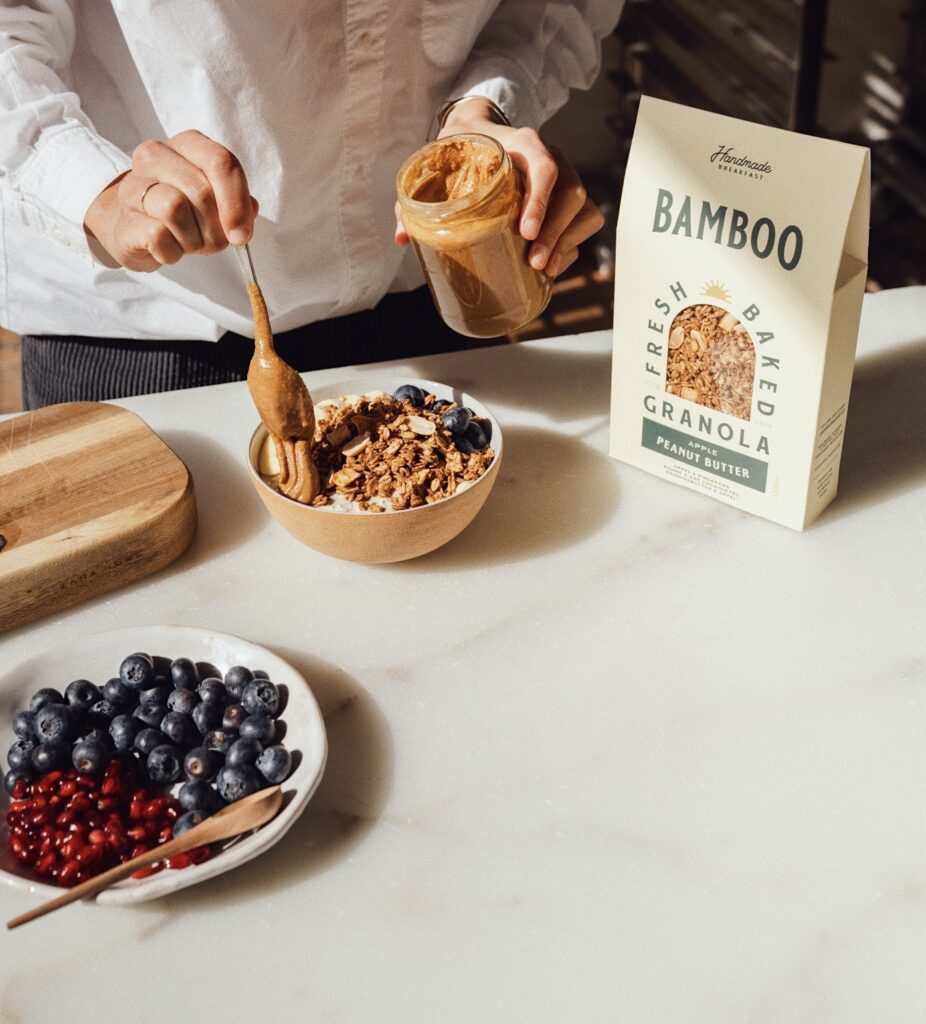 Belgian-sourced Bamboo granolas are conquering Europe because they fill a booming marketing niche: a low-sugar cereal option for the breakfast at an affordable price. And they taste great, indeed, or perhaps despite their low sugar content.
The basic ingredient is toasted Belgian or French oats, sweetened either with maple syrup or coconut flower. You can choose between granolas (seeds detached from each other) and 'crunchies', where the seeds are clustered. Their varieties include coconut, raisins and toasted pumpkin seeds; caramelised almonds and pecan; peanut butter coating and dry apple chips; dark chocolate coating and salty chocolate chunks; almonds, cashews and coconut chips; chocolate coating, chocolate chips and toasted hazelnuts; dry red fruits and berries plus coconut chips. Bamboo has also an organic range, with different combinations of the same ingredients. A gluten-free version will soon be available.
The manufacturing is entirely artisanal, as the toasting can only be obtained by using baking trays filled by hand, and then oven-baked, which makes the resulting product unique. Since the war in Ukraine, sunflower oil had to be replaced by rapeseed oil. The inconvenience is that the cooking temperature must be lower, hence a longer production time, but it doesn't affect the quality.
Bamboo is a Belgian food start-up success story. Founding couple, Charlotte and Lionel began in their kitchen, where they made granola for their own use, inspired by a trip to NYC where non-industrial healthy granolas were already available in the mid-2010s. "We were 21 years old when we started and had absolutely no idea of the challenges ahead, with so much competition. We just wanted a quality granola that anybody could afford," Lionel explains.
Their main aim was to produce a great taste at an affordable price, based on R&D, a choice of top ingredients and non-industrial production, underpinned by a well-worked-out marketing plan, Charlotte's packaging skills and Lionel's B2B commercial talent. They had to reach big retail quickly and sell high volumes to maintain a competitive price. Eventually, they got a chance with the Colruyt group, which hosts a department boosting food innovation, allowing small producers to compete with big ones. Today, they are sold in several supermarket chains and they even produce for some retailers' own brands.
Helixir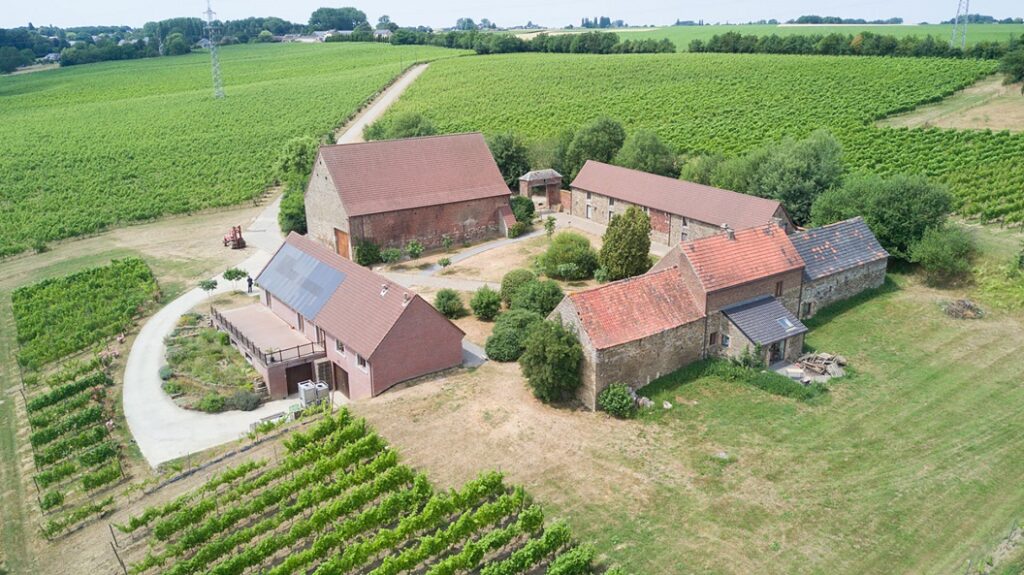 Domaine du Chenoy is one of the main pioneers in the vinification of Belgian wine and it celebrates its 20th anniversary next year. In that regard, they have just released a splendid brandy that reflects the originality of their wines: palatability, easy to drink and made like a mainstream product. The name Helixir is anchored in the region of the domain, Namur, where snails (helix in Latin) are a renowned culinary delicacy.
The bottle also features an enigmatic fingerprint on the glass, which belongs to Philippe Grafé, the founder of the Domaine du Chenoy. Grafé and the Domaine du Chenoy are mentioned elsewhere in this magazine, in our feature on Belgian wines, but they deserve the double recognition (and no, it is not a sponsor).
Anyway, Grafé's successors, the brothers Pierre-Marie and Jean-Bernard Despatures, took over the domain in 2017 and the new logo pays tribute to the founder. They have hugely transformed the domain since then by renovating and expanding the production facilities while respecting the character of the 17th-century old buildings.
Their main input was also felt in the complete retrofitting of the wine range, thanks to the experience of Jean-Bernard in two Bordeaux domains and the help of one of the most talented oenologists in the world, Frenchman Eric Boissenot. His speciality is to blend different types of grapes to reach "balance and elegance" (read: avoiding a heavy woody and round style, which standardises the taste of any wine).
It has paid off. For the first time in its history, Domaine du Chenoy sold all its output before harvesting. The aim is to reach sales of 100,000 bottles in wine shops, organic shops and restaurants – the wines are not distributed in supermarkets. So far, Brussels accounts for 20 percent of sales, Flanders buys 10 percent and the remaining 70 percent is consumed in Wallonia, with no exports.
What makes these wines so special? Unlike in France's vins de terroir, the grapes used here are interspecific crosses (read: non-GMO hybrids), which are resistant to diseases, a great asset when your wines are organic: e.g. solaris, souvignier gris, pinotin, johanniter, cabertin, rondo, régent or bronner.
They taste almost like mainstream grapes. Their success proves the great potential of Belgium as a winemaking country. "Either you seek to make French-like wines from mainstream grapes, or you go for your own style with other grapes, to make your wines truly original," Despatures explains.
This is perhaps why Helixir is processed almost like cognac, i.e. double-distilled wine from muscat bleu grapes, aged in bourbon casks, which gives it the distinctive refreshing sweetness of pear and honey. A nice barrel-aged eau-de-vie rooted in the values of this proudly Belgian wine domain.