On the occasion of Holocaust Remembrance Day on 27 January, three memorial plaques were unveiled in the Bois de la Cambre and four new paving stones were laid in the Rue des Tanneurs in Brussels.
Friday marks the annual day of commemoration for the more than six million Jewish victims of the Holocaust; in Bois de la Cambre, the City of Brussels is remembering an extraordinary act of resistance that took place in Belgium on 19 April 1943.
On this day, three young resistance fighters — Youra Livschitz, Jean Franklemon and Robert Maistriau — forced the train of the 20th convoy transporting 1,631 Jews from the Dossin Barracks in Mechelen to Auschwitz to stop close to Boortmeerbeek in Flemish Brabant. Here, they secured the release of 17 women and men from a wagon.
Remembering the Jewish 'Great Escape' when 3 students from the #Belgian Resistance tricked an #Auschwitz-bound train into stopping near #Boortmeerbeek. 231 prisoners escaped before the train reached the frontier #HolocaustMemorialDay pic.twitter.com/1pB5jcUjVy

— Dennis Abbott (@DennisAbbott) January 27, 2023
The three met in school at the Uccle Athenaeum and continued their friendship on the University of Brussels ULB campus. Livschitz decided to make this project a success and was helped by Franklemon and Maistriau. Livschitz was later arrested and shot at the National Shooting Range on 17 February 1944, when he was 26 years old.
On Friday, the City of Brussels inaugurated three commemorative plaques in the Bois de la Cambre to honour the three young resistance fighters.
En ce jour de commémoration de la Shoah, nous avons honoré avec leur famille la mémoire des 3 résistants qui ont libéré des juifs du 20ème convoi vers les camps de la mort. 3 chemins du Bois de la Cambre portent aujourd'hui leurs noms, pour ne pas oublier. pic.twitter.com/dWfD8XlhAe

— Philippe Close (@PhilippeClose) January 27, 2023
Further along the route of the 20th convoy, other people fled. In total, 236 people escaped, of whom 26 were killed and 90 were recaptured, but 120 were released.
A temporary exhibition currently running at Belgium's Jewish Museum in Brussels titled "Land(es)capes from the 20th Convoy" offers an artistic perspective of the moment when the deportees jumped from the train that led them to extermination, and shows the landscapes in which this little-known story took place.
Meanwhile, four new paving stones were laid on Friday in the Rue des Tanneurs in Brussels, where 350 Jews were deported during the Second World War.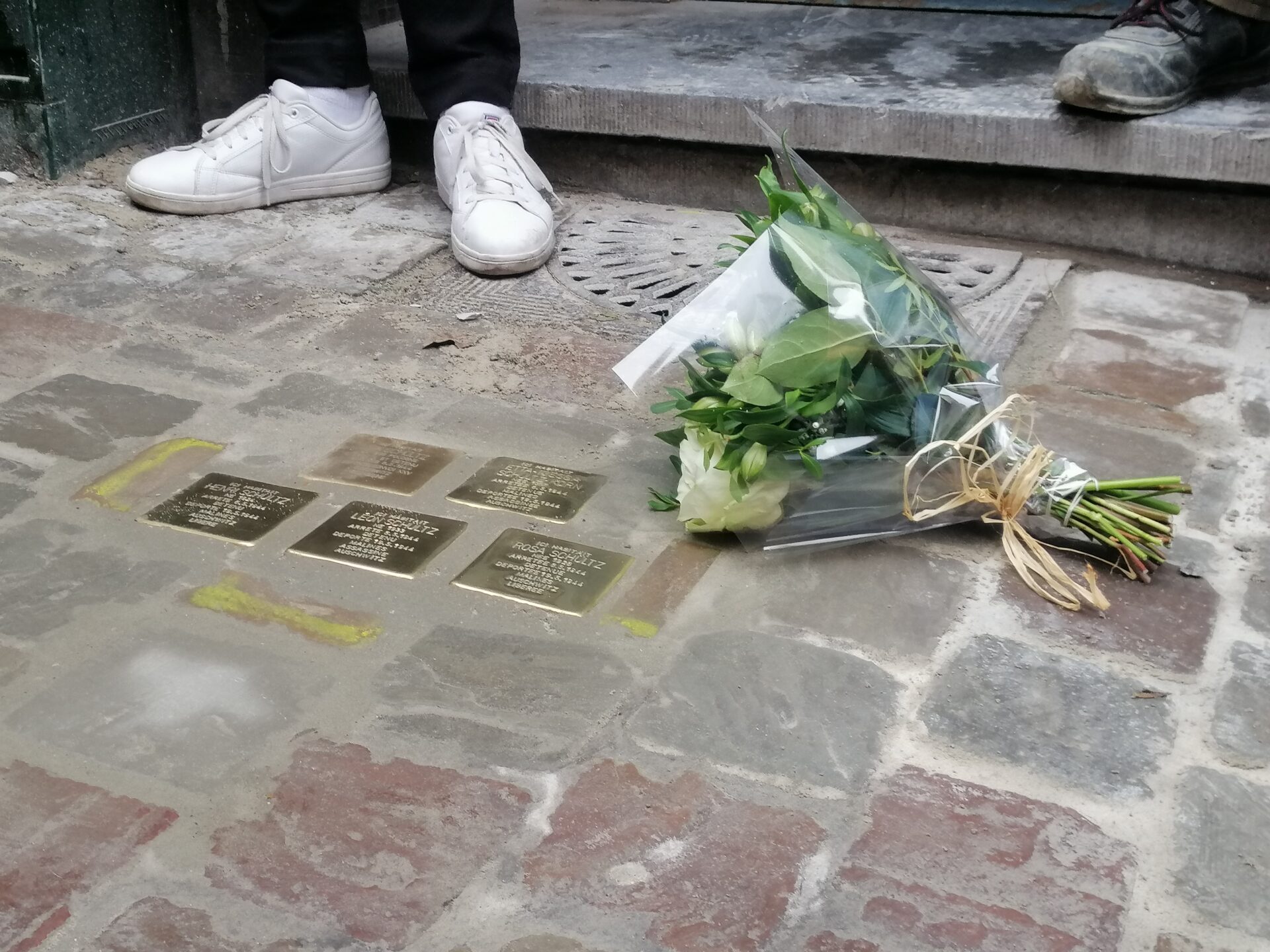 The newly installed paving stones pay tribute to Etta-Idessa, the wife of Icek Schultz, whose slab was already installed, and his children Henri and Léon, his children. The family was deported from Mechelen to the Auschwitz-Birkenau concentration camps in 1944.