Destroyed Ukrainian emergency service vehicles have been placed on Brussels' iconic Place du Luxembourg by Ukraine-NGO LUkraine and its Belgian partner Promote Ukraine. The initiative aims to raise funds for new emergency vehicles.
Two vehicles have been parked in front of the European Parliament building and will remain there until 9 February. One is a fire brigade vehicle that was destroyed by a Russian mine while on duty on 20 March 2022, 20 kilometres away from the city centre of Kyiv.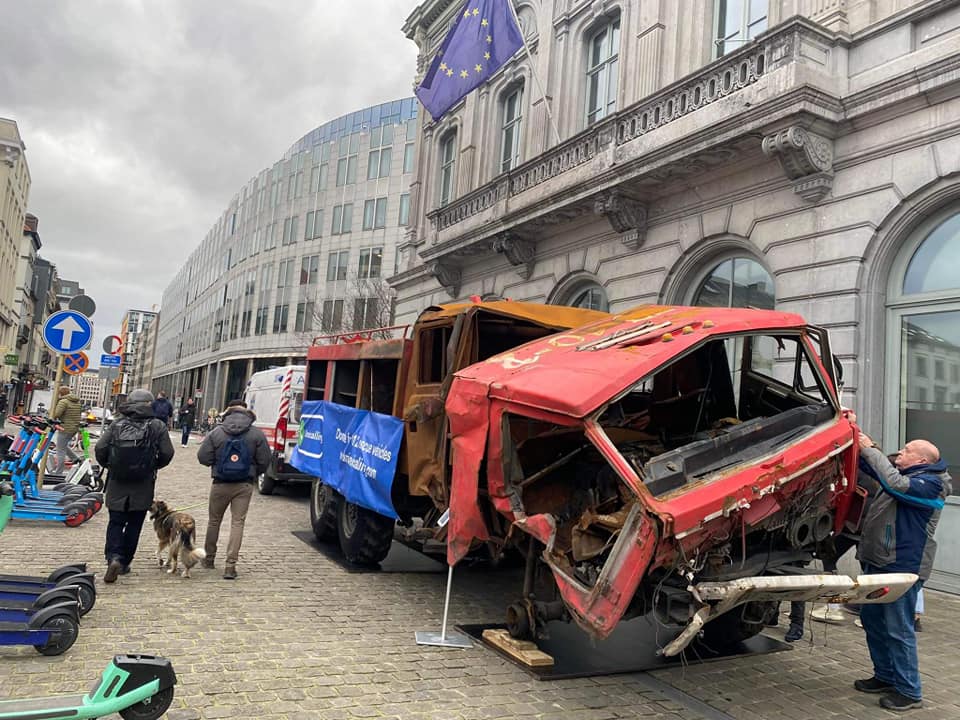 Also parked on the square is an ambulance, peppered with bullets and shrapnel that evacuated civilians in a war zone near Kharkiv on 15 September 2022.
The exhibition is intended to raise funds for "Ukraine is calling", a worldwide fundraising initiative run by Luxembourg-based LUkraine that aims to raise money for emergency equipment for Ukraine.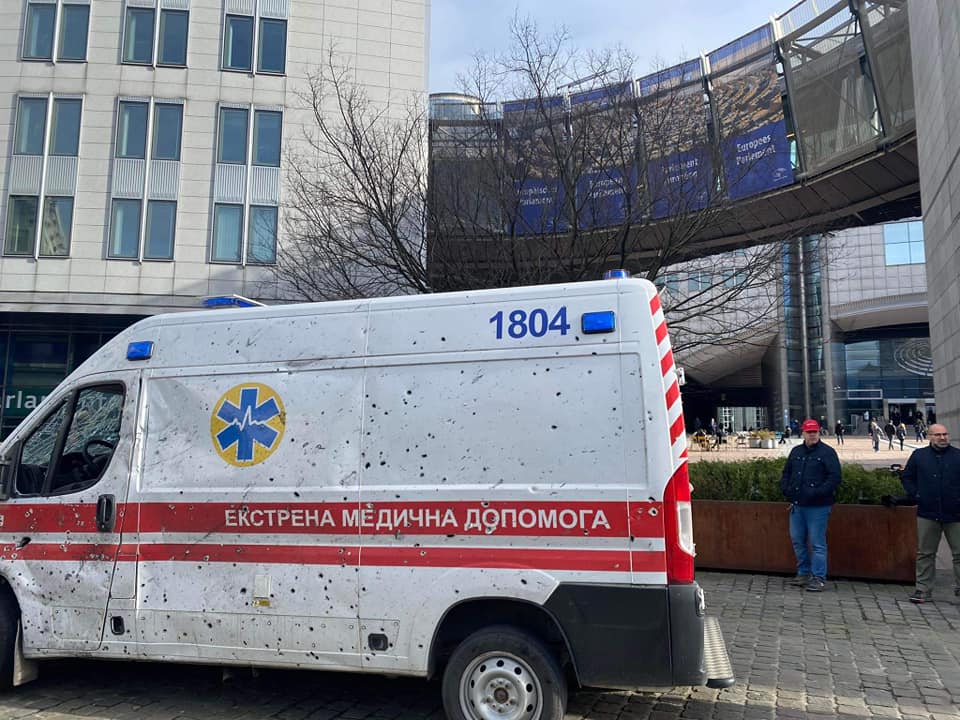 "Our goal is to save human lives," the campaign writes. "Since the full-scale invasion, 1,671 fire trucks and 442 ambulances have been destroyed in Ukraine, and the numbers are increasing daily." The group aims to raise €10 million in order to buy 112 new rescue vehicles. So far, the group has raised over €520,000.
"Ukrainian emergency services are doing their very best to come to the aid of all citizens made victims of the unjustified Russian aggression," LUkraine said in a press release.
"But resources are stretched to the limit. We want to plug the gaps in the national emergency infrastructure so that ambulances and fire services can reach the people most in need."
The group has already succeeded in sending 16 emergency vehicles to Ukraine, which have gone to rescue crews in Nikopol, Mykolaiv, Kharkiv, and other frontline cities.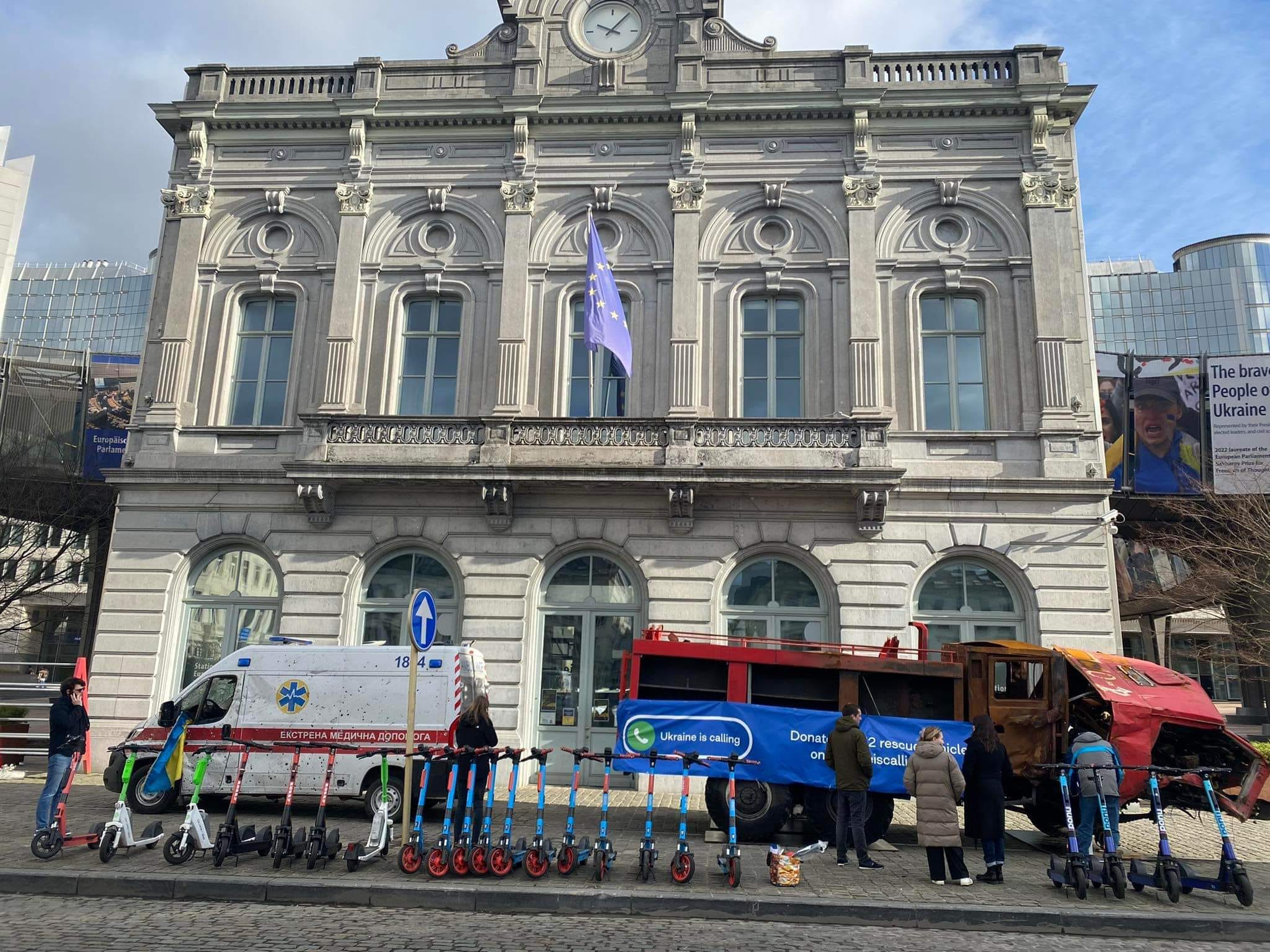 The campaign is backed by major Luxemburgish institutions, such as the Ministry of Home Affairs, Grand-Ducal Fire and Rescue Corps of Luxembourg (CGDIS), Ministry of Mobility and Public Works, as well as the European Commission and the Embassy of Ukraine in the Kingdom of Belgium.
Related News
The need for emergency vehicles in Ukraine is becoming critical. Whilst staff numbers are sufficient, the organisation notes a "shortage of vehicles to reach each bombed building." This forces emergency services to prioritise certain emergencies.
The installation will be officially opened today by Ukrainian activists, as well as Othmar Kara, first Vice-President of the European Parliament, Christophe Hansen, Quaestor of the European Parliament, and Natalia Anoshyna, Ukrainian Chargé d'Affaires to Belgium.
Donations can be made at the "Ukraine is calling" official website.