About 200 activists are blocking the Brussels offices of the Francophone parties in Belgium's Federal Government on Monday, aiming to draw attention to the urgency of taking new measures against the energy crisis.
Groups of environmental activists and trade unionists are attempting to occupy the offices of the Socialist Party (PS), the liberal party MR and the Green Party (Ecolo) – the three Francophone parties in the Federal Government. Their aim is to remain there all day.
"There are not that many activists, but the police are on the scene to monitor the situation. Just over 40 are at the PS office, and another 40 at the Ecolo headquarters," a spokesperson of the Brussels-Capital/Ixelles police zone told The Brussels Times.
"Around 100 people are at the MR building. Officers were also present there, but the police are leaving the scene at the request of the party itself," he said, adding that they will monitor the situation for as long as the activists continue their action.
Tackling causes, not just consequences
The action began around 11:00 on Monday morning and brings together activists from a coalition of labour and environmental organisations.
"Our organisations and union activists felt the need to make the link between social struggles and environmental challenges," an environmental activist who helped organise the action told Le Soir. "Because we are in an untenable situation of climate and energy crisis today, and the stakes are not sufficiently taken into account by politicians."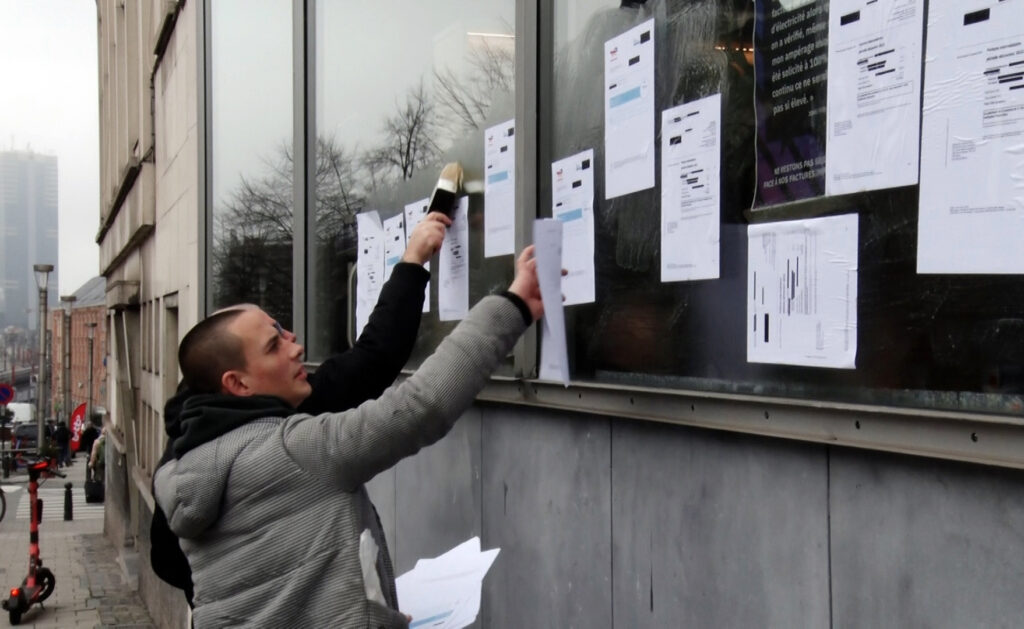 The activists want to be received by the presidents of the three French-speaking parties in the Federal Government, as they want to make sure that political leaders tackle "the causes of the current crisis," such as the fact that energy prices are subject to market rules and speculation. "They should not only focus on the consequences, as they are not of the same magnitude for everyone; we are not all in the same boat."
They have three demands. Firstly, they want the energy prices to be capped at an accessible level, financed by a reduction in the dividends paid to the shareholders of energy producers and suppliers. They also want a "socialisation" of the energy sector, meaning that it should be managed democratically. Lastly, they want "the repeal of the wage blocking law and the maintenance of the indexation of wages and social allowances."
Related News
The activists state that it is important that the government parties understand the difficulties the population is experiencing, and that the current measures are insufficient. "It is not our role to offer ready-made solutions to politicians, but we want to have a discussion with them to start the process."
If the activists manage to enter the premises of the three parties, they intend to occupy them all day.