Of the 114 largest foreign corporations active in the Russian market before Russia's invasion of Ukraine, only 6% have fully withdrawn from the Russian market. The vast majority claim to have done so while quietly retaining their investments in the market, a new report by the Moral Rating Agency has revealed.
63 of the largest companies (55%) have only partially exited the Russian market, while an additional 44 companies (39%) have not left the market at all.
Although some companies make a public declaration that they intend to leave the Russian market, they often fail to sever ties with subsidiaries still active in the market, which are often more profitable. Other companies backtrack on previous commitments and make excuses as to why they will remain in the market.
"Companies say that they will get out of Russia but the devil is in the details and most don't deliver. They're devils in angels' clothing," explains Mark Dixon, founder of the Moral Rating Agency.
Major companies 'stuck in the middle'
The rating agency says that most major international companies are "stuck in the middle", making only minor concessions to the international sanctions on Russia but not fully pulling out from the market.
Major companies include Airbus, Apple, BP, FedEx, General Electric, Goldman Sachs, JP Morgan, Mercedes-Benz, Meta, Nestle, PepsiCo, Sony, TotalEnergies, Volkswagen, Walt Dinsey, among others.
"Companies are hiding in a grey zone where they do little but profess to be doing a lot," Dixon said. "When people hear that a company is out of Russia, they don't have time to check which activities were not included in the statement."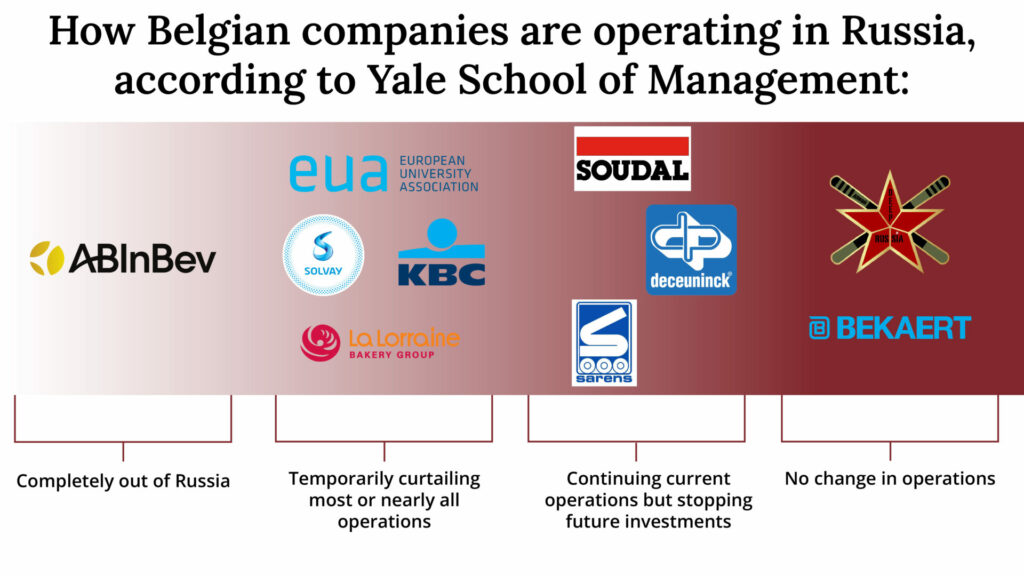 For example, Meta (Facebook) still sells adverts in the Russian market, PepsiCo still operates quietly in the milk market, and Allianz insurance group will only actually sell half of its Russian subsidiary.
Other major Western companies have made no attempts to withdraw from the Russian market. These include the Bank of America, Dutch holding company EXOR Group, and American car manufacturer Ford.
Most major Chinese companies remain in the Russian market, as well as several major Japanese, Indian, and Saudi companies.
Related News
Of the 63 corporations committed to withdrawing from the Russian market, only seven companies, Alphabet (Google), Amazon, BMW, Deutsche Telekom, Honda, Sysco, and Valero Energy, have conducted a "full and complete exit from Russia."
"The companies don't just fail to exit properly. They often also exaggerate or play up their paltry efforts. Russia is such a hot potato that companies are 'moralwashing' to hide their inaction or incomplete action."
Belgian companies remain in Russia
In total, over 1,200 companies have curtailed operations in Russia since the start of the war, according to data from the Yale School of Management. This has cost many companies a great deal in money in missed investments and costs.
Two major Belgian companies, Bekaert and Deep in Russia, still maintain a presence in the Russian market. A further three (Deceuninck, Sarens, and Soudal) are preparing to leave but are "buying time" and are still continuing with some projects.
Dixon blasts companies who actively choose not to leave the Russian market and states that the Moral Rating Agency aims to expose these companies and "publicly admonish them."
"It's no surprise that financially-driven, morally-vacant corporations are failing to get out completely. What is surprising is that these moral cowards are getting credit for being heroes, through a combination of lack of transparency, the complexity of their operations, and often by actively spinning their stories," Dixon said.
Only one Belgian company, AB InBev, has conducted a "clean break", selling their stake in joint ventures and suspending the use of their licence in Russia.