In 2021, travellers within the EU spent around 364 million nights in rented short-term accommodation booked online via sites such as Airbnb, Booking, Expedia, and Tripadvisor.
This was a 34% rise in bookings compared to the year before, according to data from Eurostat, the European Union's statistics agency. It is one of the first times that Eurostat has collaborated with the private sector to generate its digital statistics.
The data shows that the second wave of the pandemic in late 2020 severely impacted the number of bookings in 2021. Accommodation bookings were 59.7% less in January 2021 than in the same period in 2019.
In the summer, Covid-19 restrictions were lifted across Europe and the tourism sector began to significantly recover. 90 million more guests booked accommodation online in the summer period alone.
In July and August, peak summer travel months, 73.7 and 88.4 million nights were spent in short-stay accommodation. The level of accommodation bookings during this period was "very close" to pre-pandemic levels, at 85.9% and 91.2% respectively.
Home and abroad
In the peak summer months, Belgium recorded over 1.6 million accommodation bookings. Over half of the total bookings were made in the Flanders region (805,622).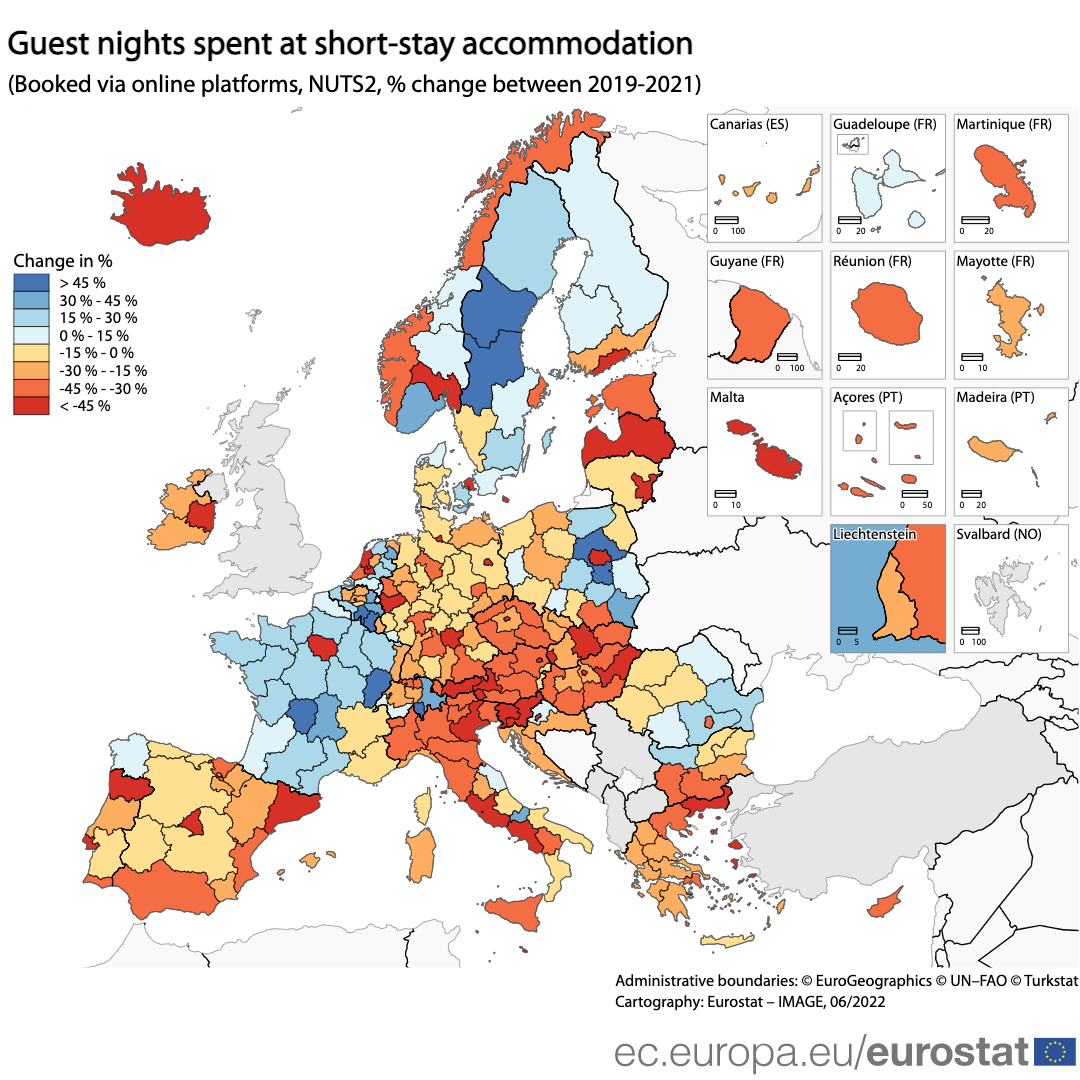 Last year, several regions in France, Belgium, the Netherlands, Sweden, Finland, Poland, and Romania exceeded their pre-covid tourism booking levels. Rural France achieved the best results last year, with significantly higher bookings than in previous years.
Some surprising destinations saw a resurgence in tourism booking. Of the smaller destinations (those receiving at least 100,000 guests nights in 2019) Belgian seaside town Ostend saw an increase of 49.6% in tourism bookings last year compared to 2019. Other increases were recorded in Orléans (+55.3%) and Lugano (+49.1%).
Related News
According to Statbel, the Belgian statistics office, overnight stays in Belgium last year recovered significantly. In 2021, some 29 million overnight stays were recorded in Belgium – 45% more than in 2020.
In Brussels, compared to 2019, there was a serious decrease of 68%, and only a slight increase compared to 2020 (33%). Last year, camping rebounded in popularity while hotels struggled to attract bookings due to low foreign tourist numbers.