This summer is set to be a difficult period for holidaymakers across Europe. However, for airline and airport staff, current working conditions have proven unbearable.
In June, European air travel was paralysed by cabin crew strikes, staffing shortages, exceptional demand, and other overwhelming pressures. According to aviation consultancy company Cirium, the level of flight cancellations to some of the European Union's major tourist hotspots has more than tripled. Levels of cancellations in the EU are almost twice as high as in the US.
Pilots are now warning that European air travel is at breaking point and air travel may never be the same again.
Workers under pressure
During the Covid-19 pandemic, which decimated the European airline industry, some 18,000 pilot jobs were lost. The European Transport Workers Federation (ETF) estimates that around 58.5% of airport-based workers lost their jobs, as well as some 191,000 European aviation workers.
The European Cockpit Association (ECA), an organisation made up of pilots and aviation industry experts, states that layoffs during the pandemic hit the industry hard, costing the industry many of its experienced workers.
"Many of those people (people who lost their jobs) discovered during the crisis that there is a life beyond aviation and do not miss the long duties, early mornings, late nights, 12-hour shifts. And they remember the nonchalance with which the industry got rid of them overnight. The situation is no different for airport staff. What we see now is just the tip of the iceberg," said ECA Secretary General Philip von Schöppenthau.
In the summer of 2022, these lay-offs, combined with unprecedented demand for affordable flight tickets, means that staff are being pushed to their limits. Airlines are struggling to hire new staff and pilots, especially due to the perceived risk of working in the shaky industry after the pandemic.
Cabin crew and pilots are now increasingly hired through agencies, zero-hours contracts, and as self-employed staff. This has led to progressively more unpredictable working conditions, pay, and representation. Striking Ryanair staff complained of unjust working hours and pay, even saying that staff were sometimes not provided with drinking water and other essentials. The ECA described these new conditions as a form of "social dumping."
Much of the staffing shortages being experienced in Europe may have been avoided during the pandemic, the ECA said. Airlines that retained staff, many of whom have years of experience in dealing with busy flying periods, have fared better in the current aviation crisis.
"When it comes to the industry being understaffed, we are not surprised with what we see. Already two years ago, we warned that preserving jobs and supporting aviation workers is not just about preserving income and people's livelihoods. It was also about preserving the skills and experience of the workforce and their availability after the crisis when travelling picks up," von Schöppenthau explained.
Low-cost to blame?
Not all airlines have been impacted by the European travel crisis. Some higher-cost, flag carrier airlines, have fared better than more cost-focused, budget airlines.
This is demonstrated by a recent ECA ranking of social commitments for airlines across Europe. The ranking clearly shows that traditional low cost carriers, such as Ryanair and Wizzair, rank near the bottom, while airlines such as Air France and KLM consistently rank higher for their treatment of employees and working conditions.
Low-cost airlines prioritise cost-cutting, maximum efficiency, and other cost saving measures. This often comes at the expense of staff, who are the first to see wages cut and conditions deteriorate.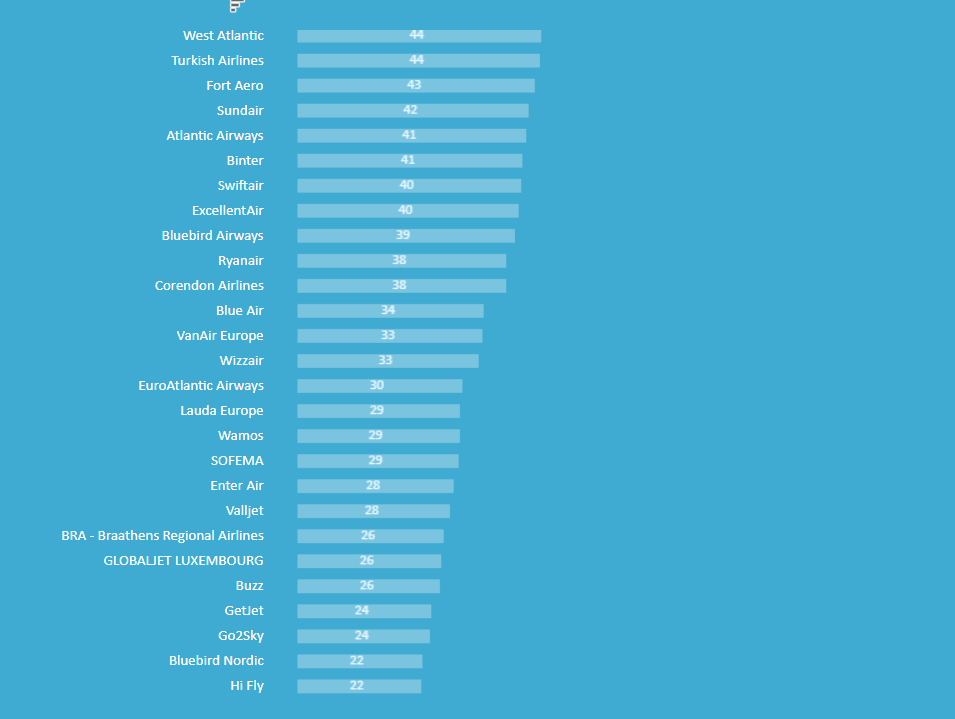 "Certain airlines are shopping for lenient national regulations, using local loopholes, and thereby competing on the lowest social denominator – often to the disadvantage of more socially responsible airlines," the ECA spokesperson said. Indeed, low-cost tickets have weighed heavily on the traditional flag-carrier model, making mobility greater but worsening staffing conditions across the whole sector.
Some senior pilots believe the future of low-cost airlines is uncertain. In the current conditions of high fuel costs and high demand, there is a clear trade-off between price and the welfare of staff.
"I do not think [low-cost airfare] is sustainable for us for a simple reason. For the low-cost model to work in the way it is being applied in Europe at the moment in aviation, we are going to have a society that decides that we give up everything, such as social security, job security… all because the only thing that is important is the cheapest price," explains pilot and ECA Executive Board Director, Captain Paul Reuter.
Von Schöppenthau states that if low-cost airfare continues to be built upon "exploiting labour," then the industry will quickly cease to become sustainable in the long term. Some Ryanair staff complained that they were not receiving pay or benefits for months due to pregnancies, and the National Central Employees (CNE) has pointed out that 75% of Ryanair staff are paid minimum wage, despite gruelling hours.
Are airlines risking safety?
Precarious working conditions, cost-cutting, and other hallmarks of airline working conditions during this summer's holiday season are a negative factor, not just for staff, but for passenger safety, the ECA suggests.
A 2016 London School of Economics paper revealed that atypical employment in the European airline industry came at the expense of perceived flight safety. It suggests that the way that pilots are employed can have repercussions on safety decision-making within the cockpit.
"When commercial considerations start weighing in the process of operational safety decisions, the necessary focus on safety can easily get distorted," von Schöppenthau warned.
A study conducted by the University of Ghent in 2015 showed that nearly half of self-employed pilots struggled to amend airline safety instructions on the basis of their own suggestions, showing that profits were being prioritised over safety concerns.
Captain Tanja Harter, ECA Board Director for Technical Affairs, says that the pressures this summer could lead up to an accumulation of incidents which could seriously risk passenger safety.
Related News
"If mistakes accumulate and pile up, it can lead to serious accidents. It can lead to people getting injured or worse. That is something we do not want to see. You can only prevent that if you really take the step back and take a defensive approach to it," the pilot said.
The pilots believe that accidents are already happening, albeit not catastrophic ones. Working pressure, Cpt. Reuter says, can lead to pilots making wrong runway selections, or even take-off calculations. For ground staff, this could mean problems in removing footbridges in time, loading all the luggage, or completing safety checks.
"The point is that we are day by day putting so much pressure on the system and on the people in the system that mistakes get made. Most of them will not make the newspaper… It is difficult to quantify what that would mean, but in the worse case, a runway excursion or maybe an accident," Reuter noted.
No other choice
The ECA is confident that something must change. In a press release on 5 July, the pilots group posted a series of safety recommendations for crews "during a period when the European aviation system is expected to be strained to the maximum."
To protect safety during peak strain on aircraft crew, the ECA has devised a new series of measures to maintain airline and passenger safety. This includes allowing for pilots to control their own working hours, plan for disruptions, report fatigued staff, not allow airlines to "work around" procedures or pressure staff, allow for greater pilot discretion, and increased reporting of incidents.
These measures will improve security if implemented, but the ECA admits that the only remedy this summer will be much more radical. Unfortunately for travellers, flight cancellations will be – and already are – a necessity. Airports are already requesting that airlines cancel many flights to help relieve stresses on airports caused by difficult conditions.
"It is up to airlines and airports to see whether they need to cut capacity rather than continue with their current plans and sometimes quite aggressive flight schedules," says Schöppenthau.
Cancellations are needed to meet union demands for fair working conditions during this period. It is generally accepted that the current levels of demand are unsustainable. The ECA states that airlines have sold too many tickets for the summer period with no realistic way to operate every flight.
"We need to make sure that everyone realises that we are running the system at too high a level and that we need to get back and pay extra attention. And that means probably that, yes, some flights might be delayed, some flights might be cancelled, and sometimes it will take a little bit longer," Reuter said.
Flight cancellations are certainly now extending far beyond the low-cost sector. In total, German airline Lufthansa has cancelled some 5,000 flights this summer. Subsidiary Brussels Airlines has equally cancelled some 700 flights during the holidays, with more cancellations expected to come.