The value of shares in Belgian telecommunications company Proximus dropped 5.07% to €11.24 on the Brussels Stock Exchange this morning, reaching record lows for the company. On the same morning, the Brussels stock market dropped 0.8% to 3,571.17 points.
On 15 September, Société Générale sharply lowered its price target for the stock and issued a sell recommendation to investors.
The target price has now been lowered from €25 to €10. According to data from Bloomberg, the company has lost a third of its stock value in one year.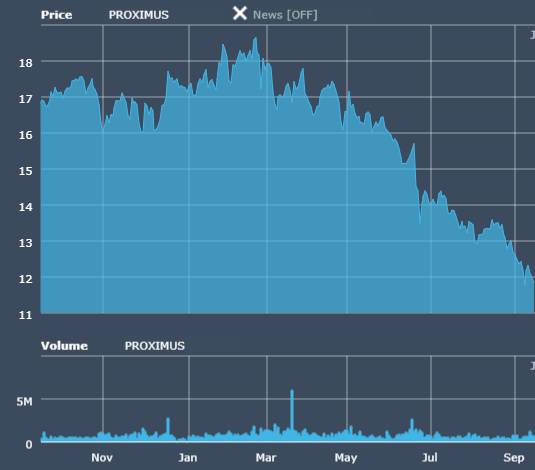 Stock markets across the world are under tremendous pressure from inflation, interest rate hikes, high energy prices, and a gloomy economic forecast for the years to come.
Related News
Other big losers on the Brussels stock market today include Solvat (-2.5%), Home Invest (-5.3%), and Unifiedpost (-9.4%). While the general sentiment among investors is largely negative, some companies have recorded increases. Proximus competitor Orange Belgium rose 4.6% on the Belmid.
In July, Proximus failed to list its American subsidiary Telesign on the stock market, in a large blow for the ambitions of the company. If listed, the subsidiary would have been valued at $1.3 billion.