Last year, Belgian dairies produced over 1.6 million tonnes of fresh dairy products, down 0.6% from the year before, according to data from Eurostat, the European Union's statistics agency. Notably, there was a significant decline in the production of drinking milk.
Last year, Belgian dairies produced over 648,000 tonnes of drinking milk, against more than 717,000 tonnes produced in 2020. The production of butter and spreads also dropped, shrinking by 10% following years of growth.
Overall, the volume of drinking milk produced in Belgium has been declining over recent decades. In the early 90s, Belgian dairies produced up to 888,000 tonnes of drinking milk. Since then, production has dropped by 27%.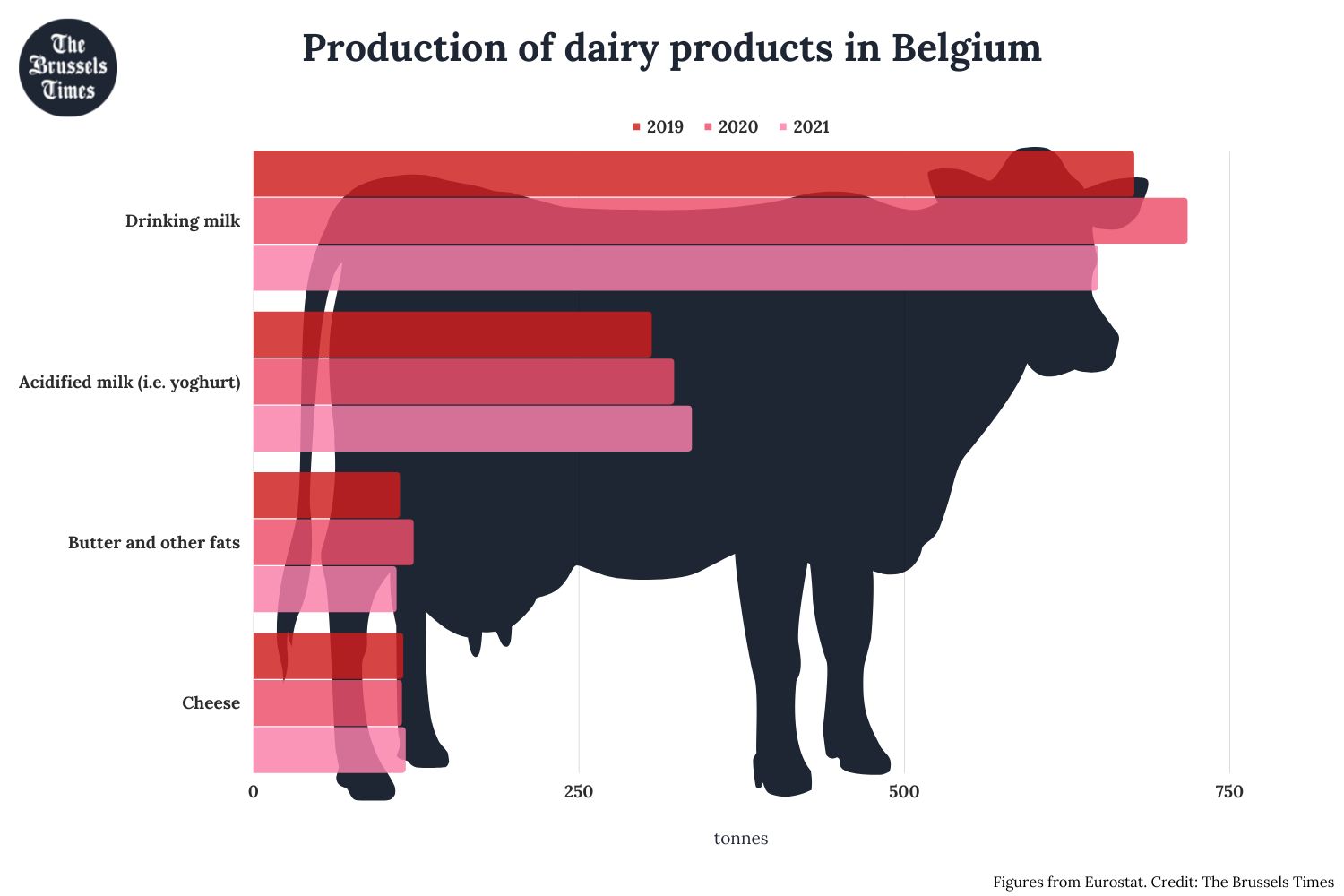 Belgium exported 706,000 tonnes of milk and cream products to other European countries last year. It also imported 580,000 tonnes of whole milk and 41,650 tonnes of skimmed milk from other EU Member States. In 2020, Belgium will export around €4 billion in dairy products worldwide.
Eating dairy rather than drinking it
On the other hand, the production of yoghurts and other milk products has increased in popularity. There was a 4% rise in production in 2021. Belgian diaries now sell around 336,000 tonnes of yoghurt, both the national and international markets. The amount of yoghurt produced in the country has more than tripled since the 1990s.
Belgian cheeses, often overlooked in comparison to French or Dutch cheeses, have seen a rebound in production. In 2021, dairies churned out 116,000 tonnes. Since 2016, production of Belgian cheeses has almost doubled, thanks in part to its increasing presence on European dinner tables.
Related News
According to statistics from the Dutch-Flemish cattle breeding cooperative CRV, the average dairy cow in Flanders now produces more than 30,000 kilograms of milk during its lifetime.
The federation of Belgian milk producers says that there are over 530,000 milking cows in Belgium. In May alone, Belgian cows and dairies produced 55.7 million litres of drinking milk. Across the EU, dairy farms produced over 161 million tonnes of raw milk last year.