Products purchased online with free returns are very often not put back on sale, with many companies finding it more economically beneficial to get rid of them, a recent study found, once again highlighting how unsustainable our consumption model is.
The amount of textile and electronic products that were purchased by people and returned to then be destroyed neared €21.74 billion by 2022, recent Swedish research by Carl Dalhammar from Lund University showed, highlighting that especially for e-commerce businesses, which generates significantly more returned goods, it's cheaper to throw away than to resell.
"The stark reality is that throwing away is the least bad thing economically for businesses. This is especially true for goods that are cheap compared to the cost of inspecting, repacking and putting them back on sale," said Dalhammar. If this process was followed, every "free return" would cost around €12.5 per package.
His findings were based on interviews with 11 representatives from the clothing and electronics industries. As e-commerce booms, so are the number of returns, meaning the problem of destroying returned goods is growing, with detrimental effects to the planet. Across the world, an estimated 92 million tonnes of textiles are thrown away every year, of which only 1% is recycled.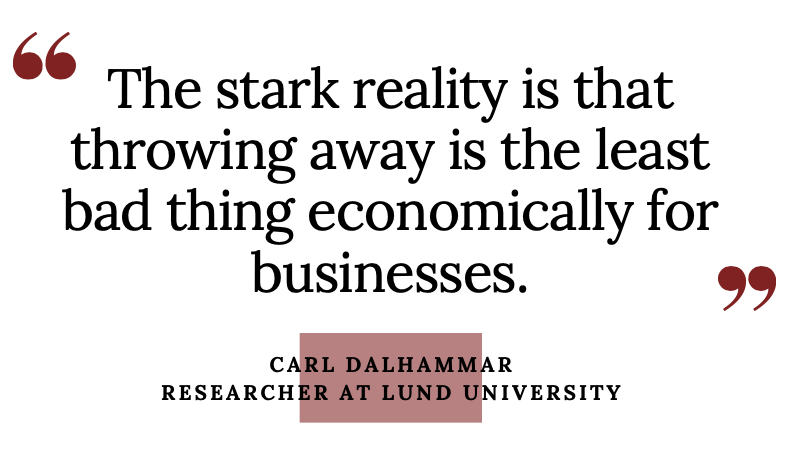 The clothing industry is responsible for 10% of global greenhouse gas emissions, while electronics account for 4%. The negative impact of the two sectors on the climate is greater than that of the aviation and shipping industry combined. Companies that promote themselves as sustainable and carbon-neutral also usually throw away the goods that are returned.
Viable solutions?
Aside from providing more insight into why companies engage in this resource-inefficient behaviour, it also explored the potential policies to effectively address the issue.
Researchers recognised that tackling the problem is not easy. Straightforward solutions such as a ban on throwing away returns, as introduced in France, are not silver bullets.
"If companies are forced to donate unsold goods in new condition to charity or second-hand, the value of their regular supply is devalued. Or if you have five lorries full of the same clothes, there's no second-hand shop to take them. Finally, low-quality products, such as cheap headphones are difficult to sell second-hand at all," said Dalhammar.
A mandatory fee on returns, which some clothing brands have already introduced, could help companies quickly recoup the cost of returns. However, if it is expensive to return cheaper products, the customer will likely just throw it away.
A possible solution to this problem is streamlining the returns process so that it is both economically and environmentally viable for companies to properly process returns. "We see examples of companies working in this way reducing return costs by up to 65%, while returns have been reduced by 15%."
Related News
However, researchers agreed that the fundamental problem is the "fast fashion" approach; mass-producing cheap goods that sometimes only last one season, a business model that is fuelled by the "depletion of natural resources, labour in poor countries and fossil resources."
"We have lived on cheap credit for so many decades. It's not about being against development or the market economy, it's about getting back to a market economy where we consume less and better quality stuff again," said Dalhammar, referring to several ongoing processes led by the EU to regulate higher product quality so that goods last longer and can be repaired.