Belgian politics is at first glance an indecipherable labyrinth of different levels of governments and laws. But it does not have to be this way! Check back in regularly with The Brussels Times as we try to shine some light on matters.
In an attempt to help the uninitiated navigate such a complex system, we will be speaking regularly with politicians from the regional, national and European level. They will give us a taste of what they do and how their small piece fits into the bigger jigsaw puzzle that is Belgium. If there is a particular topic you would like us to put to those in power, get in touch!
Brussels deputy mayor and alderman Ans Persoons is tasked with all things to do with buildings and public spaces in the Belgian capital. She explained how mindsets are changing, how she is helping the city be as green as possible and why the capital has to make sure people can afford to actually live there.
What is an alderman? You also go by deputy mayor, but what are the main parts of your job?
So I was elected in 2018 and given responsibility by the mayor for urban planning and public space, and also everything linked to Dutch speaking education. Planning involves a lot of different things: everything to do with permits and the approval or rejection of plans. Maybe some of your readers already asked for a permit to do some structural work at their house: that comes through my office.
The amount of permits that we have to deal with is very high and they have been increasing. Covid has not slowed it down as you might have imagined. Lots of people are investing in Brussels and there are a lot of big projects. And if it's a big project, that often means that there's a lot of opposition. Around the EU quarter, for example, something that we try to avoid is people dividing houses up into small rooms or apartments, and that's something we are trying to oppose because it's normally just driven by financial reasons and we want to keep family houses in that neighbourhood.
Does your department do any planning of its own or is it just checking other people's plans?
Two of the departments are for checks and planning. We are really trying to follow up on the '10 minute city' concept, where people have all the necessary collective infrastructure they need within 10 minutes of where they live. That also includes green spaces and everything linked to mobility. We are also working with universities to develop an app that can help us. Then there is everything linked to redoing public space. We're not in charge of filling in holes in the street -- that's another department -- we're looking at rethinking entire squares or entire streets, even neighbourhoods.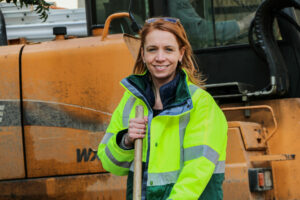 We ask questions like how can we regain space from cars and have more secure space for cyclists and for pedestrians? How can we use the city to fight climate change? Issues like water management and planting more trees are also very important. We have some really big projects coming up. One of those is a complete rethink of the Jonction district along the north-south axis. There is going to be a lot more housing built there and the public space as it is right now is very grey and wasn't thought through much when the train link at Central Station was built.
Is all of this making Brussels a more attractive place to live, in your view?
I truly feel that right now the city is getting much more attractive, and we have lots of people who want to come and live here. But this means that prices really, really went up. And so the whole discussion about gentrification, and how we can make the city affordable not just for expats but also all the other people who live here, is one of the big issues. Everybody has a right to live in this city. We really have to avoid a situation where the city gets more attractive when it comes to public space, but it pushes people away because they can't afford to live here anymore.
The European quarter is special in that regard because there are lots of office buildings and the price per square metre is very high. Together with the region we're working to turn it back into a mixed neighbourhood again, perhaps reconverting some office buildings into housing. [Ed: those guidelines have since been published] In the past, the mindset was to either demolish the building or add higher ceilings to make more office space. Lots of developers wanted the Commission as a client, but the Commission is changing its real estate approach, because of the pandemic and its Green Deal. So we hope that we will have less demolition and much more conversion and renovation of buildings.
How do you make sure that these new developments have greenery, trees for shade, etc?
There's a pilot project that addresses that very issue because we want to plant a lot more trees. But in Brussels, it's sometimes quite complex because the structures and underground profile of the city are complex. Sometimes it is total chaos down there! Sewers, pipes, wires, the underground and so on.
That means that sometimes when we revamp public space it's not possible to plant trees, as the roots would have nowhere to go or they would damage the infrastructure. That is why we've done a study of the underground, so we can really see where we can put trees. We're going to present this project soon and we really think that it will transform some neighbourhoods.
Do you think that the way the planning system works at the moment is fit for purpose or could the way people object to projects or lodge concerns be improved?
There is definitely room for improvement. Logically, the system needs to be the same in every municipality, so that is one consideration. At the moment, the commission de concentration is all digital but that is a leftover from the pandemic, so the legislation for that will expire eventually. For a lot of people it is of course better, as they can participate without having to take time off from work or seek childcare. The system is too complex and we want to simplify it.
For public projects, we want to maintain and also improve the level of participation, so we can co-create projects. But that process too risks becoming more and too complex. More needs to be invested in the culture of participation and the city is in the process of doing that.
Your job also involves the naming and sometimes renaming of public spaces. How have you approached that aspect?
I'm a convinced feminist and when I look at Brussels, I see that the overwhelming majority of streets and squares are named after men. That's something that has to change in order to better reflect history and we're working with historians and local experts to pinpoint those women who have been forgotten and who should be given their place in history back. Naming squares and streets after these individuals is a way to do that. Often it's new streets, new squares, just because of the logistics of changing addresses. Our list is growing and we're trying to write women back into public spaces.