Belgium's oud bruin beer is a sweet and sour brew of mixed fermentation with notes of caramel, a pronounced red fruit character and a refreshing finish.
The Oud Bruin Fest was announced last year with great fanfare. Set to take place in December 2021, the inaugural event would extol the virtues of an oft-overlooked beer style. Over a weekend in the city of Kortrijk, producers would showcase their oud bruins, with workshops were planned with brewers, beer personalities and chefs. Festival organisers created a limited-edition beer that combined various Oud Bruins, a megablend that sold out almost immediately.
You can guess what happened next. A few weeks before the festival was set to open, Covid-19 struck again. The Belgian authorities reimposed restrictions, banning large events, including Oud Bruin Fest.
It was another blow to a beer style already facing challenges in a market where industrial lager, Trappist ales and top fermented blonde beers grab much more attention. In the rich world of niche Belgian beers, even Lambic and Saison enjoy more fandom than the acidic red-brown beers that were once an everyday choice for those living in the areas surrounding the west Flemish cities of Kortrijk, Roeslare, and Oudenaarde.
Oud bruin, also known as Flanders brown, has always had its back against the wall, with producers arguing about which brewing processes are the most authentic, and spats in the international beer community on how to define variations.
But in recent years, the craft beer revolution has driven a fascination with the oud bruin's unique flavour profile. At the same time, Belgium's new wave of younger producers has sought to re-engage with their regional beer heritage, delivering initiatives such as the Oud Bruin Fest, and ensuring more choice for the consumer in the oud bruin offering.
What's in a name?
Oud bruin, literally 'old brown', is a sour and fruity beer of mixed fermentation indigenous to East and West Flanders. Beer judging competitions in other countries and international beer media have sometimes made a distinction. Those made in south-west Flanders in oak foeders and modelled on beers from the Rodenbach brewery in Roeselare are often referred to as Flemish red or Flemish red brown. And those produced in East Flanders in stainless steel vats and modelled on beers of the Liefmans brewery in Oudenaarde are labelled oud bruin.
The different names are said to reflect the varieties that result. Oak-aged versions, it is claimed, are drier and more tannic in their finish, with comparisons to vintage red wines, like high-acid French Burgundies. Those aged in stainless steel are said to be maltier, with a more caramel-chocolate flavour, and often substantial alcohol.
However, the Belgian brewers themselves rarely if ever make a distinction. They will point to crossovers in production processes and flavour profiles within the sub-styles and across the category.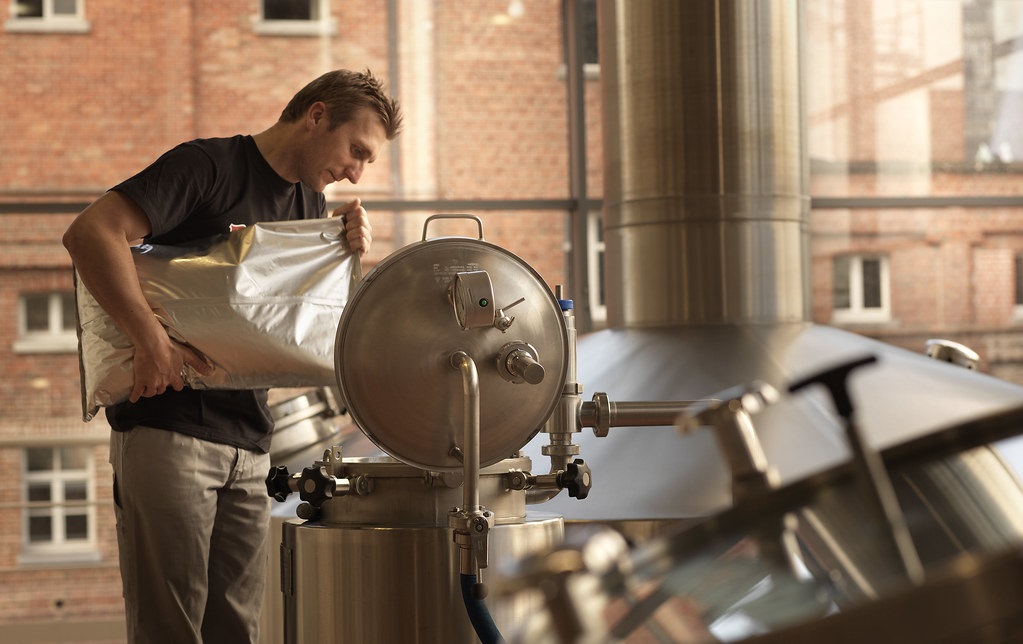 What all of these beers do share is the fact that they are 'old' and that they are 'brown'.
Ageing facilitates slow fermentation of ale yeast (sacchroymces) and bacteria (mainly lactobacillus, but sometimes brettanomyces), producing complex flavours with notes of black cherries, oranges, plums, and red currants. Blending allows the brewer to find their desired balance in the beer: between sourness and sweetness; and between complexity and refreshment. In some cases, the resulting taste is more like sherry than another beer.
The brown part speaks to the malt profile. It equips the beer with its luscious colour, whether that's reddish-brown or sunburned mahogany. It endows the beer with a malt character that can either be very much in the background (a subtle toasty note) or more pronounced (dark caramel, burnt sugar, and sometimes even chocolate).
Fight for recognition
In 2012, as part of a bid to secure protection from the EU for oud bruin, four producers banded together to launch the annual Rondje Roodbruin (Red Brown Tour), opening their doors to the public, organising tours and tastings, and partnering with other tourism and hospitality businesses to promote the beer style.
But although all four breweries produce the same style of beer, each makes oud bruin differently.
The Rodenbach brewery combines older foeder beer with young ale (Rodenbach Classic). De Brabandere ages a blonde beer in foeders, before blending it back with a young brown beer (Petrus Roodbruin). Vander Ghinste opts for spontaneous fermentation in a coolship before foeder ageing and blending back with a young brown beer (Vanderghinste Roodbruin). And Verhaeghe uses only oak-aged beer, blending older foeder beer with younger foeder beer to create a rich and intense final product (Duchesse de Bourgogne).
The Rondje Roodbruin initiative was only a partial success. It raised the profile of the beer style, especially in the region, attracting thousands of visitors to the breweries. But it did not move the needle on European protection and the 2018 edition of the Rondje Roodbruin was the last one.
Heritage product
The challenge for oud bruin is that it is often just a small slice of output for those breweries who produce it. It is seen either as a heritage product that family enterprises are keen to maintain, or a beer to enrich their portfolio rather than generate huge sales.
Liefmans was bought by the Duvel Moortgat group in 2008. The new owners doubled down on Oudenaarde's oud bruin tradition, notably their rich and intense Goudenband beer. However, Duvel Moortgat balanced their investment in Goudenband with diversifications into sweeter and more commercial fruit beers.
Cnudde brewery, located in the village of Eine, is a family heritage project, with the local community coming together twice a year to brew Cnudde Bruin.
Smaller producers in East and West Flanders are keen to showcase the beer style as part of their regional brewing identity. Brouwerij 't Verzet in Aanzegem is leading, focussing on quality and flavour innovation: 't Verzet Oud Bruin is their flagship product, but they have made versions with oak leaves and with cherries.
Brouwerij Vandewalle in Lo-Renige is run by professional archivist Chris Vandewalle, whose passion for regional history has translated into the bottles of oud bruin he produces in his small house brewery (Vandewalle Oud Bruin).
Brouwerij Toye in Marke has added an oud bruin to its range of beers, and its Goedendag Cuvée 1302 is named after the medieval Flemish weapon that combined the brutal elements of a club and a spear. And Brouwerij De Leite of Oostkamp named its oud bruin, as it does with all their beers, after a beloved family member of the owner (Cuvée Oncle Pol).
Other producers such as Brouwerij Alvinne of Moen, Rolling Hills of Oudenaarde, DOK Brewing of Ghent, and SOSAB of Heule all offer beers that might fall within the oud bruin family.
But the fact that larger breweries keep producing oud bruin suggests it must have some commercial value. Brouwerij Van Steenberghe of Ertvelde makes an oud bruin named after Monk's Café in the United States, a bar which bills itself as "the soul of Belgium in the heart of Philadelphia." The flagship product of Bourgogne de Flandres in Bruges is an oud bruin created by blending Timmermans Lambic with a young brown beer. And both Brouwerij Strubbe and Brouwerij Van Honsebrouck are regional West Flemish breweries who have recently re-invested in their oud bruin offerings (Icthegems' Grand Cru and Bacchus respectively).
Foeder for thought
Brewers from outside the beer's traditional heartland are now studying the processes and flavour profiles associated with oud bruin.
Brouwerij De Ranke, based in the Walloon village of Dottignies, just across the language border and close to the beer style's heartland, makes Cuvée De Ranke, a blonde beer of mixed fermentation whose process is inspired by oud bruin. Antidoot, in the Flemish Brabant town of Kortenaken, brews various acidic brown beers of mixed fermentation which share much with oud bruin, often using botanicals from their own farm to add a twist of their own.
Brussels producers have also recently expressed an interest in the style, with De La Senne, La Source, Brussels Beer Project, and L'Ermnitage all dabbling in oud bruin.
And there is renewed international interest. The delayed Oud Bruin Fest – taking place in Kortrijk later this year (October 7-8) – will feature a wide range of Belgian producers, as well as oud bruin beers from Italy (Loverbeer), Norway (Nøgne Ø and Haandbryggeriet), Hungary (MadX), Sweden (Brekeriet), France (Brasserie du Pays Flamand), Estonia (Tanker), and Scotland (Holy Goat). It is proof that there is still some life left in the old brown.