In June, the inflation rate in Belgium surpassed the already historic levels seen in May, nearing 10%. It is clear this isn't good news for Belgian households, of which many were already struggling, but what does this mean in practice, and how did we get here?
The increased inflation can't be pinned to any isolated issue but rather is the product of many interrelated economic and geopolitical factors.
"Inflation is the annual rate of increase in average consumer prices, and, typically, the inflation rate of a month is the rate of increase in prices since the same month the year before," economist Eric Dor of the IESEG School of Management (Lille Business School) told The Brussels Times.
This is evident when comparing price rises between May 2021 and this year, especially in the case of energy, which has risen by 55.99%. The cost of electricity and gas increased by 54.4% and 126.3% respectively since May last year.
Food inflation has also risen sharply, from 0.47% in November to 8.44% this month. This is reflected in the prices of groceries. For example, the price of bread in May was almost 13% higher than last year; butter is almost 20% higher.
"The global inflation rate reflects an average of the price fluctuation rates of consumer items," Dor explains.
Why are prices rising?
If inflation is driven by an increase in prices, the key question seems to be what is actually pushing up the cost of household items. Dor stated that this is usually driven either by demand or by supply-related causes.
"Prices have a tendency to rise if the demand strongly increases or if the supply strongly decreases. In such situations, demand exceeds supply so the sellers have a big power to increase prices."
Already in 2021, demand exceeded supply as a result of the recovery following lockdowns as a result of the pandemic. Yet at the same time that demand was growing, supply issues abounded as industrial production in Asia was still disturbed and maritime transport was running at a limited capacity. "This situation has been exacerbated by the war," Dor explained.
Now, the increase in food prices is largely due to the decrease in supply, mainly as a result of the Russian invasion of Ukraine, which has prevented harvests, led to a loss of arable land and exports being blocked from global markets.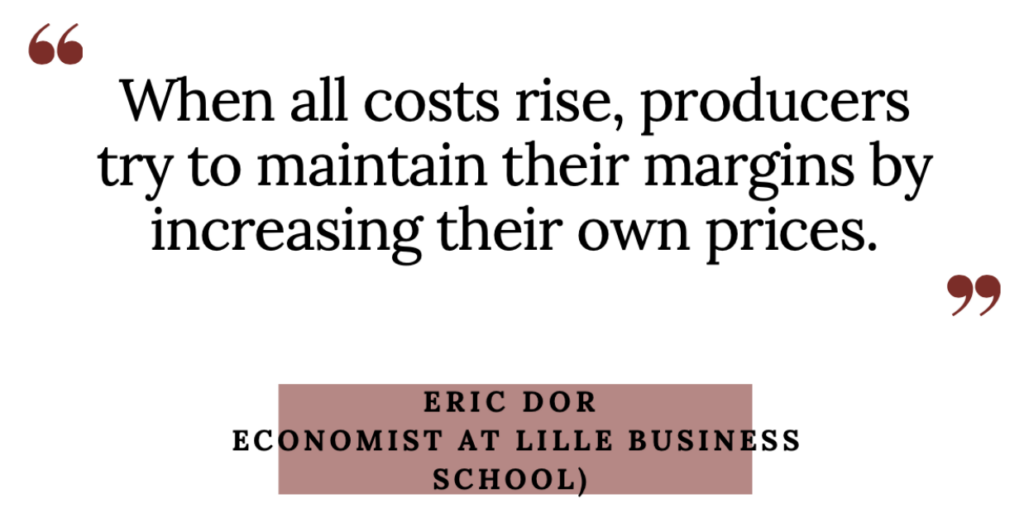 Producers in Europe are trying to increase output by hiring workers. This gives them greater bargaining power to negotiate wage increases (since they have more control of their workforce) while they are also increasing their purchases of raw materials. This all pushes prices higher still.
"All costs are rising and producers try to maintain their margins by increasing their own prices." The various nationwide strikes organised in recent weeks have called on governments to protect employees' purchasing power as a result of price increases.
Predictions for future
Making predictions about the economy when it is heavily impacted by geopolitical factors is extremely complex as the outlook depends largely on events that have yet come to pass, and may not happen at all.
"The geopolitical scenario is quite uncertain. If Russia fully cuts the gas supply to Europe, energy prices would rise further, leading to new increases of producer prices and in turn of consumer prices," Dor said.
Related News
An optimistic scenario would be a quick return to peace, which could see the energy market, and thus inflation, normalise. "But it is too soon to know whether this would be the case, or whether this is possible."
The European Central Bank is looking for ways to avoid increasing labour costs, which will trigger companies to further increase prices, by asking for wage increases that are lower than the current inflation rate.
"The problem is that this request amounts to asking workers to accept losses of purchasing power, which is very unpopular." This is already evident from the reaction of various trade unions in the country, which already argued that people are unable to drive to work and that middle-class households are now using foodbanks.