When Google CEO Sundar Pichai was recently asked who was building the future in the tech industry, he thought back to a visit he'd made to Brussels earlier that year. Although he'd also met Margrethe Vestager, the EU Competition Commissioner driving tech regulation, Pichai instead named Ibrahim Ouassari, the founder of the innovative start-up school for dropouts, MolenGeek.
Ouassari's face gleams with pride when he recalls the tech titan boss's visit to his offices. "Once we'd finished, he turned to me and said: 'Ibrahim, you've talked to me about MolenGeek but you haven't really told me about yourself. I heard that you dropped out of school, then you started your own company, etc...' and slowly, it dawned on me that the CEO of Google was telling me my own life story," he says. "It was all quite surreal!"
So, what is MolenGeek, and why has Ouassari piqued the interest of the global tech industry? It opened its doors in May 2015, with a simple idea: to train young adults in Molenbeek, Belgium's second poorest municipality, teaching them computer skills and digital entrepreneurship, and boosting their job prospects in the tech sector.
MolenGeek's headquarters are a co-working space and coding school open all week for 18 to 25-year-olds, hosting hackathons, coaching sessions and equipment. Like many Silicon Valley start-ups, it feels like a youth centre, with sci-fi characters graffitied on the walls, and the teenagers milling about with coffees on the lounge sofas.
At its launch, only 43 percent of Molenbeek's 18 to 24-year-olds had jobs (29 percent by 2019), which meant MolenGeek was "tapping into a pool of people with unrealised potential," says Ouassari, a self-taught coder. Why unrealised? "Because these were kids who didn't fit into the traditional school system and who were given no other options." Indeed, in 2015, 16 percent of 18 to 24-year-olds in the wider Brussels region were dropouts with no school secondary diploma (it is now around 10 percent).
Although there was a compelling case for the scheme, Ouassari's plans elicited scepticism. "If you said to someone, 'Hey, we're going to take young kids from working-class neighbourhoods who have dropped out of school and turn them into tech engineers,' a lot of people wouldn't believe that you could do it," he says.
But Ouassari persisted. "MolenGeek is the result of my own life experience," he says, "I dropped out of school when I was 14, but it didn't stop me from founding companies."
Terror vs tech
Born and raised in Molenbeek, Ouassari wanted to found "Brussels' own Silicon Valley" in the commune. But just six months after MolenGeek's launch, his hometown would become the focus of global attention in the worst way, accused of being a breeding ground for jihadism in the aftermath of the November 2015 Paris terrorist attacks. The association was reinforced in March 2016, when the same terrorist group unleashed attacks in the Brussels airport and metro.
"It was awful," Ouassari says. "When we saw what was being said about us on TV, we didn't recognise our neighbourhood! It was as if they were talking about wartime Kabul!"
The media caricatures about Molenbeek also created a sense of local mistrust towards journalists reporting on the terrorist links. "There were people in the street, who I didn't even know, who told me not to talk to journalists," Ouassari says. "You could have cut the tension with a knife."
Amid the turmoil, Ouassari persevered. He eventually built up MolenGeek as an alternative to the clichés about his hometown, and a proof point that it was changing its image. By 2018, French President Emmanuel Macron visited MolenGeek with King Philippe and Queen Mathilde.
Today it trains up to 400 youngsters every year. Hassan, for example, used to work as a bus driver for eight years, before quitting his job to train at MolenGeek. He now works for Salesforce in Dublin where he lives with his family.
Finding these jewels from diverse backgrounds and harnessing their potential is the reason MolenGeek just launched The Blueprint, an investment fund that supports start-ups promoting diversity. For Ouassari, this meant assembling a staff that "looks like the people you see on the metro, whether they're white, black, male, female, or in a wheelchair."
The next phase
It is also expanding. It is set to open a new branch in Laeken this March with a special focus on artificial intelligence, while others are being developed in Charleroi and Antwerp. It already has branches in Amsterdam, Rotterdam and the Italian city of Padova. "It is important to expand in these countries because it will provide our start-ups with a network," Ouassari says. "These countries face the same challenges. We may speak a different language or share a different culture, but the technology remains inaccessible to some people."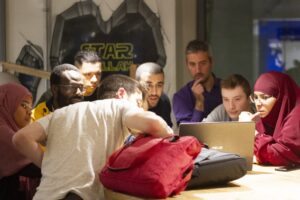 MolenGeek's activities are mostly funded by private tech companies, like Google and Samsung, so it understands the importance of sustained financial backing. The Belgian government, which provided start-up aid, stopped its subsidies three years ago, a tough pill for the association to swallow as Ouassari feels MolenGeek has shown its worth. "We take young people who are unemployed, and therefore represent a 'cost' to society, we train them and then they're able to find work and pay taxes," he says. "The first beneficiary of this is the state. It has fewer costs to manage and hence receives more taxes."
This has not diminished his affection for his country and particularly for Brussels. "Let's get it straight, I love Brussels, it's my city!" He will admit that it has flaws, though. "It's fragmented: the expats live in European areas, the French in Uccle and Ixelles, the Turks in Schaerbeek. But it's still incredibly diverse," he says.
Indeed, an inclusive Brussels is the legacy he wants to leave to his children, "but also a Brussels that is a leader and isn't just a follower!"
This is ultimately Ouassari's broader message: stand up, fight for what you believe, be the change you want to see. "We mustn't be afraid to try things out and put things in place," he says. "Our population is diverse and rich enough for this to happen. But we need to break free of this bubble of humility that surrounds us to ensure that our city shines."