Merijn Tinga, or the "Plastic Soup Surfer" as he is known, arrived in Ghent this week with his surfboard made of recycled disposable cups.
The Dutch biologist and environmentalist is surfing from Brussels to Amsterdam, making stops in Antwerp and Ghent among others, on a journey of 385 kilometres to raise awareness on the use of single use receptacles and to promote change.
"It's about more than just awareness. Every municipality I visit will make agreements about disposable cups," says Tinga.
"I got my name "Plastic Soup Surfer" after I built surfboards from plastic waste," he says. "Now I've made an electric version of 500 disposable coffee cups. The surfboard has a motor and a sail. People don't see the engine and think it's magical to see," laughs Tinga.
"Every morning, five million coffee cups end up in the bin in the Netherlands alone, which usually happens within seven seconds," he adds. "Put them in a row and this makes 385 kilometres, exactly the distance from Brussels to Amsterdam." In this way he tries to make the extent of the waste problem clear.
"It's not just about awareness, but I also want there to be changes," Tinga responds.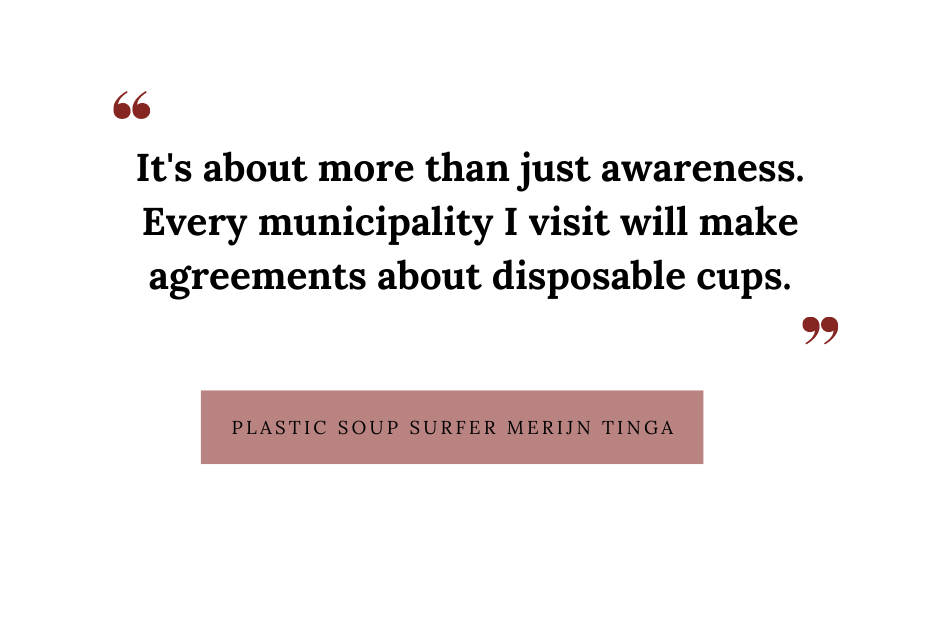 At his request, EU Commissioner Frans Timmermans stopped by his stop in Ghent. Timmermans praised Tinga's action against plastic which, according to him, is the symbol of a derailed society. "The aim is to get consumers back on the right, greener track," Tinga says.
Tinga was very positive about the work the city of Ghent had been doing in the fight against disposables. "They were a frontrunner with the introduction of reusable cups," he says. "Now that system is almost established, which is a step in the right direction."
Timmermans himself also gave a brief explanation of how he wants to create a more sustainable society. "We are going to make proposals to reduce packaging waste and we want to intervene in the textile sector, so that more is recycled there," the EU commissioner said. "There will also be proposals to throw away less food. I am already in favour of introducing deposits, even if that item is not yet on the agenda. It is clear that the share of litter is decreasing in places where a deposit has been introduced, so that may still come."
Related News
Tinga has been well-received at all the places he has stopped at so far. "People come out to greet me, which is very nice. I've been welcomed by a brass band and there has been cava and snacks waiting for me. I try to get people together and tell my story. It is then up to them to do something with it," Tinga concludes.