The main issue at the Foreign Affairs Council and Foreign Affairs Council (Defence) on Monday was the war in Ukraine where so far 13 million people are in need of immediate humanitarian assistance and over 3.3 million have fled the country.
The meeting is followed by the European Council on Thursday, exactly a month after Russia's invasion of Ukraine. US President Joe Biden will be joining EU leaders during the first day of the European Council for a "discussion on support for Ukraine and its people and on strengthening transatlantic cooperation in response to Russia's aggression".
According to the press release after the foreign affairs council meeting, ministers stood united in their support for Ukraine but they did not take any new decisions that could help Ukraine against Russia's relentless bombardments of civilian targets and infrastructure and to bring about an immediate cease-fire.
"What is happening in Ukraine is massive war crime committed by the Russian Armed Forces against Ukrainian people," said Josep Borrell, High Representative for Foreign Affairs and Security Policy.
"This cannot go unanswered. That is why, we welcome the Commission of Inquiry set up by the UN Human Rights Council. We also welcome the investigation by the International Criminal Court's Prosecutor, and we recall the order by the International Court of Justice for Russia to stop the invasion of Ukraine."
But the only concrete decision in the short term was a political agreement on additional €500 million to be mobilised under the European Peace Facility which can be used to pay for weapons to Ukraine. The ministers approved also the so-called Strategic Compass, a plan of action for strengthening the EU's security and defence policy by 2030.
Another decision which will take time to implement is the establishment of a common rapid deployment capacity of up to 5,000 troops from some of the EU member states, trained and equipped to react to crises. But it is not about creating a European army, according to Borrell. "We do not want to create a European army," he said at the press conference after the council meeting.
EU has learned lessons from the past when so-called battle groups were established but not used because of lack of political will, a Commission spokesperson told The Brussels Times at yesterday's press conference. "It's work in progress and further development of the new force depends on our assessments."
On other issues that Ukraine has appealed to EU to carry out, such as the speeding up of Ukraine's application for EU membership and imposing harder sanctions against Russia, no decisions were taken. On the second issue, the ministers stated that "EU stands ready to further strengthen its restrictive measures if the situation so requires, and engage with international partners".
Import of natural gas
In fact, Borrell stated at the press conference that "it was no day to make decisions" on further sanctions in the energy sector, referring to the continued import of natural gas from Russia, resulting in significant revenues to Russia while the war rages on.
"It´s not about one country, or two countries, or three countries being for or against," he said, but it is no secret that Germany accounts for more than half of the total natural gas import from Russia and that Hungary is totally dependent on it. Borrell also doubted that a formal decision of a new package of sanctions will be taken by the European Council this week.
However, a Commission spokesperson confirmed that sanctions was on the agenda at the foreign affairs council and added that EU continues to consider more sanctions "if needed". He clarified that EU sanctions must be decided by unanimity by all EU member states but they can widen the sanctions and decide on their own sanctions.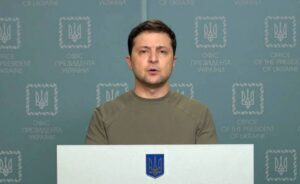 The European Commission presented on Wednesday "ideas" for collective European action to address "the root causes of the problem in the gas market and ensure security of supply at reasonable prices for next winter and beyond". Among others the Commission proposes to create a Task Force on common gas purchases at EU level.
How this will affect EU's dependence on Russian natural gas during the rest of 2022, after the 2021- 2022 winter season is over, is not clear. The Commission has also proposed legislation to introduce a minimum 80% gas storage level obligation for next winter. It declined to reply to a question if this goal requires continued import of natural gas from Russia despite the on-going war.
EU membership
Ukraine's President Volodymyr Zelensky signed already on 28 February his country's application for membership in the EU but was quickly told by the European Commission that there is no "fast track procedure" for joining the EU which could help Ukraine in its fight to survive as an independent and democratic country.
Normally, the Commission is asked by the Council to prepare an opinion, a process that normally takes a year or more. Commission President von der Leyen warned in a recent interview that there is no getting around the "clear path" set out in the EU's treaties.
However, Zelensky tweeted last week that she had told him on the phone that the opinion will be prepared within a few months. A Commission spokesperson declined to confirm the time schedule but confirmed that the Commission has started the necessary preparatory work and will quickly take the work forward.
A quick and positive EU response to Ukraine's application would no doubt send an important signal about Ukraine's European perspective and bolster its morale but may also affect the chances to a political solution. Russia does not only oppose Ukrainian membership in NATO but also in the EU.
Zelensky has considered to give up on NATO membership, which was promised Ukraine back in 2008, but he cannot compromise on Ukraine's European perspective and future EU membership. Russia opposed Ukraine's membership in the NATO from the very start and there were doubts among NATO members. EU should facilitate a political solution by excluding NATO membership while offering other security guarantees and accepting Ukraine's application for EU membership.
M. Apelblat
The Brussels Times