The war raging in Ukraine is impacting the entire population of 44 million, as over 4 million Ukrainians have fled the country while others taking up arms or help out on the ground.
While young Ukrainians may have been shocked to see a war on their doorstep in the 21st century, many in the older generation have seen it before - and a fighter's spirit remains.
Olha's grandmother is staying in a small village where she is relatively safe. When her granddaughter asked how she is doing, she answered: "It's okay. I go to the city centre to feed our guys every day. There was no church because it was cancelled, but all the women are helping and creating things for the army. Everyone does what they can for now."
The Brussels Times spoke to three elderly women who remained in Ukraine throughout the war.
Valentina
Valentina (83) has worked as a distribution director at a steelworks factory in the USSR for more than 20 years. She was born in Boguslav and is currently in Ostropol with her only daughter. "I feel disappointment and fear," she relates.
"I was born three months before the Second World War. Hitler destroyed my childhood and Putin is destroying my old age. There are children dying, elderly dying, and cities being destroyed. There are many traitors and it's very frightening."
But everyone is in fighting spirit, she says. "There is this awe-inspiring unity of people. Men are our hope and our pride. Of course, I plan to stay in Ukraine."
Alla
Alla (68), also living in Ostropol, worked as a quality assurance officer in the Soviet Air Forces. For the past 20 years, she has been taking care of her husband, who lost his speech and motoric functions due to a stroke. He passed away this year, leaving Alla behind with her son and daughter.
"I am with my family, but I feel deep sadness, sorrow and anxiety. Everyone's in a fighting spirit," she says, like Valentina. It's a common phrase, the translator says. "It means we are ready to fight, but it has a deeper meaning. Like when you are met with difficulties and want to overcome them instead of giving up, in combination with deep, righteous anger."
Related News
Elena
Elena Minina (60) was born in Ignatpil, Ukraine, to a Russian dad and a Ukrainian mother. Her mother, Valentina, is a teacher and school leader. Her father, Sergey, was a soldier in the Army of Soviet Union.
She lived, studied and worked across Ukraine, including the cities Kharkiv and Kyiv, as she co-owned a chain of newsstands, and worked as a marketing and public relations specialist.
After a car accident, her health sharply deteriorated and she moved back to her hometown of Zhytomyr, where she worked at the regional council. She raised two sons. One of them is now in Ukraine, the other is in Russia.
During the war, she stayed in the military town of Ozerne, Zhytomyr, which was bombed during the first hours of the war.
"These days I regret that my health and age do not allow me to do even more useful things for my homeland, my children and grandchildren," Elena said. But as everyone, she helps the army in any way she can.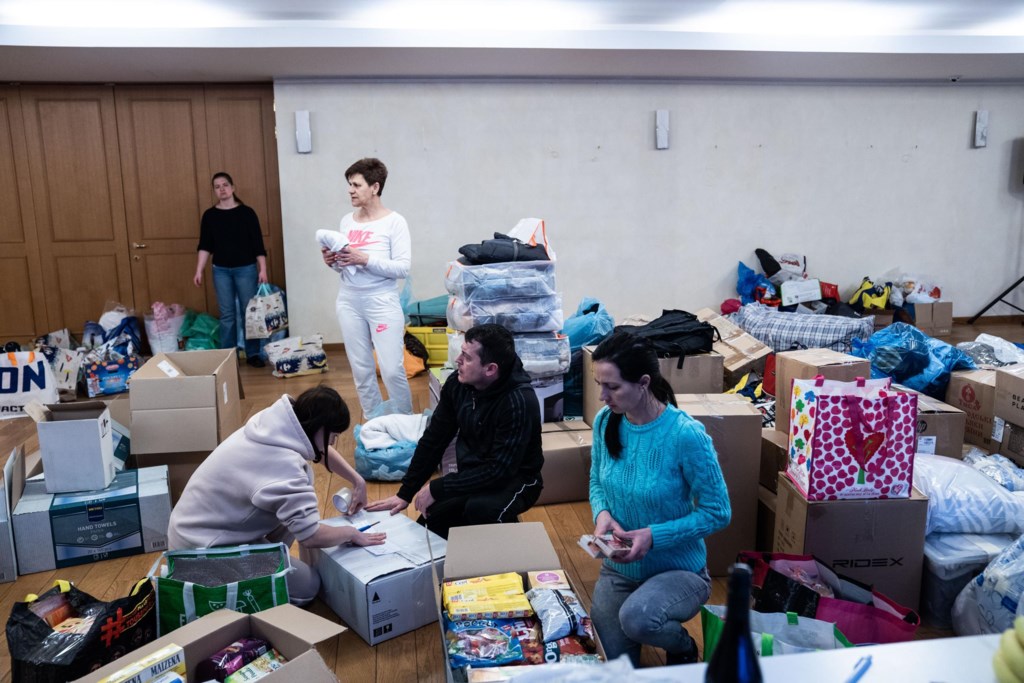 "I handed over warm clothes, a blanket, a pillow, a thermos, etc. to our defenders; transferred money for the needs of the army. I painted over the numbers of houses and road signs to disorient the enemy, destroyed enemy marks, helped friends, fellow villagers, neighbors in word and deed, shared food, washed, knitted."
And the sense of pride lingers. "Today I feel proud of my young sovereign Ukraine, more precisely, of our people. Ukrainians are united like never before and ready to fight for democracy and freedom in Ukraine. I feel deep gratitude to all the men who have, in a matter of hours, self-organised and now courageously protect the future of their children, their wives and mothers."
In a way, it reminds her of Maidan in 2014. "The revolution of dignity. All the people I meet these days want one thing: freedom and peace for their Ukraine."
She will not be able to stay in Ukraine because of financial reasons and would like to reunite with her sister in Germany. "My family is far away. I'm glad they are not here, in Ozerne," she said.