Europe experienced another year of climate chaos in 2021. From intense heatwaves, droughts, and floods to forest fires, many records were broken across the continent, while EU scientists point the trend to human-induced climate change.
According to a new report published by the European Union's Satellite global warming monitoring programme Copernicus, Europe experienced its warmest summer on record, while Belgium broke the national record for rainfall in a single day.
On average, summer temperatures in 2021 were 1.0°C warmer than those recorded since 1991. In several countries in Europe, new record temperatures were observed, while Southern Europe experienced its most intense fire season in 30 years.
In Spain, a new national record of 47.0°C was recorded. Italy suffered a new record high temperature of 48.8°C in the city of Syracuse, Sicily. Last summer's heatwave lasted two to three weeks, and in the Mediterranean, massive forest fires burned 800,000 hectares of land.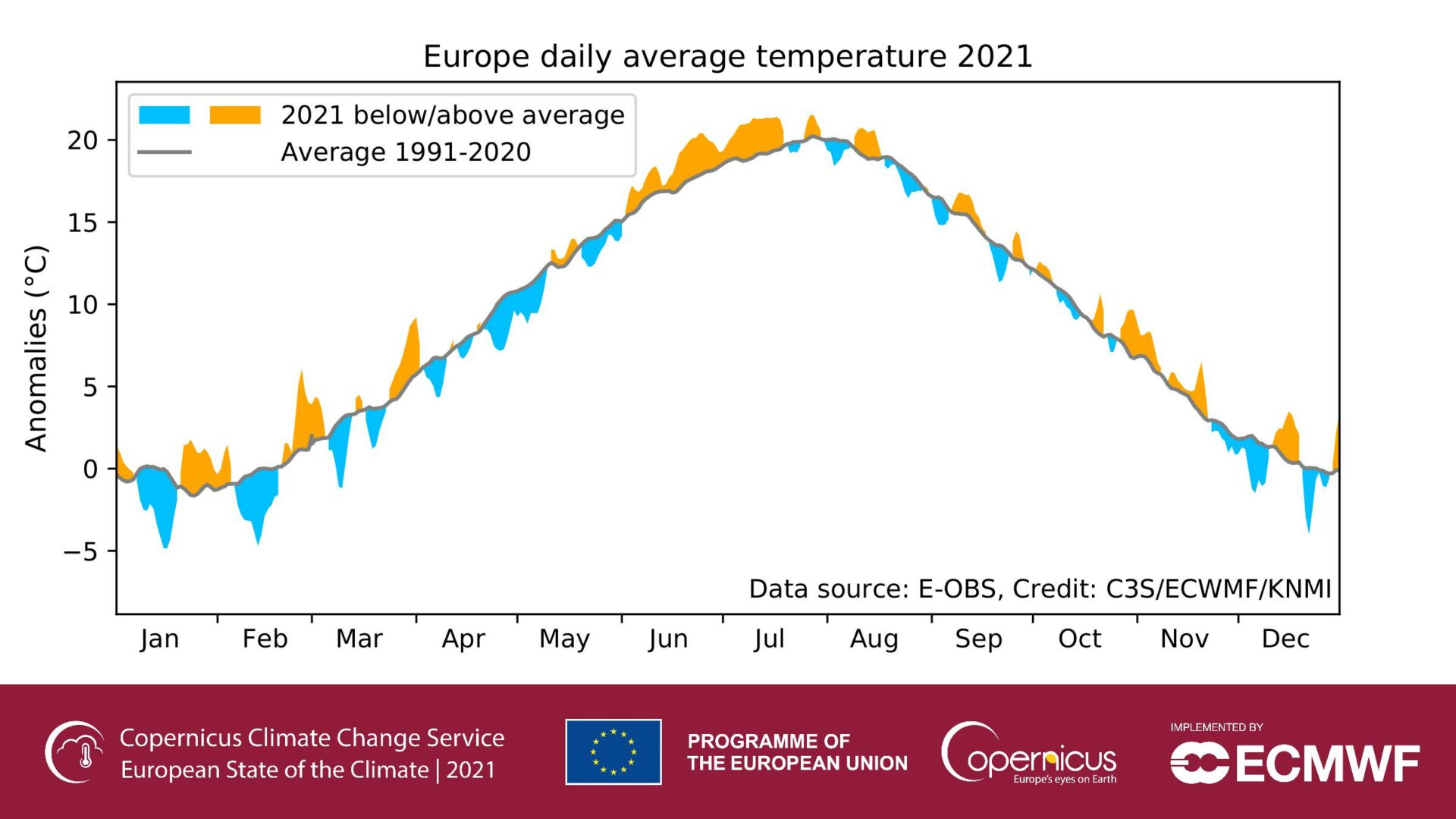 Parts of the Baltic and Mediterranean seas were exceptionally warm in 2021. Temperatures in the Baltic rose up to 5°C more than the average in June and July. Throughout the whole year, the most significant temperature rise was recorded in the areas around the Black Sea, south-eastern Europe, and western Russia.
Record rainfall
Despite record highs during the summer, 2021 was not, on average, an exceptionally warm year. Compared to other years this decade, 2021 was still much cooler. Spring temperatures were lower than usual, by just less than 0.5°C.
In Belgium, new records were also set last summer. Belgium recorded record rainfall on 14 July 2021 of 96.2mm of rainfall per day, the highest level recorded in the country since 1950. The heavy rainfall caused severe flooding which ultimately led to the deaths of 39 Belgians and 200 Europeans in total.
The environmental report blames the devastating flooding on unusually warm temperatures in the Baltic sea, which created a slow-moving area of low pressure that travelled eastwards across Europe.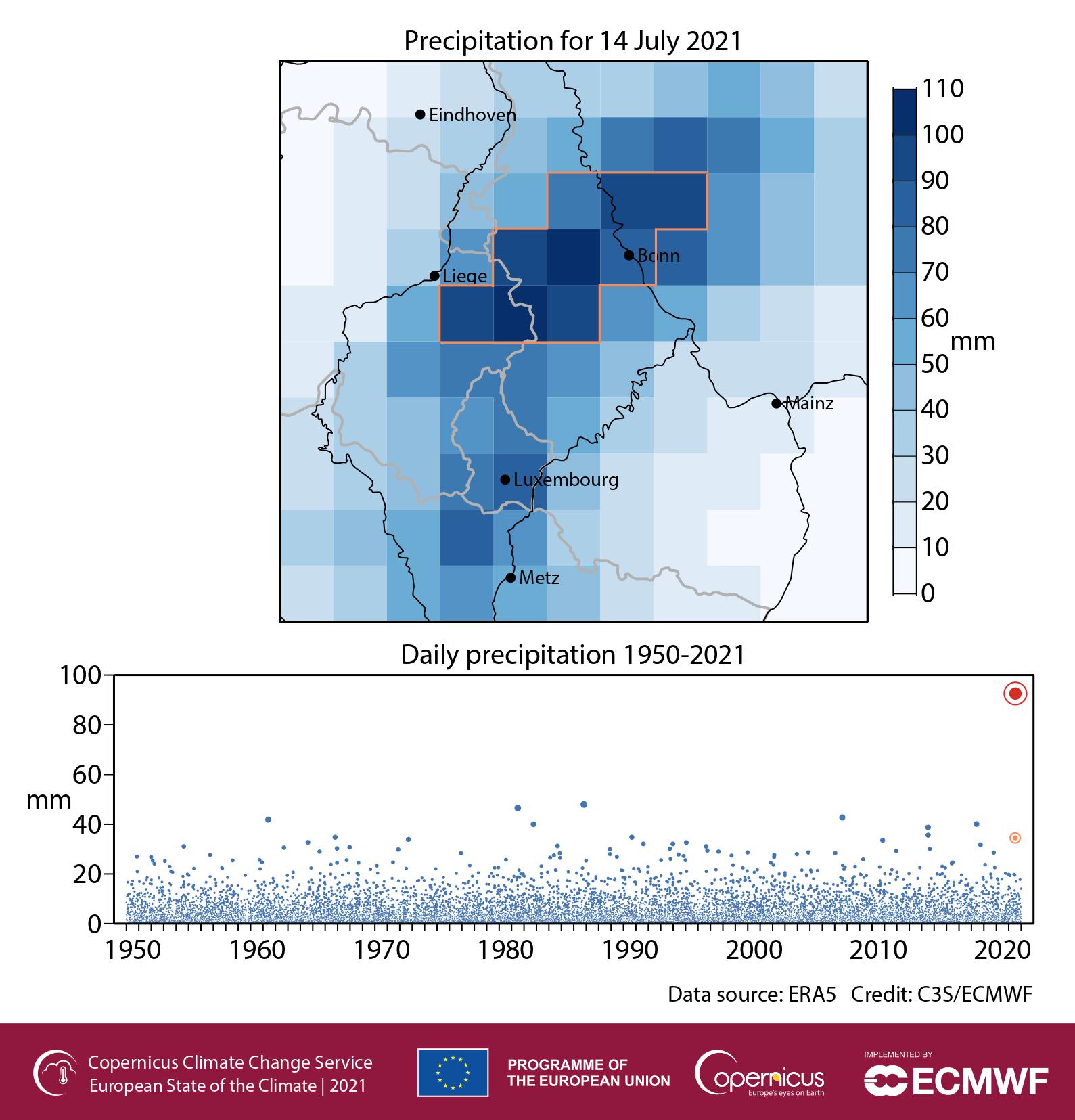 Hills on the border between Belgium and Germany forced airflow up, cooling warm air and causing extreme rainfall.
Heavy rainfall led to the highest levels of discharge in the Meuse and Rhine rivers. 46% of major rivers and upstream areas in and around the Meuse and Rhine experienced their highest discharge since 1991.
Related News
Other meteorological records were set last year. In Ireland, the United Kingdom, Czechia, Denmark, and Germany, annual wind speeds were at their lowest levels since 1979. This, according to Copernicus, led to a drop across Europe in the production of wind energy.
Despite the fact that 2021 was not the hottest year on record, the Copernicus report still notes that the results support a general trend of global warming. Since pre-industrial levels (1850-1900), five-year average global temperatures are up 1.2°C, 2.2°C in Europe, and 3°C in the Arctic.
There are fears that rising global temperatures could lead to more freak weather events such as flooding and heatwaves. The Paris Agreement intended to limit the average global temperature increase to below 2°C.