European Council President Charles Michel visited Ukraine on Wednesday in a crucial phase of the war to discuss new sanctions against Russia, more weapons to Ukraine to face Russia's large-scale offensive in Donbass, and Ukraine's application for EU membership.
His visit follows recent solidarity visits by leaders from EU member states and European Commission President Ursula von der Leyen's visit on 8 April when she handed-over a questionnaire to Ukraine's President Volodymyr Zelensky on its application.
Before Michel met Zelensky, he went to Borodyanka and Dmytrovka, two towns in the Kyiv region which were particularly hard hit by Russian attacks and suffered massive destruction.
"There are no words to explain what I feel, not as President of the European Council, but as a father, as a human being," he said. "These are atrocities. These are war crimes. They must be punished. It will be punished. They must pay for what they have done there, and in many other cities and other locations in Ukraine."
His thoughts also went to the soldiers and the civilians in the Donbass, in Mariupol and in other cities "who are fighting for their lives, who are fighting for the sovereignty of Ukraine. And I know very well, they are fighting for our European values, for freedom, for democratic principles."
The battle for Mariupol, a strategic city located between the Crimean Peninsula and the Donbass region, is almost over with the remaining soldiers and civilians trapped in the bunkers of the Azovstal steel plant. Kremlin has declared that what is left of the destroyed city has been conquered.
At the joint conference with Michel, the Ukrainian president said that the situation in Mariupol is worsening and doubted that any help could reach the city. "I don't know when we can free Mariupol," he said. It can be done militarily, but for this Ukraine needs heavy weapons and artillery, or diplomatically but for this Russia must be ready for a peaceful settlement.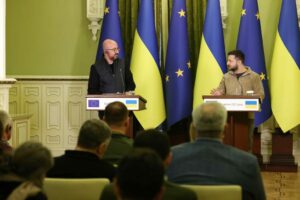 According to the latest intelligence update by the British Ministry of Defence (21 April), Russia likely desires to demonstrate significant successes ahead of its annual 9th May Victory Day celebrations in memory of WWII. "This could affect how quickly and forcefully they attempt to conduct operations in the run-up to this date."
After Ukraine's fierce resistance and the withdrawal of Russian troops from the Kyiv region, the war has entered a new critical phase and risks becoming a war of attrition leading to more destruction in Ukraine and further deterioration of the already catastrophic humanitarian situation.
According to the UN, more than 12 million people have been forcibly displaced by the Russian invasion: 7.1 million people displaced within Ukraine and more than 5 million refugees outside Ukraine. Another 2.9 million are considering leaving their homes due to the war. On Friday, WHO warned about the devastating impact of the war on the Ukrainian health system.
According to a WHO survey, 30% of households have at least one person with a chronic disease reported challenges in accessing care for those conditions. Less than a third (30%) of respondents sought out healthcare services recently, and of those, two out of five (39%) cited the security situation as the main reason, while 27% reported no healthcare services were available at all in their area.
Despite the dire situation, President Michel sounded optimistic in his speech at the press conference. "We are determined to do everything we can to support Ukraine because we want victory for Ukraine. And that is why we will use all the possible tools in our hands."
As regards financial support, he referred to the forthcoming trust fund in solidarity with Ukraine, to be launched on 5 May, together with Poland and Sweden and with the support of the European Commission, all the member states, and international actors.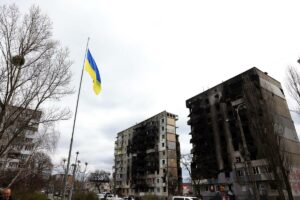 The spokespersons of the Commission have previously said it was too early to discuss the financing of the rebuilding of Ukraine but this was not Michel's opinion. "It is also very important to start as soon as possible the programme of rebuilding the country. I can assure you that the EU will be on your side to rebuild your country."
"In order to succeed, we will also discuss the rebuilding of the country and the investments needed in infrastructure and in different fields." He did not mention whether Russian assets that have been freezed by the EU can be seized and used for the financing the rebuilding as is currently discussed by the American authorities.
As regards military aid, Michel mentioned that the EU and its member states have committed a total of €1.5 billion worth of military equipment and will provide more weapons. The US announced this week that it will decide on a new military aid package to Ukraine with more advanced and longer-range weapons.
Zelensky underlined that Ukraine needs more weapons, and in time, to defend itself but seemed to hint that they are on their way, without disclosing any details.
"We are trying to convince member states to add bilateral support to make sure that what we provide is what you need," Michel said. "We discussed very precisely your needs and how we are able to make sure that we can provide with the EU's member states and other partners the means that are needed to fight and to win this war."
On sanctions, there are still differences between the EU and Ukraine, which has been asking for a complete embargo on the import of oil and natural gas from Russia and more sanctions against Russian banks. Germany has until now opposed such an embargo but Zelensky thought that the German public opinion can be swayed to support a complete embargo.
Michel was enthusiastic about EU's way of deciding on sanctions unanimously but admitted that it was a difficult process. He sounded optimistic that next EU sanction package will go further in maximising economic pressure on Russia.
On the point of political support, he promised that the Commission will publish its opinion on Ukraine's application for EU membership by the end of June. "Then it will be my responsibility to assess when I can put this point on the agenda of the European Council and the Council, to make sure that we have the political discussion to make progress on this."
It is not a secret, Michel said, that there are different opinions in the EU about Ukraine's application but they may be sorted out in its internal debate. He is convinced that Ukraine is demonstrating day to day that it is totally committed to democratic principles. "You don't only fight for the future of the children of Ukraine, we know that you fight for the European fundamental principles and values."
The questionnaire on EU membership includes thousands of both simple and complex questions aimed at providing precise information about the country. The document is not public and the Commission has refused to disclose even a template of previous questionnaires.
Despite the on-going war, Ukraine managed to mobilise its public administration to fill in the questionnaire and has already delivered the first part of it which deals with the economic and political criteria for joining the EU. The second part on the chapters of the acquis (EU law) is currently being filled in and will be returned to the Commission in the coming days.
A senior Ukrainian civil servant told The Brussels Times that the secretariat of the government should have a consolidated version of the answers by 27 April. "I cannot assess whether it was difficult to fill out the questionnaire in all areas. As far as our area was concerned, we had to work hard but cannot say that it was an impossible task."
The European Council President concluded by promising that the EU will do everything possible to support Ukraine and to make sure that it will win the war.
M. Apelblat
The Brussels Times