Russia's invasion of Ukraine has significantly disrupted the European agricultural market, driving up prices and agricultural outputs across the European Union member states.
Before the war, Ukraine and Russia were both major exporters of grain and oils, providing a backbone of cheap exports to Europe, Africa, and the Middle East. Russia's theft and blockade of Ukrainian wheat, as well as international sanctions placed on Russia, have significantly depleted wheat exports and caused sharp increases in the costs of agricultural inputs.
According to data from Eurostat, the EU's statistics agency, the average price of agricultural goods increased by 6% in the first quarter of 2022. In Belgium, the price of agricultural products rose by nearly 10%, while in Lithuania it surpassed 18%, compared to the previous quarter.
Related News
Much of the price increases are due to the high cost of agricultural inputs such as fertilisers, chemicals, lubricants, energy, animal feeds, and other goods.
Not only is the world having to do without materials previously sourced from Russia and Ukraine, the process of creating fertilisers is extremely energy-intensive and Russia's invasion has sent the cost of energy spiralling.
The cost of fertilisers and soil improvers increased by 21.2% compared to the end of last year. The price of energy and lubricants also leapt by 17.4%, while animal feeds increased by 9.2%.
Growing at a loss
In many EU countries, the price increase in agricultural products used for cultivating crops now massively outstrips the value of the crops grown (although these have risen as well). In Latvia, agricultural output costs increased by over 10%, but input costs rose by nearly 20%.
In one year, the average price of agricultural inputs jumped by 27.4%. The price of fertilisers almost doubled and the price of energy and lubricants increased by over 55%. High energy costs, alongside the high output cost of cereals, mean that animal feeds have also increased by around 23%.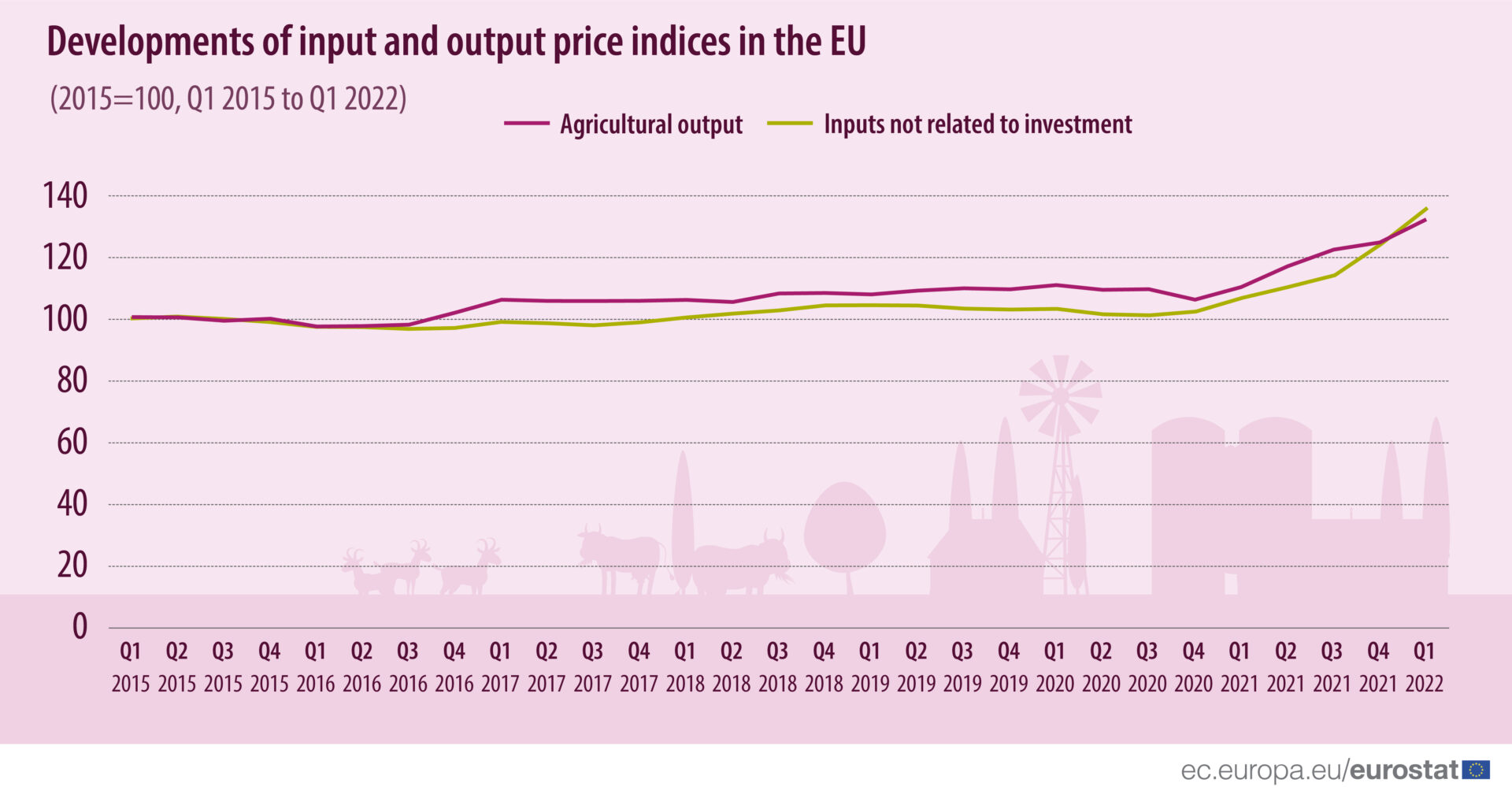 As a result of Russia's invasion, Ukraine has lost around 25% of its arable land to occupying forces or attacks. Russian forces are estimated to have already stolen some 500,000 tonnes of Ukrainian grain, much of which was destined for export. Ukrainian authorities now estimate that they will be able to export just a third of pre-war amounts.